'Nation Of Millions': Why Public Enemy's Masterpiece Cannot Be Held Back
Hitting like a hip-hop apocalypse, 'It Takes A Nation Of Millions To Hold Us Back' found Public Enemy unleashing arguably the greatest hip-hop album ever.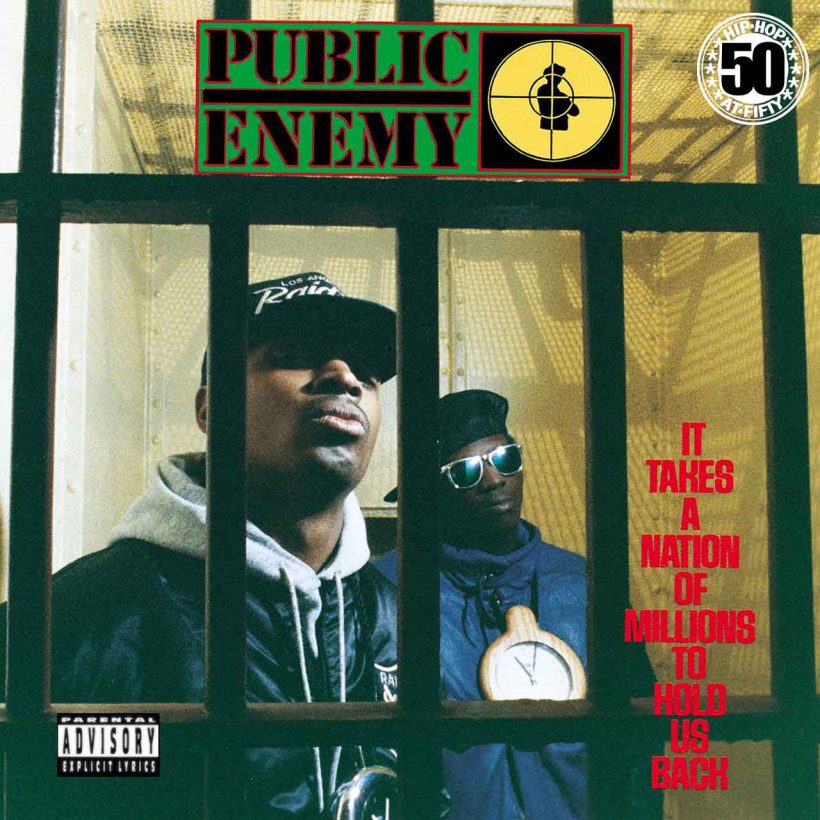 Some hip-hop groups release their most popular and best album the first time out. That was just one convention Public Enemy refused to follow. Released on April 14, 1988, It Takes A Nation Of Millions To Hold Us Back was PE's second album. The title was drawn from a line in one of their debut album's songs, but the group's sophomore effort blew its predecessor away with its sheer power.
That's saying something, because Yo! Bum Rush The Show was a killer record in its own right. If they'd released only Yo!, Public Enemy would have remained hip-hop cult heroes. But It Takes A Nation Of Millions To Hold Us Back made Public Enemy legends, cultural icons, and representatives of cutting-edge Black music. It's like they suddenly saw their potential to be so much more than their first album delivered, and so much more than anybody had understood, and realized it in one fell swoop.
Listen to Public Enemy's It Takes A Nation Of Millions To Hold Us Back now.
Welcome to the hip-hop apocalypse
The fury, the ideas, the energy! Especially the energy – at first listen when it's catching your ears and the message has yet to slam home in your mind. It's like PE turned life up beyond its normal limits. If the studio had VU meters for sheer energy, they'd have been so far into the red, the needles would have snapped.
How did they capture this? It was some kind of miracle, yet actually the product of the human imagination and the brilliance of Bomb Squad studio boffins Hank Shocklee and Eric Sadler. Here was the hip-hop apocalypse expressed in beats, rhymes, and sheer noise. No wonder the album's working title was Countdown To Armageddon. There had been a conscious effort to up the tempo, to deliver hip-hop at speed, and raise the volume. And the hell that Public Enemy raised would make them the most controversial figures in music, under fire even from admirers. It would take some time for the world to realize that the group were not willing to adhere to the rules because there were not actually any rules as such, only conventions. Public Enemy saw right through this and just did what they had to do to get their message across.
Too Black? Too strong…
Nation Of Millions kicks in with British radio DJ Dave Pearce introducing the group live at London's Hammersmith Odeon: sirens, sheer noise, the whistle posse in full effect, and Professor Griff warning London that the apocalypse had arrived. Then came the meat of the matter. The next voice we hear is Malcolm X saying, "Too Black, too strong," and Chuck D speaks for the first time: "Bass! How low can you go?" the first of many phrases he'd utter on the album that stuck in the brain like a barbed hook. Alongside his perfect foil, Flavor Flav, Chuck weaves a complex dissertation about the group's position within hip-hop and as Black men in America – as ever, but never better than here. "Bring The Noise," indeed, as a panoply of samples and Terminator X's sizzling scratches make order from chaos and chaos from order.
The second killer arrives immediately: "Don't Believe The Hype." More downbeat but every bit as heavyweight, Chuck dismantles the stories surrounding the group, saying they're here to teach everyone, not just the brothers, and – in a clever line about a brand of bleach – refuse to conform to the media and music industry stereotype, which dilutes the Black message in favor of making money.
Public Enemy - Don't Believe The Hype (Official Music Video)
Teach? Ain't they just a musical group? Yeah, but with a mission to inform. So we get "Night Of The Living Baseheads," built on an insanely repetitive snippet from The JBs' horns-driven blowout "The Grunt" and telling grim tales of the way crack can take everything from a ghetto dweller while, in its opening sample from Nation Of Islam's Dr. Khalid Abdul Muhammad, explaining a likely reason why. Chuck's lyrics also include references to other rappers or their work – LL Cool J and Stetsasonic's Daddy-O among them. Critics treated PE like they were separate from the rap heartland, taking them more seriously and therefore leaving them more open to attack, but, as Chuck's lyrics make clear, the group grew out of – and remained – a solid part of the hip-hop community despite acquiring a big audience that would not give the time of day to most rap.
Rebels without a pause
"Rebel Without A Pause" also used "The Grunt," but in a different way; Flavor Flav is knocking out the beat alongside a sample of "Funky Drummer," giving the groove a more "live" vibe, while DJ Terminator X delivers his variant on the "Transformer scratch," adding to the sheer ear-busting racket. Chuck's lyrics serve a dual purpose, explaining the PE ethos of always fighting the power, but again offering hip-hop chops in a declaration of unimpeachable dominance; the right to rule is a regular message in the rap world. "Black Steel In The Hour Of Chaos" is one of the funkiest tunes in hip-hop, with a draft-dodging Chuck planning to bust out of jail, keeping his rage in check to work out his method, knowing the odds are stacked against him. Long, dark, hard-edged, and heavy, "Black Steel" hits hard.
Hip-hop is often self-reflective, focusing on what the music means and how it is received. "Caught, Can We Get A Witness?" takes this to the next level, reflecting on sampling and the problems of copyright claims, and how pop music steals innovations that began on the Black side of town. Flavor Flav gets some action on the massive groover "Cold Lampin' With Flavor," which kicks off with a sample of Mr. Magic, the NYC radio DJ, saying he's not going to play anything else by PE. Flav spends the track explaining his lifestyle, including the clock round his neck, in a free flow of rhymes and apparently unconnected thoughts.
This is '88 hip-hop at its purest, and that applies too to the tribute to their turntablist, "Terminator X At The Edge Of Panic," a wicked jam that defies anybody's urge to be still. The beats-only tune "Security Of The First World" and further (mostly) instrumental cuts "Show 'Em Whatcha Got" and "Mind Terrorist" provide a breathing space to absorb the messages delivered elsewhere, like resting your muscles the day after a workout.
Public Enemy - Black Steel In The Hour Of Chaos (Official Music Video)
"Party For Your Right To Fight" sums up the PE ethos while speaking of the Black Panthers and Elijah Muhammad, with Flav in one ear and Chuck in the other: choose either or both, that's what the balance control on your DJ mixer is all about. "Louder Than A Bomb" is a declaration that Chuck will never hide his views; the hard rock of "She Watch Channel Zero?!" rips you out of the dream that is gaping at the TV, using a Slayer sample just as easily as they used The Bar-Kays. "Prophets Of Rage" is a ridiculously strong song to be tucked away near the end of an album, a flood of ideas that unite hip-hop assertiveness with hard-edged polemic.
The greatest hip-hop album of all time?
It Takes A Nation Of Millions To Hold Us Back put Public Enemy at the forefront of the hip-hop that "rock" critics felt was important. This was both a benefit and a burden: its messages were intended to awaken hip-hop ears and reach the minds of the oppressed, but while the record hit the top of the Black albums chart a lot of the buyers who gave the record its platinum status were educated college kids and white fans, while the "cold getting dumb" type of hip-hop the group was trying to replace continued.
The fact that Public Enemy was noticed by the white world meant they also came under fire for perceived verbal felonies, and their every word was analyzed – a problem that would affect them badly over the next year and into Nation Of Millions' follow-up, Fear Of A Black Planet. But how the album was received then is neither here nor there now. What is important is that it was an unarguably powerful statement, a manifesto for the reignition of a mass movement for the liberation of African-Americans: Black power for a new generation. Its musical impact was transformative; numerous other rap acts followed the lead of The Bomb Squad, PE's brilliant producers. The sheer amount of sound they put on plastic here defies belief.
For many fans and critics, this is the greatest hip-hop album of all time. These matters are always subjective, but when you are immersed in its world, it's impossible to argue that It Takes A Nation Of Millions To Hold Us Back does not deserve to be there, or thereabouts.
Public Enemy's It Takes A Nation Of Millions To Hold Us Back can be bought here.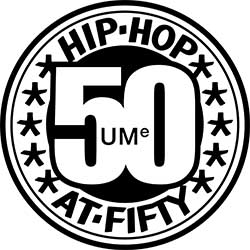 In celebration of hip-hop's 50th anniversary, uDiscover Music is publishing 50 album reviews throughout 2023 that highlight the breadth and depth of the genre. The Hip-Hop 50 logo was designed by Eric Haze, the mind behind iconic graphics for EPMD and LL Cool J.