'Trilla': Rick Ross Highlights The Griminess And Luxury Of Florida
It's an album of party records that double as cigar bar music.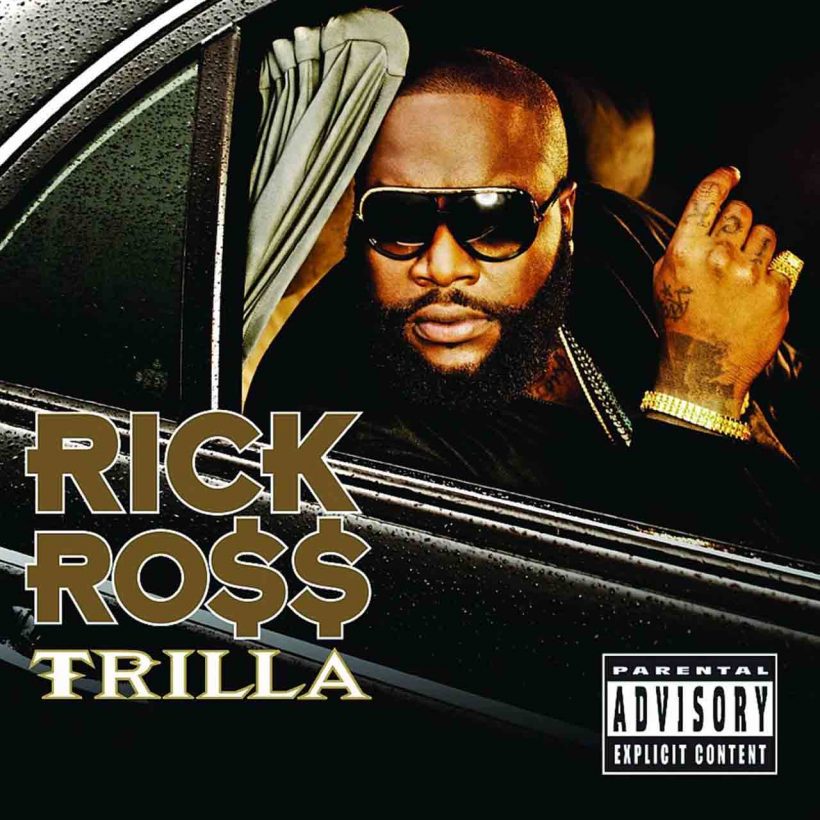 When most people think of Florida – outside of its bourgeoning young rap scene and OGs like Rick Ross, Trina, Poe Boy Entertainment, and the entire Slip N Slide family – they're reminded of headlines about criminals and degenerates; maybe some alligator incidents, and South Beach Miami. The reality is, most of Florida is grimy, swamp-ridden, and humid as hell. It truly is America's armpit: sweaty, musty, but full of character.
I grew up in the Panhandle of Florida – Tallahassee to be specific – surrounded by swamps, dirt roads, and very few street lights. In college at Florida State, I was surrounded by kids from South Florida; many of my classmates were from some of the grimiest parts of Miami. Their culture, style, and taste in music was the essence of that extravagant Florida lifestyle. When anyone – including myself – speaks on the music scene here, what they're really talking about is the sounds of South Florida. Those tropical steel drums and island-influenced rhythms took over the entire state – it's our one connection.
Listen to Rick Ross' Trilla now.
And that's what Rick Ross' music and career embodies. He became one of the biggest artists in music while never abandoning that luxurious South Beach vibe throughout his entire catalog. His second album, Trilla, embodies this vibe from the (literally) thunderous intro, the shoutouts to Opa-Locka and Carol City, the grimy production, and the love for strip clubs.
In 2008, mainstream rap was leaning more and more extravagant. The music was shirking away from the cave-your-chest-in early aughts gangsta rap that 50 Cent's Get Rich Or Die Tryin' helped make popular. Instead, rappers were taking a page from the shiny suit era of the late 90s and making music that sounded like wealth and exclusivity. It was a way of turning the phrase "black excellence" into a genre. Producers like Cool & Dre, The Runners, and Drumma Boy helped make songs, helmed by posh pianos and motor synths that trigger visions of speedboats and all-white soirees yet still club-ready with heavy bass.
Rick Ross - Speedin' ft. R. Kelly (Official Video)
Trilla is a masterclass in this luxury rap style of music. Singles like "Speedin" and "Here I Am" are songs that encapsulate Ross' love of flamboyance and luxury – and the more idealistic visions of Miami. While much of Florida's scene was fixated on dancing to chipmunk fast party records and music reminiscent of Baltimore and New Jersey club records, Ross took another approach. His music was the postcard vision of Miami and Florida in general. Like Ross raps in "This Is The Life": "This reserve for them trill, I'm red carpet every year/ Take a picture, canary stones so photogenic." Miami can be a city of dreams.
When these songs dropped, I was in college and "Here I Am," in particular, felt like undeniable records universally loved by kids at both Florida State and the HBCU across the train tracks, Florida A&M. "Here I Am" even shouts out both schools: "Home from FAMU with a gorgeous face / Next semester she transferred to Florida State." It's pure bait for a group of 18 to 22-year-old college students but it doesn't matter, the song is too perfect to find anything to quibble with.
Rick Ross - Here I Am (Official Music Video) ft. Nelly, Avery Storm
Much of Trilla and Ross' rapping on it is intoxicating in the same way hanging in a VIP booth or vacationing on an island may be; that feeling of exclusivity, profligacy, and indulgence runs rampant throughout the album. Ross' strengths come from emanating an immaculate lifestyle that people can live vicariously just from his rhymes. "Speedin" and "The Boss" are Michael Bay movies in song form – homages to records like The Notorious B.I.G.'s "Hypnotize" and Ma$e's "Feels So Good" with a Southern twist from a rapper and a true student of the craft.
Years later, listening to Trilla feels nostalgic but not necessarily stale. Rap has changed dramatically in sound but Ross' style has always stayed consistent. What was perhaps unique and trendy in 2008 now sounds like rap's version of adult contemporary; this isn't an insult necessarily, adults need rap songs too and Trilla, along with much of Ross' discography now, feels very "grown and sexy." But it's also undeniably Florida. The Runners and J.U.S.T.I.C.E. League, who play a major role in the production of the album, are Floridians and understand the unique sound of South Florida's bass and jook scenes. DJ Khaled, the ultimate Miami personality, is on the record; local rappers like Briscoe and the Triple Cs are included and Ross himself is bred in Florida and comes through in his laid-back yet gruff demeanor.
Ross' music sounds like speeding down the I-95, seeing the palm trees as you cross into Miami, with shades on to keep the sun out of your eyes. It probably also sounds like being on a yacht in the middle of the ocean – a life I know nothing about, but that's what Trilla is for, giving you that fantasy.
Trilla is an album of party records that doubles as cigar bar music; perfect for sitting in a leather brown chair in front of a fireplace with a fancy glass of straight cognac. Ross excels at decadence; whether it's with lines like "Stuffed shells, thanks to crack, I crack crab and lobsters" on "Maybach Music" or the elegant piano and victorious horns of "Luxury Tax." Rick Ross makes music that sounds like it was literally made inside a chandelier, with production and rhymes that glide smoothly like a marble floor. And still there's room for a song like "Money Make Me Come," an unabashed strip club anthem made for King of Diamonds or college house parties when it starts to get late and lusty.
Rick Ross left an imprint on rap but an even bigger one on Florida by taking its native sound and blending it with the Atlanta sound most popular in rap in 2008. It was a blueprint other Florida artists like Plies and T-Pain would follow. But no one did it better than Rick Ross, and Trilla was the moment it all came together. He would only go up from here.
Listen to Rick Ross' Trilla now.
Editor's note: This article was first published in 2018.