Arcade Fire
With their blend of multi-instrumental skill, intense songwriting & passionate anthemic vocals, Arcade Fire are a formidable musical force.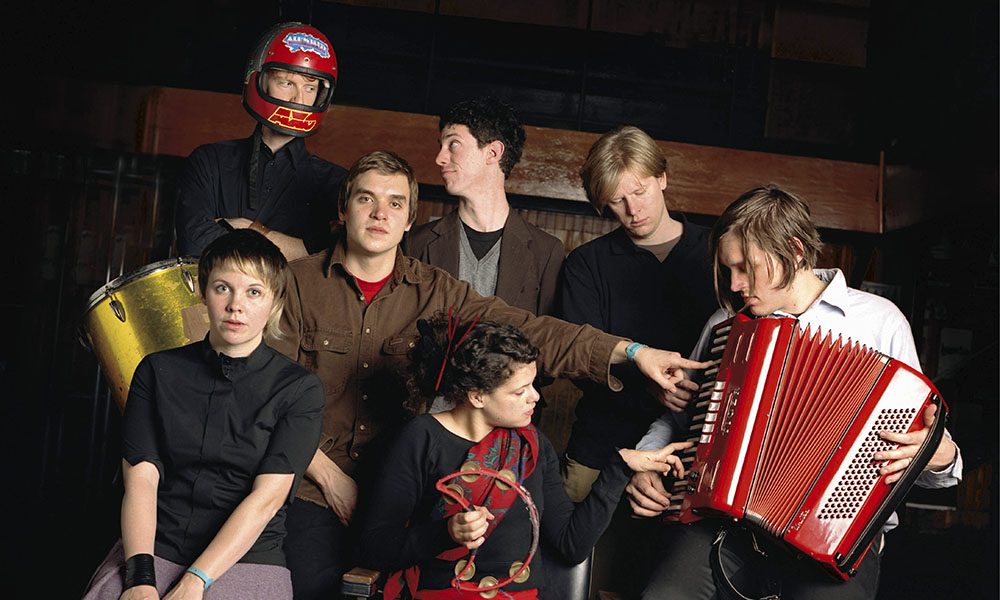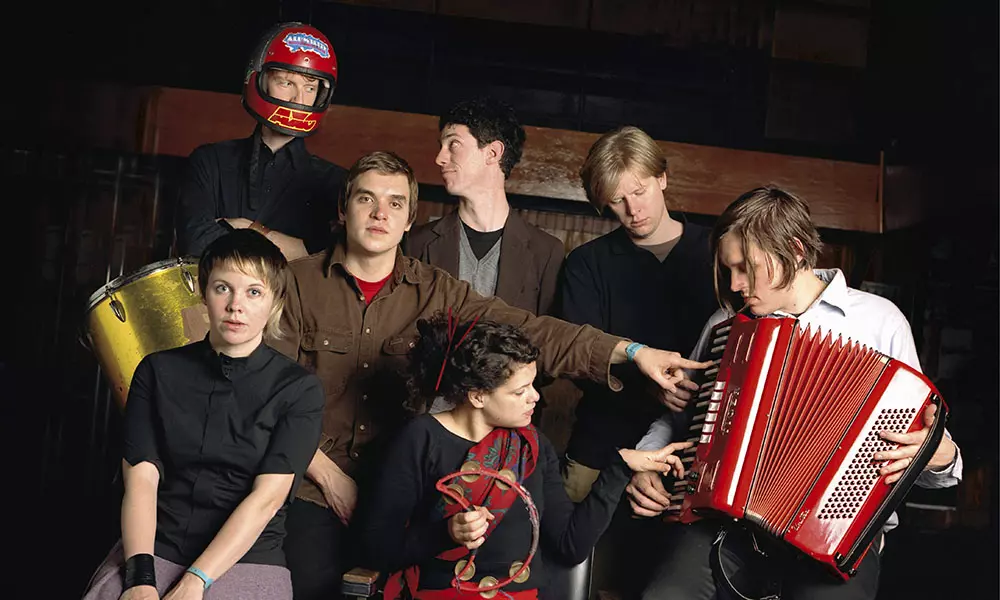 The American-Canadian band Arcade Fire (let's steer clear of too many typecasts here, they make music) have been together in some shape or form since they recorded their debut EP, a self-titled, self-released affair with seven tracks featuring original members Win and Will Butler, Régine Chassagne, Josh Deu, Richard Reed Parry and others from their art and music circles in Montreal, Quebec. With their fortuitous blend of multi-instrumental skill, intense songwriting and passionate vocal style allied to promising live shows they created the perfect opener in Funeral, a disc that became an obsession with their fans and sold over a million copies, despite being on the independent label Merge. As demand for their presence became a phenomenon Arcade Fire took their extraordinary array of tunes and instruments to the people and wowed festival-goers from Coachella to Leeds, Lowlands in the Netherlands to Vegoose and Reading.
No longer any kind of well-kept secret their magnificent collaboration with David Bowie on the latter's "Five Years" at the Fashion Festival in 2006, a mutual love affair with U2 during the Vertigo Tour and outstanding end of year poll showings rubber-stamped their status. The subsequent discs Neon Bible, The Suburbs and Reflektor saw them touch Platinum and Gold and top charts worldwide in the process. Offshoot projects include the soundtrack to Spike Jonze movie Her, a version of Peter Gabriel's "Games Without Frontiers" for his tribute album And I'll Scratch Yours, backing up Mick Jagger on Saturday Night Live and an NBC special that featured cameo appearances by Ben Stiller, Bono, comedian/actor Bill Hader and others. They have won two BRIT Awards (for The Suburbs, as Best International album and group), two Grammy Awards (The Suburbs again), and numerous Canadian Juno Awards. Suffice to say that in the space of a decade Arcade Fire have become one of the key bands whose intelligent and sometimes provocative dedication to their work turns fans into fanatics and draws newcomers under their spell.
Win Butler and Josh Deu were the founding force in the very early incarnation of Arcade Fire having met at the prestigious New Hampshire school, Phillips Exeter Academy. Texan Butler struck up a friendship with Chassagne during rehearsals at McGill University in Montreal. She and Butler married in 2003. Their self-titled debut was recorded in Maine with Butler's younger brother Will adding a dynamic element to their sound and image. The EP's best-loved song "No Cars Go" would be re-recorded later for Neon Bible. In any case, while this wasn't as polished as later releases it includes many of their most notable elements: a variety of keyboards, clarinet, banjo and all manner of exotic percussive effects.
If that debut hinted at what was to come then Funeral delivered the lot. Generally acknowledged being a modern classic and a must-hear disc if it passed you by (how?) then discovery won't go amiss now. Other core members featured here are Tom Kingsbury on bass and guitars, Richard Reed Parry – a force of nature in his own right who plays just about everything and produces and engineers – violinist Sarah Neufeld and others. All the tracks are outstanding with the three "Neighbourhood" pieces containing all the rhythmic thrust and lyrical power that characterise classic Fire. The most famous song is probably "Wake Up" (over 10 million hitters on YouTube can't be wrong) but "Rebellion (Lies)" runs it close with a throbbing Joy Division inflected bassline and an overarching Gothic mood that simply pulls you along. It has become their natural concert finale and remains one of the greatest indie anthems of recent years.
Still on Merge Arcade Fire made Neon Bible with producer Markus Dravis in Quebec, London, New York and Budapest and hit all the buttons from claustrophobic panic to full-blown grandiose endeavour. More baroque than rock and roll in the old sense the songs here take a not too cool look at America via communications media and incorporate strands of Americana via Bob Dylan, Bruce Springsteen and Elvis Presley: tradition updated. The folky and spooked "Keep The Car Running" could almost have been on Born to Run, if that album had met Talking Heads Fear of Music. What makes it tick, since tick over it does? Chassagne's hurdy-gurdy rhythm is essential but so are the almost buried in the mix guitars and strings. Needless to say, Bruce and Arcade's Win Butler and Chassagne have played it together in Ottawa and Foo Fighters have it covered.
Just as esoteric is "No Cars Go"; released on 7" vinyl, while the mind-boggling "Intervention" has a hymnal quality that belies its bleak lyric. Dealing with spiritual scams in general and the folly of the gullible in particular Neon Bible is itself an addictive charmer and a huge favourite in the UK where over 300,000 purchasers have kept the faith.
The major-label debut The Suburbs hit the heights in the UK and US. Offering over an hour of music this needs to be checked on the Deluxe edition where Arcade Fire collaborate with David Byrne on "Speaking in Tongues" (a Talking Head album title but not an actual track by them). With Neufeld now fully integrated into the writing and compositional process and Jeremy Gara bossing the drum kit, this is the band's most percussive and playful disc with a lyrical slant drawn from the Butlers childhood in The Woodlands, Texas (some of it was recorded with Drakus in Austin). With its careful and clever metaphors dealing with life in the 20th and 21st centuries and an inevitable nostalgia surrounding the brilliant "Ready to Start", "City With No Children" and the bizarrely simplistic yet ambiguous "We Used To wait" this is a disc that repays reinvestigation.
So to Reflektor, released 2013, whose secretive influences include Chassagne's Haitian roots, dashes of philosophy and the movie Black Orpheus. Part-produced by LCD Soundsystem's James Murphy this time the barrage of instrumentation creates an electronic and heavy atmosphere. Bowie returns to add a vocal to the title cut – he was much taken by the song's rhythmic ambition – and Owen Pallett's usual arranging skills augment a disc that became their second #1 in the UK and the US. The human rights track "We Exist" and the dreamy "Afterlife" are as challenging as anything from Butler's pen and the band excel on a sprawling 2-CD set that encompasses everything from concertina and glockenspiel to celeste and mandolin. It's a form of classic world music wrapped up in 85 minutes plus of essential noise with deep danceability and elements of British 80s rock.
No new album is in the pipeline at the time of writing but given their usual modus operandi, a new Arcade Fire disc will be on the way soon. In the meantime, there's plenty of opportunities to discover a wealth of good stuff and cherish those anthems again.
Words: Max Bell
Format:
UK English