Best Albums Of The 2010s: 30 Classics That Defined The Decade
The past decade saw a breakdown in genres, conventions, musical borders and barriers to entry… as the best albums of the 2010s prove.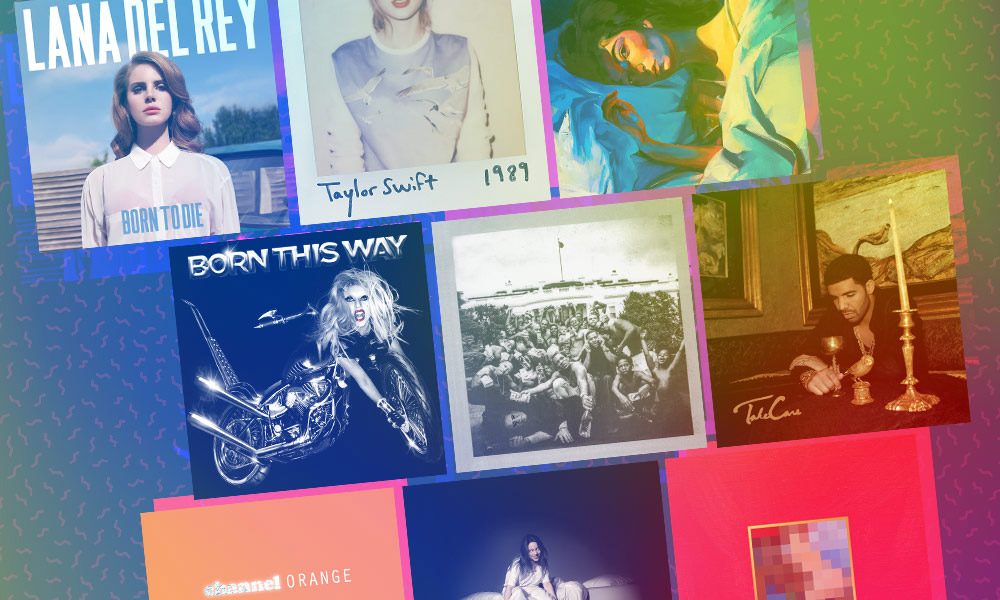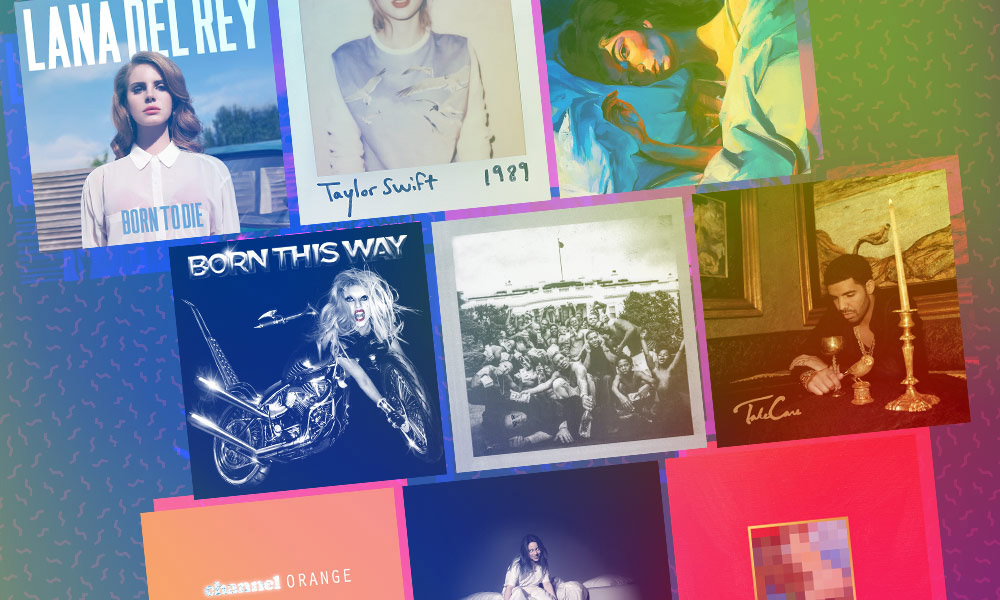 How do you take stock of a decade? In its peaks and valleys, or the grey areas in between? In the 2010s, music became a benchmark for culture: it reflected the seismic shifts, the unease surrounding our increasing reliance on technology, the political unrest and the shrinking of the world's borders. Just as some people wondered if music still had relevance, the creative spirit found a way to bounce back. The best albums of the 2010s, then, not only define the decade, they chart an artistic rebirth.
The 2010s were a time of great transition and breaking down of conventions. Hip-hop became pop music, while R&B resurfaced with fresh voices. Pop got personal and rock was no longer a monolithic genre, splintering into tiny factions to suit every taste. EDM rose and fell, new icons emerged and old ones re-established themselves.
This list of the 30 best albums of the 2010s could easily be 200 entries long, but we've focused on those records that have truly defined the decade: works by the trailblazers, the disruptors, and the torchbearers in popular culture.
Listen to the best 2010s music on Spotify, and scroll down for our 30 best albums of the 2010s.
30: Tierra Whack: Whack World (2018)
Ask anyone to name the most exciting new voice in hip-hop right now and they'll all give you the same answer: Tierra Whack. While the 2010s saw the return of the female MC (Cardi B, Megan Thee Stallion and Nicki Minaj), Whack operates outside of the hypersexualised scene, preferring to sit in the margins, creating an experimental collection of vignettes on her debut album. This 15-song set of minute-long songs is either very punk or just economical. You be the judge.
Check out: Whack World
29: Katy Perry: Teenage Dream (2010)
There's a kind of blinding optimism on Teenage Dream makes you wonder: when did we all stop being this happy? Katy Perry's sophomore release cemented her status as a global pop star, and managed to capture the youthful feeling of invisibility on heartfelt anthems like 'Firework', 'Teenage Dream' and 'Last Friday Night (TGIF)'. An instant classic if there ever was one.
Check out: 'Firework'
Katy Perry - Firework (Official Music Video)
28: Rosalía: El Mal Querer (2018)
Technology has not only globalised pop music but has connected today's generation with folk music traditions. Taking 200 years' worth of flamenco history and fusing it with trap-R&B is truly a 21st-century invention, and Rosalía's sophomore effort, El Mal Querer, is one of the most gorgeous and experimental albums of the 2010s.
Check out: 'Malamente (Cap.1: Augurio)'
27: Grimes: Visions (2012)
Anyone following in music in the 2010s is sure to have a Pavlovian response to the opening synth lines to Grime's 'Oblivion'. Both the song and its parent album, Visions, were the perfect distillation of the kind of bedroom experimentation embarked on by a generation with endless influences just a keystroke away and enough speedball energy drinks to fuel them. IDM meets pop meets industrial on Claire Boucher's breakthrough album, which found her inviting us into her manic pixie dreamworld full of endless loops and layers.
Check out: 'Oblivion'
26: Billie Eilish: When We All Fall Asleep, Where Do We Go? (2019)
Most musical trends don't fit into tidy units of measured decades – they ebb and flow, spilling into the next era. Billie Eilish may be the last new pop star of the decade, but her debut album is firmly pointed towards the future. A product of SoundCloud trap and earnest bedroom-pop, Eilish is the latest artist to carry the torch of youth culture, but, unlike her predecessors, she only answers to herself.
Check out: 'bad guy'
25: The Weeknd: House Of Balloons (2011)
When The Weeknd made his mysterious entrance in 2011, with his debut mixtape, House Of Balloons, it felt like contraband. Before the Drake co-sign, before people even knew his name, the man born Abel Makkonen Tesfaye was just a spectre who fused Siouxsie And The Banshees samples with tales of drugs, debauchery and a haunting falsetto. His brand of otherworldly R&B and narcoticised production would become the blueprint for R&B well into the decade.
Check out: 'What You Need'
The Weeknd - What You Need
24: Lady Gaga: Born This Way (2011)
If the early 00s were about a rock renaissance, the 2010s were about peak poptimism. While critics started to take the genre more seriously, artists stepped up to the plate to deliver pop with purpose. Case in point: Lady Gaga's Born This Way. The album is both retro-inspired and future-minded – a metaphor for the decade as a whole. Gaga's unabashed excess and anthems of inclusiveness marked a pivotal moment in pop music.
Check out: 'Born This Way'
Lady Gaga - Born This Way (Official Music Video)
23: LCD Soundsystem: This Is Happening (2010)
As one decade opened, the bastions of the previous decade closed-up shop. Electro-dance-punk outfit LCD Soundsystem bade their fans – and New York's once-thriving indie scene – goodbye with their "final album", capped by a historic run at Madison Square Garden. This Is Happening was full of send-offs ('Home'), wistful dance-pop numbers ('Dance Yrself Clean') and nostalgia for the present ('I Can Change').
Check out: 'Dance Yrself Clean'
22: James Blake: James Blake (2011)
If anyone's responsible for the kind of genre-subversion that pervaded the 2010s, it was James Blake. With his tender torch songs and synth soundscapes, the dubstep DJ turned singer-songwriter wrote the kind of melancholic pop that comforted club kids and introverts alike. After a string of buzzworthy EPs, Blake emerged with his 2011 self-titled debut, putting his transcendent voice on display and carving out his own genre: electronica-soul.
Check out: 'Limit To Your Love'
James Blake - Limit To Your Love (Official Video)
21: Adele: 21 (2011)
Picking up the mantle of jilted torch singer after Amy Winehouse died, Adele's blue-eyed soul was just as essential to the 2010s as anything by the pop stars who were experimenting with form. Her traditionalist pop followed in the footsteps of other great UK songstresses like Dusty Springfield and Petula Clark, but communal heartbreak cuts across generations, and 21 has become the biggest-selling album of the 21st Century to date.
Check out: 'Someone Like You'
20: Arcade Fire: The Suburbs (2010)
A post-recession record if there ever was one, The Suburbs may have acutely captured the kind of unease that lingered in the air following the 2008 financial crisis, but Arcade Fire also prophesied the anxiety-ridden 2010s. Many returned to their family homes following the crash, but the suburbs were always an empty promise. This time, the band turned their collective focus away from mortality and looked inward, towards suburban ennui: "By the time the first bombs fell, we were already bored." Man were they right.
Check out: 'The Suburbs'
19: Beach House: Teen Dream (2010)
When Beach House first staked their claim on pop culture, the 00s was a breeding ground for lo-fi, chillwave rock, but 2010's Teen Dream remains their defining moment. With their lush arrangements and Victoria Legrand's layered vocals, Beach House moved out of the bedroom pop scene and onto the stage.
Check out: 'Zebra'
18: Jay Z: 4:44 (2017)
After the Knowles sisters unleashed their personal manifestos in 2016, it was only a matter of time before Jay Z would reveal his own innermost feelings. As the elder statesman of hip-hop and one of the successful business moguls to date, many had written him out of the game. With 4:44, however, Jay Z eschewed the posturing and braggadocio of his heyday, recording an intensely personal record of love, regret and repentance.
Check out: '4:44'
17: Kacey Musgraves: Golden Hour (2018)
Following a long line of female country artists who broke into the pop mainstream, Kacey Musgraves became the kind of upstart the genre needed, with her mould-breaking, Grammy-winning album Golden Hour. As one of Nashville's finest singer-songwriters, Mugraves applies a knack for lyrical detail to a sweeping country album that spans pop, rock and disco.
Check out: 'Rainbow'
Kacey Musgraves - Rainbow (Official Music Video)
16: Lana Del Rey: Born To Die (2012)
When Lana Del Rey first landed, in 2012, she was an enigmatic figure with pin-up looks and narcotised torch songs, and Born To Die was the album that launched a thousand think pieces. Rigorous online discourse about "authenticity", personas and personal appearance surrounded her debut album, yet Lana Del Rey foresaw the future of pop music. Her bold pastiche of Americana, filtered through nostalgia and her beguiling voice, launched the "sad girl pop" subgenre, and while her latest effort, Norman F__king Rockwell, may be her strongest yet, Born To Die – and standout song 'Video Games – is what set everything in motion.
Check out: 'Video Games'
Lana Del Rey - Video Games
15: Tame Impala: Lonerism (2012)
As the 2010s marched forward, technology, which seemed to be bringing people together, began to create gulfs between them. No one understood this better than Kevin Parker (Tame Impala). Moving away from his guitar-driven earlier work, the studio wizard used psychedelic synths, samples and ambient sounds as his new sonic palette, creating introspective anthems that spoke to a generation on his album Lonerism.
Check out: 'Feels Like We Only Go Backwards'
Tame Impala - Feels Like We Only Go Backwards (Official Video)
14: D'Angelo And The Vanguard: Black Messiah (2014)
It had been nearly 15 years since D'Angelo blessed the world with his neo-soul masterpiece Voodoo, but on his 2014 follow-up, Black Messiah, he proved it was well worth the wait. While Voodoo was sensual and loose, Black Messiah kept things tight: a lesson in groove and R&B fusion, thanks to his Vanguard band. Arriving in the thick of the Black Lives Matter movement, Black Messiah tapped into the era's cultural zeitgeist, delivering the salvation we needed.
Check out: 'Sugah Daddy'
D'Angelo and The Vanguard - Sugah Daddy (Audio)
13: Rihanna: ANTi (2016)
Rihanna has always been one of pop's biggest risk-takers, but on her eighth studio album, ANTi, she truly broke away from the pop industrial complex. Sure, there were dancehall jams ('Work'), but she also dabbled in doo-wop ('Love On The Brain') and 80s sleazy synth-rock ('Kiss It Better'). "I got to do things my own way, darling," she declared on 'Consideration' – and it paid off. Anti became the first album from black female artist to spend 200 weeks on the Billboard 200.
Check out: 'Love On The Brain'
12: St Vincent: Strange Mercy (2011)
Just as critics decried the death of rock following its early 00s revival, St Vincent led the charge of female rock heroes, demonstrating her axe playing and songwriting prowess on Strange Mercy. Her enigmatic vocals and creative arrangements had been evident on her previous releases, but it wasn't until her third album that she fully unleashed her powers.
Check out: 'Cruel'
St. Vincent - Cruel (Official Video)
11: David Bowie: ★ (2016)
Rock's original chameleon left us with one of his most daring collections of music, shaking up the status quo as if were 1976 all over again. Arriving just two days before his passing, ★ saw David Bowie remain adventurous to the end, eschewing his rock roots and delivering an exploratory jazz-fusion record that became the perfect farewell to five decades' worth of history-making music.
Check out: 'Lazurus'
10: Blood Orange: Cupid Deluxe (2013)
Long before he became Blood Orange, Dev Hynes' sonic fingerprints were all over the emerging pop scene of the 2010s. Writing and producing for artists like Solange and Sky Ferreira, Hynes was the go-to man for late-night vibey records and slinky jams – a sound that would reach its logical conclusion on Cupid Deluxe. As an homage to the people, places and sounds of the queer dance scene of 80s New York, Cupid Deluxe takes the kitchen-sink approach, melding a bit of disco, soul and R&B to create the new hybrid pop sound that would dominate the decade.
Check out: 'Time Will Tell'
9: Robyn: Body Talk (2010)
With her bubblegum-pop teen icon days behind her, Robyn reinvented herself in 2010 with Body Talk. Developing from a mini-album trilogy, Body Talk proved dance music was anything but disposable; finding humanity on the dancefloor, it tapped into feelings of loneliness and escapism. With a knack for melody, Robyn delivered an electro-pop album so good it would take eight years for her to release a follow-up.
Check out: 'Dancing On My Own'
8: Taylor Swift: 1989 (2014)
To be honest, most of Taylor Swift's discography would rightly belong on this list. Since her crossover pop hit Red, in 2012, she delivered a string of classic pop albums through the 2010s, with a lyrical wit that few possess. But out of all of Swift's post-country albums, 1989 remains her most fully realised: the moment when she fully clinched the pop throne.
Check out: 'Blank Space'
Taylor Swift - Blank Space
7: Beyoncé: Lemonade (2016)
No longer beholden to the benchmarks of the past, the 2010s saw more pop stars getting personal and taking risks, all thanks to Beyoncé. Following the album's release, the term "lemonade" has become shorthand for pop artists releasing their personal concept records – their own "lemonades". Following her culture-shifting visual album Beyoncé, Lemonade was more than a break-up album, it was a declaration of war that played out on an accompanying 65-minute film that only Beyoncé could pull off.
Check out: 'Formation'
6: Drake: Take Care (2011)
In many ways, the 2010s was the decade that Drake built: a ten-year victory lap that started with Thank Me Later (2010) and ended with Scorpion (2018), but it was with Take Care that Drake showed his true colours, creating the template for the vulnerable hip-hop star. Drake wasn't the first rapper to sing on record, but he was the first rap-pop star, absorbing every genre that lay before him.
Check out: 'Marvins Room'
5: Lorde: Melodrama (2017)
Before Billie Eilish came along, Lorde was the most famous teenager in the world, thanks to her all-conquering debut album, Pure Heroine, released when she was just 16. In the years that followed, the Kiwi star spawned many emulators, but she would eclipse them all with her sophomore effort, Melodrama, a coming-of-age record that captures in vivid detail all the joys and heartaches of navigating adulthood.
Check out: 'Green Light'
4: Solange: A Seat At The Table (2016)
The 2010s was a tumultuous decade, to say the least, and only a handful of artists successfully managed to channel the era's political unrest while creating a sense of hope at the same time. Solange's A Seat At The Table didn't just shift the culture, it ignited a movement. With her celebration of black womanhood and black empowerment, Solange earned a seat at the table of power while inspiring countless others to demand theirs. Even as the album bore the weight of a nation on its shoulders, it still sounded impossibly light.
Check out: 'Cranes In The Sky'
3: Kanye West: My Beautiful Dark Twisted Fantasy (2010)
Kanye's ego has been both his biggest strength and his biggest weakness, but it serves him well on his ambitious opus, My Beautiful Dark Twisted Fantasy. Following a self-imposed mini-hiatus, West doubled down on his vices and created an ode to excess and hedonism. Casting a critical eye on both America and himself, he offered a "a toast for the a__holes" while bringing some friends along for the ride. Stacked with A-list appearances by Nicki Minaj (on her scene-stealing 'Monster' verse), Pusha T ('Runaway'), Kid Cudi and Raekwon ('Gorgeous'), MBDTF set the scene for a flood of classic hip-hop albums in the 2010s.
Check out: 'Runaway'
2: Kendrick Lamar: To Pimp A Butterfly (2015)
After proving himself a master storyteller on his major label debut album, Good Kid, mAAd City, Kendrick Lamar delivered another musical deep-dive into the black experience with To Pimp A Butterfly. A stunning assimilation of jazz, funk, hip-hop and African music, … Butterfly offered the kind of boundless vision the decade was waiting for.
Check out: 'Alright'
Kendrick Lamar - Alright (Official Music Video)
1: Frank Ocean: channel ORANGE (2012)
R&B experienced some of its biggest-ever shifts during the 2010s, as radio started to dwindle and the genre's tight constrictions gave way to what would be coined "alt-R&B". Frank Ocean was one of the key architects of this sea change, both in sound and lyrical context: though he avoided the genre's traditional vocal, Ocean's sentiments were no less impassioned. channel ORANGE is a slow-burn, but it's full of rich details. Ocean brought a sense of fluidity to the genre, occupying a variety of characters' points of view and, in turn, delivering a fresh perspective: his own. As one of the first openly gay artists in hip-hop and R&B, Ocean ignited a self-reckoning in modern pop music.
Check out: 'Thinkin Bout You'
Looking for more? Discover the full story behind a transformative decade in music.
Format:
UK English