Best The Killers Songs: 20 Rock Anthems
An introduction to a group that seamlessly balances gritty American stories packaged in glitter-soaked performances.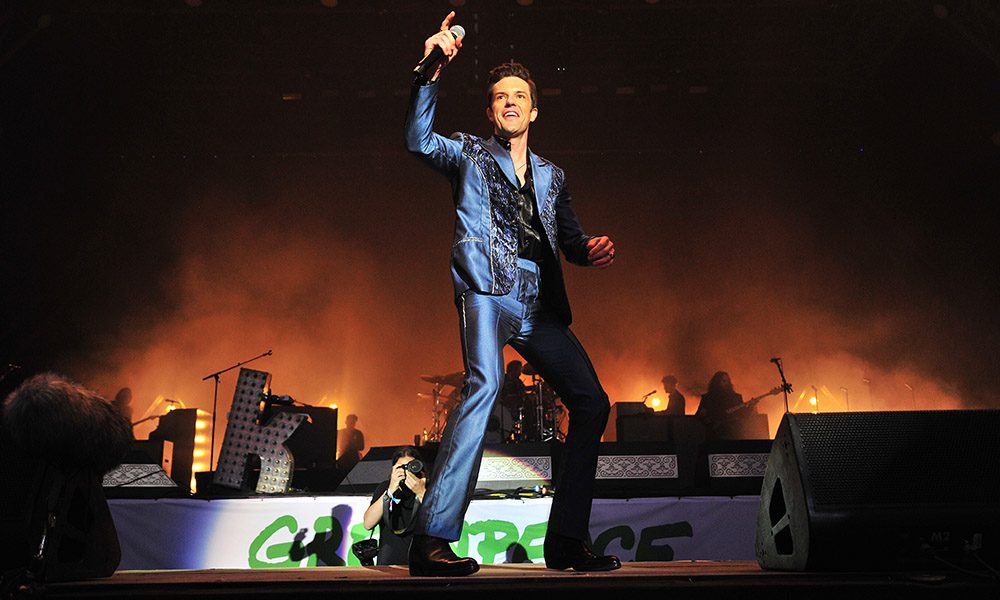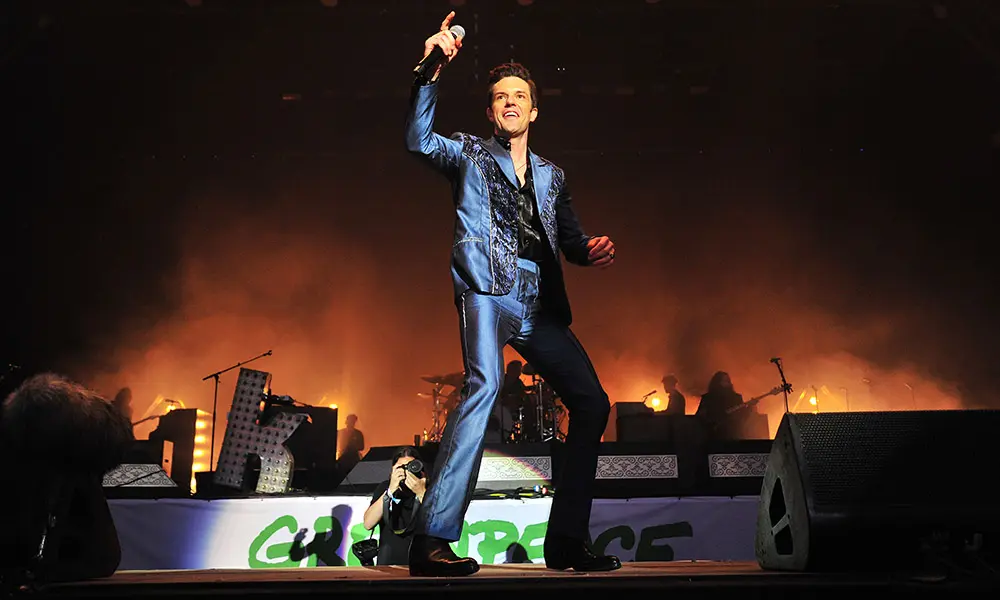 In 2001 America's best Britpop band was born in the barren, dry desert of Las Vegas, Nevada. Launching into the limelight with their 2004 debut Hot Fuss, The Killers were initially called synth-pop post-punk purveyors and immediately saw commercial and critical success. Despite (or perhaps because) their sound resonated with so many fans across the world, the band took a u-turn, hopping back across the pond sonically and symbolically with the release of their Americana-tinged, cult-classic sophomore album Sam's Town. Fast forward to 2020, and the band now has six studio albums, one greatest hits compilation, and a record of B-sides that could very well contend as a-sides.
But how did they get there? Maybe it's frontman Brandon Flowers' lyrics? Who else could get away with writing (and singing): "I pull up to the front of your driveway, with magic soaking my spine"? Or perhaps it's the balance of gritty American stories packaged in performances so glamorous and glitter-soaked they'd make the top performer of any Sin City strip residency blush.
In an attempt to answer that question once and for all, here's a list of 20 of The Killers' best songs paired with the venue they are best experienced in.
Listen to the best The Killers songs on Apple Music and Spotify.
Dive Bar Declarations
(Glamorous Indie Rock and Roll; Mr. Brightside; Smile Like You Mean It; Jenny Was A Friend of Mine; Sam's Town)
The Killers cut their teeth playing shows at cafés and dive bars in the local Las Vegas circuit. Their early songs celebrate that scene: They're firsthand tales of falling in love under the neon lights of a transient town populated by dreamers, harlots, and sinners.
The Killers themselves were dreamers. Just listen to the lyrics of "Glamorous Indie Rock and Roll," in which Flowers delivers a riposte to the snobbery the band experienced in a local scene dominated by nu-metal and rap bands. Then there's "Mr. Brightside," AKA that one Killers song you were born already knowing all the words to. The infamous sing-along sounds just as good at Wembley Arena as it does at your cousin's wedding. So, why is nestled in this dive bar section of the list? Well, it was at the divey Crown and Anchor pub that Flowers became inspired to write the song when he ran into his girlfriend with another man.
The Killers - Mr. Brightside (Official Music Video)
Hot Fuss opener, "Jenny Was a Friend of Mine" is not only best experienced in a dive because you're more likely to feel the reverberation of Mark Stroemer's powerful bassline, but also because it illuminates the sound and spirit of the band's earlier days. At the time, the track was compared to Duran Duran and The Smiths, because the group hadn't quite landed on the sound they're known for today. (And also because of the British-affectation Flowers' put on while singing the song's controversial lyrics.) The nostalgic yet sardonic "Smile Like You Mean It" belongs here for many reasons. But the most important, of course, is that it was performed by the band on an episode of the infamous teenage drama series The O.C. at arguably the best fictitious dive venue known to television, The Bait Shop.
Speaking of noteworthy dives, the song "Sam's Town" got its name from a hotel and gambling hall equipped with a small performance venue, and known for an animatronic attraction featuring southwestern creatures and a neon laser light show. The symbolic place Flowers sings about in the song, however, is a home – the kind of place you return to like a prodigal son after realizing you never had to leave at all.
Local Venue Lullabies
(For Reasons Unknown; A Dustland Fairytale; My God; Bling (Confessions of a King); Dying Breed)
Local venue songs can be equated to the knowledge you'd pick up in a 102 level course. You've got the basics covered, and now it's time to dig into The Killers songs you're less likely to hear on the radio. "For Reasons Unknown," a single the band released with little promotion, deserves a spot on the list for its surprisingly synth-less and guitar-heavy sound, so much so that Stroemer joins Dave Keuning on guitar. It's the only track on any Killers album where Flowers plays bass.
"A Dustland Fairytale" is an introspective and quieter moment during the band's live sets and stands out amongst the other tracks on 2008's Day & Age. The song tells the story of Flowers' parents, detailing the whirlwind desert romance between one "Cinderella" and a "slick chrome American prince." The soul-stirring sentimentality of the song is perfect for a smaller darker venue, so your friends won't see the tears in your eyes when Flowers sings: "Now Cinderella don't you go to sleep / It's such a bitter form of refuge / Don't you know the kingdom's under siege / And everybody needs you."
The Killers - A Dustland Fairytale
Although "Bling (Confessions of a King)" was never released as a single, it has somehow snuck its way in and stayed on the band's setlist over the years. It's not hard to understand why when you hear the slow and steady guitar buildup finally break into the cathartic and boisterous bridge. The lyrics "Higher and higher / We're gonna take it down to the wire / We're gonna make it out of the fire / Higher and higher" immediately morph the crowd into a backing choir.
"My God" continues the quintessential Killers practice of writing songs that could double as hymnals. The earnest way Flowers sings "don't talk to me about forgiveness / My God just look who's back in business" matched with the dramatic uptick of Ronnie Vannuci's drumming after Weyes Blood's vocal turn is perfect listening for your favorite local haunt.
Another single from Imploding The Mirage, "Dying Breed" is a great example of how the Killers write love songs that can also double as heartland rock ballads. It's filled with what Flowers has referred to as the "prettiest" lyrics he's ever written, including (but not limited to): "From the coveted touch of a girl in love / I was lifted by the sound of a spirit in need / Baby, we're a dying breed."
Formidable Festival Ballads
(Human; Spaceman; Somebody Told Me; All These Things That I've Done; The Way It Was)
Festival performances require a specific type of setlist. There's no room for b-sides or lesser-known tracks on the field, just big songs you know the audience – who may have shown up to see another act that weekend – can scream the words to. A perfect Killers example is the symphonic synth song "Spaceman." The only words you truly need to know for that one are "oh oh oh oh oh oh oh oh oh."
"Human" also sounds great at a festival, so long as you're fine with singing along with strangers who may find the esoteric muttering of "are we human or are we dancer?" not only confusing but grammatically incorrect. Speaking of festival-worthy lyrics that are both catchy and disorienting (in the best way), "Somebody Told Me" has the hard-to-unhear lyrics, "Somebody told me / You had a boyfriend / Who looks like the girlfriend / That I had in February of last year."
The Killers - Human (Official Music Video)
With its dynamic lyricism, punchy guitar opening, and a bridge that starts slow and steady before cathartically erupting, "All These Things That I've Done" was made for festivals and chanting along to the words "I've got soul, but I'm not a soldier" meditatively as confetti cannons go off overhead.
If you're not very good at remembering lyrics, don't worry. Flowers is known for staging a singalong with the crowd during the refrain to "The Way It Was" at festivals, asking everyone to deliver "If I go on with you? / Could it be the way it was?/ Darling" back to him, so you won't have to prepare beforehand or even put down your overpriced festival drink in order to confidently respond.
Peak Arena Anthems
(The Man; When You Were Young; My Own Soul's Warning; Read My Mind; Runaways)
By their fifth studio album, Wonderful Wonderful, the Killers had completely embraced their born-and-bred Las Vegas glamour and glitz. The first single of the album, "The Man," embodied that fully with its unapologetic return to disco, harmonizing back-up singers, and over-the-top lyrics.
Before they went fully arena, you could hear hints of this tendency in The Killers songs like "Runaways." The ballad could square up to any '80s classic, starting delicately with piano keys, before erupting into a stadium-worthy bridge and chorus, promising that you'll lose your voice while howling, "We can't wait till tomorrow!"
"When You Were Young," from the group's second album, has similar aims. Punctuated by Keuning's visceral guitar solo and Flowers preaching about the devil's water and saviors, this song often comes complete with a curtain of pyro when it's performed live.
The Killers - When You Were Young (Official Music Video)
"Read My Mind," meanwhile, works whether you're in a packed stadium or sitting sandwiched between two friends while riding around in a car with the windows down. But, like a wine intended for coupling with a specific dish, an arena is the best pairing for a song this massive.
With 2020's Imploding the Mirage, the band seemingly let go of any pretenses of being anything other than stadium stalwarts. The opening anthem from that era, "My Own Soul's Warning," is the best example. It's big, boastful, bold, and by the time Flowers bellows out "I just wanted to get back to where you are!" amid powerful drumming and spiraling guitars, it's hard to imagine the song existing anywhere outside an arena.
Think we've missed one of the best songs by The Killers? Let us know in the comments section below.