Nine Inch Nails Reveal New 'Add Violence' EP, Share New Song 'Less Than'
Following a recent teaser tweet, Nine Inch Nails have revealed the details of their new EP, Add Violence.The follow up to 2016's Not The Actual Events EP, the new EP is due out digitally on 21 July 2017, but will later be available on physical formats (CD and vinyl) on 21 September.
In June 2017, Nine Inch Nails' frontman Trent Reznor revealed that Not The Actual Events was the first of a trilogy of EPs, of which Add Violence has now been revealed as the second instalment. There will also be what Reznor has described as "a physical component" available with the new EP, though exactly what this may be has not yet been detailed. Not The Actual Events also came with a "physical component" which turned out to be a mysterious black powder. Its packaging warned: "This will make a mess." Physical presentation and album artwork is clearly a priority for Reznor, who included a vinyl mission statement that reads"
In these times of nearly unlimited access to all the music in the world, we've come to appreciate the value and beauty of the physical object. Our store's focus is on presenting these items to you. Vinyl has returned to being a priority for us – not just for the warmth of the sound, but the interaction it demands from the listener. The canvas of artwork, the weight of the record, the smell of the vinyl, the dropping of the needle, the difficulty of skipping tracks, the changing of sides, the secrets hidden within, and having a physical object that exists in the real world with you… all part of the experience and magic.
Director Brook Linder has shot a promotional visual for the new EP's first track, 'Less Than', which can be seen here.
Nine Inch Nails' new EP Add Violence includes five tracks: 'Less Than', 'The Lovers', 'This Isn't The Place', 'Not Anymore' and 'The Background World'.
The band's most recent full-length album was Hesitation Marks, released by Columbia on 30 August 2013.  Although, it appears there will be a third new EP after Add Violence, there is currently no news on further new material.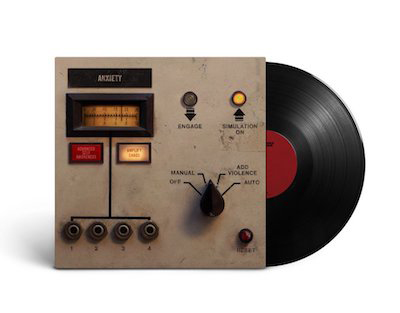 Nine Inch Nails previously announced a series of live dates for North America for July and September 2017. For these shows, Trent Reznor will be accompanied by core members Robin Finck (guitar), Alessandro Cortini (keyboards/ electronics) and drummer Ilan Rubin. Atticus Ross, who recently became an official member of the band, will also be a part of the live entourage.
Nine Inch Nails are scheduled to play the following shows:
23 July – FYF Festival, Los Angeles, CA
30 July – Panorama Festival, Randall's Island, New York, NY
15 September – Riot Fest, Douglas Park Cultural & Community Centre, Chicago, IL
21 September – Monster Energy Aftershock Fest, Discovery Park, Sacramento, CA
Explore Our Nine Inch Nails Artist Page
Format:
UK English