Temptations Release Motown's First Grammy-Winner
The social comment of the Temptations' cutting-edge collaborations with producer-writer Norman Whitfield were far removed from the earlier, carefree sound of 'My Girl,' 'Get Ready' and others in a more innocent soul era. But in the autumn of 1968, they negotiated a potentially hazardous change in their line-up and sent a message to their fans that they were still doing fine, on 'Cloud Nine.'
The Motown quintet had said goodbye to co-lead singer David Ruffin after his appearance, on background vocals this time behind Eddie Kendricks, on 'Please Return Your Love To Me.' Written like most of the group's singles of the era by Whitfield with fellow Motown linchpin Barrett Strong, the song had kept the Tempts' R&B fans happy, rising to No. 4 on that chart, but didn't make the full pop crossover of so many previous releases, stalling at No. 26.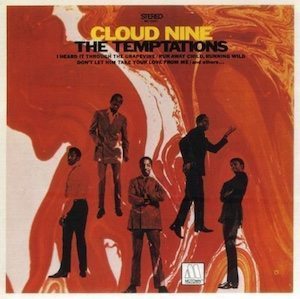 Then came 'Cloud Nine,' which announced a radically modernised sound for the group, far more percussive, multi-instrumental and hip to the psychedelic soul-rock flavour of the day. Studio guitarist Dennis Coffey added his exciting licks and newcomer Dennis Edwards hit the ground running with a remarkably confident lead vocal, supported by Kendricks and Paul Williams.
Debate raged, even within Motown, about the extent to which the "right-on" lyrics were about drugs. But either way, they painted an authentic picture of urban struggle which positioned the Temptations right in the forefront of the changing times of the Civil Rights era. Amd their fans loved it.
Released on 25 October 1968, 'Cloud Nine' went on to spend three weeks at No. 2 on the R&B chart and peaked at No. 6 pop. It went gold, and when the 11th annual Grammy Awards rolled around next March, the song gave Motown the honour of its first Grammy, for Best Rhythm & Blues Vocal Performance.
Purchase 'Cloud Nine' on the album of the same name here.
Follow the Best Motown Songs Ever playlist.
Format:
UK English