The Rolling Stones In Mono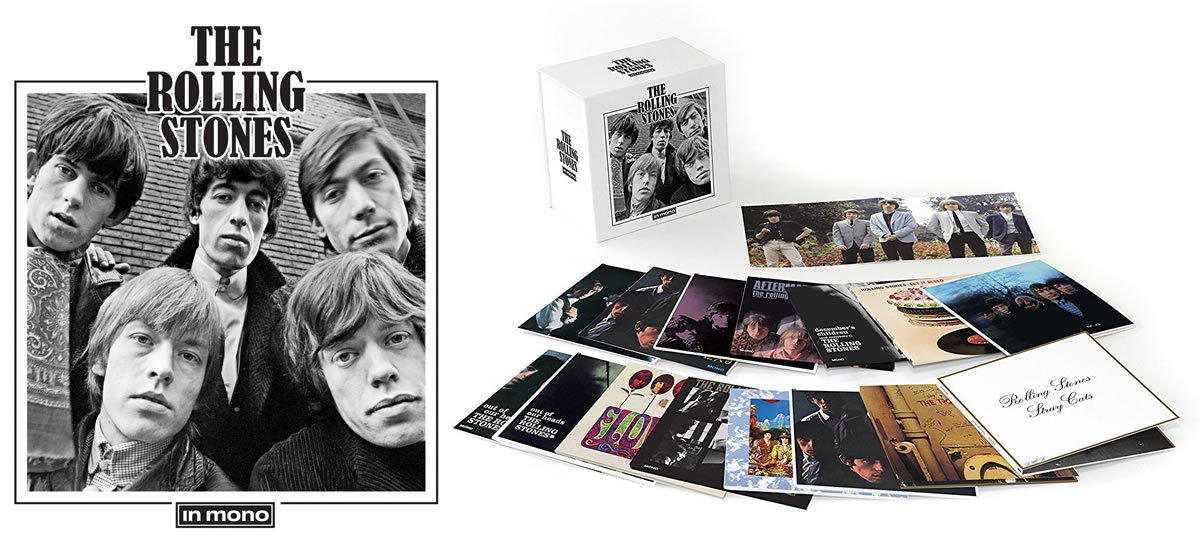 The Rolling Stones In Mono is a 16 LP/15 CD Box Set with Original Brilliantly Recorded Mono Versions from 14 Studio Albums and a Collection of Single and E.P. Tracks from the '60s. Exclusive to uDiscover was the Super Deluxe Collectors Bundle, which included 9 Limited Edition 7″s (each limited to 1,000 worldwide) replicating classic Rolling Stones singles with local artwork and rare tracks in glorious mono. This has now completely sold out.
Spanning the era between 1963 and 1969, The Rolling Stones in Mono covers the formative years of "The Greatest Rock & Roll Band in the World."  During this era, most rock and pop recordings were originally recorded in mono, with stereo often an afterthought, dealt with only following the completion of the original (mono) version of a given track.  In short, mono reigned and this was, indeed, the case for the Rolling Stones during the period. While typical playback systems of the time were less than sophisticated, the original mono recordings, especially as heard through quality components, were of the highest audio quality and had a powerful and very direct impact. "You felt you were in the room… listening to exactly what went down in the studio, no frills, no nothing," Keith Richards wrote in his autobiography, Life. "Rock was a completely new musical form," Mick Jagger explained in a 1995 Rolling Stone interview. "It hadn't been around for ten years when we started doing it… You felt like one of the chosen few, one of the only ones in the world who would get to play with this new toy. We had evangelical fervor."  Late recording engineer Dave Hassinger explained how he mixed his '64-'66 work for the Stones in mono, "They always played together at the same time," Hassinger said. "They would run the parts down, work out the changes here and there, nail it down, then start recording."
Rolling Stone senior editor David Fricke, in his 5,000-word essay that accompanies the set, writes, "The Rolling Stones in Mono is the full studio account of that first decade of history and mayhem, newly remastered with unprecedented fidelity and revelatory detail." His commentaries are included with the vinyl and CD box sets as part of a 4-color deluxe 48-page lie flat book that features numerous rare photos by renowned photographer Terry O'Neill. The 16 LPs or 15 CDs are housed in the original full-colour album jackets that fit along with the book into a one-piece specially crafted box.
The Rolling Stones in Mono was mastered by acclaimed GRAMMY® award-winning engineer Bob Ludwig at Gateway Mastering. For the project, he utilized Direct Stream Digital (DSD) transfers from the original master recordings, with a sampling rate of 2,822,400. Lacquer cutting for vinyl was performed at Abbey Road Studios by Alex Wharton and Sean Magee. All vinyl box sets will be numbered and pressed on 180-gram vinyl.  The Rolling Stones in Mono project has been overseen by Teri Landi, ABKCO's Grammy award-winning Chief Audio Engineer.
1. The Rolling Stones (UK version)
The first thing you notice, even before listening to the music, is that this is an album with no title, nor even the name of the band – just a photograph. That's confidence! But at this point there was no other band in Britain that it could be, everyone else conformed to the stereotype of groups wearing suits, but not The Stones. Of the twelve tracks, nine are covers, there's one original by Mick and Keith and two group compositions (including one with a little help from Phil Spector).
Recorded at Regent Sound in London, this is as close as you can get to a live album, but in a studio setting. There's not a UK hit single to be heard, although Mick and Keith's 'Tell Me (You're Coming Back)' became their second US single, making No.24 on the Billboard chart as well as their first-ever composition to appear as a Stones single – there would be a few more…
"Our first album reflected what we used to play at the Crawdaddy – a regular diet of Jimmy Reed, Bo Diddley, Muddy Waters with some Slim Harpo. The album was the cream of the set." Keith
Decca UK LP (17 April 1964)
UK: No.1 (12 weeks), charted 51 weeks
Released to coincide with the second American tour, this album is, at first glance, an expanded version of the band's UK EP, Five by Five but it also includes the third and fourth American singles, 'It's All Over Now', recorded at Chess, and the first Billboard top 10 hit, 'Time is On My Side' – this is the version with an organ intro, rather than the better-known guitar intro that was recorded for the second British album and is the one that usually gets radio airplay.
Mick and Keith are beginning to get into their songwriting stride by this time, with three of their compositions on the LP – 'Congratulations', 'Grown Up Wrong' and the excellent 'Good Times, Bad Times', a homage to the country blues singers they loved so much and the b-side of 'It's All Over Now'.
"On the early albums, Mick and Brian both played harmonica. It probably depended on how many guitars we needed on a particular number." Keith
London US LP (24 October 1964)
US: No.3, charted 38 weeks
3. The Rolling Stones No.2
It's another nameless album, with just the classic David Bailey photograph on the front cover in which he placed his friend Mick at the back to avoid the others thinking he was getting preferential treatment. It was unusual for a British band of the time for much of this album to have been recorded in America, some tracks at Chess Studios with Ron Malo, and others at RCA Studios in Hollywood, with engineer Dave Hassinger, who got such a great sound from the studio.
There's not a British hit single to be heard on the LP, although there is 'Off The Hook', the b-side of UK No.1 'Little Red Rooster' and 'What A Shame' the b-side of US hit 'Heart of Stone'; both these b-sides are Mick and Keith compositions, of which there are three on the album. Ian Stewart can be heard playing his brilliant brand of boogie-woogie piano on 'Down the Road Apiece' and Jack Nitzsche, the man who used his influence to get them into RCA Studios, plays piano on a couple of songs recorded in Hollywood.
"We didn't find it difficult to write pop songs, but it was very difficult to write one for The Stones." Keith
Decca UK LP (15 January 1965)
UK: No.1 (10 weeks), charted 37 weeks
4. The Rolling Stones, Now!
There are seven tracks taken from the second UK album along with five others that includes 'Little Red Rooster' that made No.1 in the UK in December 1964 but inexplicably was not released as a single in the USA. Somehow the wrong version of 'Everybody Needs Somebody To Love' appeared on the album. This version was nothing more than a studio run through rather than the 'correct' version that is heard on Rolling Stones No.2.
Andrew Loog Oldham's sleeve notes caused a good deal of controversy when the album was released, "Cast deep in your pockets for loot to buy this disc of groovies and fancy words. If you don't have bread, see that blind man knock him on the head, steal his wallet and low and behold you have the loot."
"The stuff about the blind man has nothing to do with us. We didn't write it. The first we knew about it was when we saw it on the record sleeve." Mick
London US LP (13 February 1965)
US: No.6, charted 53 weeks
5. Out Of Our Heads (US version)
The first No.1 LP in America and until 1978 the album that spent longest on the charts – over a year and a quarter. With another David Bailey shot on the front cover it featured '(I Can't get No) Satisfaction' as the opening track on side 2 of the LP, which was also their first No.1 single on the Billboard chart.
This is a much more R&B orientated album, with less out and out blues; it was also the first LP with more band originals than covers, although only three were solely written by Mick and Keith. 'The Last Time' is also included – it made No.9 on the Billboard charts and 'I'm Alright' that was recorded on the UK tour that provided the tracks for the Got Live If You Want It EP.
"I didn't think much of 'Satisfaction' when we first recorded it. We had a harmonica on then, and it was considered to be a good B-Side or maybe an LP track." Keith
London US LP (30 July 1965)
US: No.1 (3 weeks), charted 66 weeks
6. Out Of Our Heads (UK version)
This has the distinction of being the first of the band's albums to be issued in Britain in 'full frequency stereo sound'. It has six different tracks to the US version and although there are three Mick & Keith songs, there's only one group written song, meaning this, in marked contrast to the US version of the album, has a preponderance of covers on it. There's not a hit single on the album, which probably accounts for it failing to become the bands third No.1 in succession on the UK charts; although it was not unusual at this time for artists to release albums without including their singles.
"I've never been involved in the writing, ever. You can have too many people composing and then there's a danger that nothing happens." Charlie
Decca UK LP (24 September 1965)
UK: No.2, charted 24 weeks
7. December's Children (And Everybody's)
The cover photograph is identical to that of the British version of Out of Our Heads – it was taken by Gered Mankowitz and Andrew Loog Oldham coined the album's title. Half the twelve tracks were written by Mick and Keith and included is the fifth British No.1 'Get Off My Cloud'. It also features 'As Tears Go By', the band's 9th US single, which made No.6 in the USA; it became the b-side of '19th Nervous Breakdown' in Britain. 'As Tears Go By' was arranged by Mike Leander, and the only other band member to play on the song is Keith. The recording dates of the album's tracks spans over two years, with 'You Better Move On' dating from August 1963, as well as two live tracks from the March 1965 UK tour – a cover of Bobby Troup's 'Route 66' and Hank Snow's 'I'm Moving On' that both appeared on the Got Live If You Want It EP.
"It was always something new to look forward to; treatment of how the latest Stones' record was going to sound. You never knew what it was going to be." Ronnie
London US LP (4 December 1965)
US: No.4, charted 33 weeks
8. Aftermath (UK version)
A milestone in the recording career of the band, in that Mick and Keith wrote every single track on this their 4th studio album to be released in Britain. It's arguably the first ever 'rock' album. The credentials? At over eleven minutes, 'Going Home' was one of the longest track ever to have appeared on any pop album, the tracks were recorded at two three day marathon sessions at RCA in Hollywood in December 1965 and March 1966, its fourteen tracks run for over 53 minutes – long by the standards of pop LPs – and most of all – it 'sounds' like a rock album with a cohesion not associated with most other long playing records from the era.
Among the 'classic' songs it includes are 'Mother's Little Helper' – the a-side of the 12th US single, and its b-side 'Lady Jane', along with 'Under my Thumb' and 'Out of Time'. Jack Nitzsche and Ian Stewart share the keyboard duties and Brian Jones plays a whole variety of instruments including an Appalachian dulcimer on 'Lady Jane'.
"For some reason Keith and I wrote together. Maybe because we knew each other for so long and we're friends. Brian was a much better musician. But it seemed very natural and Keith and I seemed quite good at it." Mick
Decca UK LP (15 April 1966)
UK: No.1 (8 weeks), charted 28 weeks
9. Aftermath (US version)
A much shorter LP than the UK release of the same name – it has three less tracks and was reduced in length at the insistence of the band's American label to conform to the normal standards of the day – eleven tracks was enough for any fan in the view of London Records.
The American album opens with 'Paint It Black' that spent two weeks at No.1 in the summer of 1966. The cohesion and overall sound and feel of the album was in no way harmed by the inclusion of 'Paint It Black' as it was recorded at the same March 1966 session in Hollywood as much of the rest of the album. Bill Wyman plays the bass pedals of a Hammond B3 organ by pummelling them with his fists and Brian plays sitar, both of which add to the unique sound of this standout track.
"What made Paint It Black was Bill Wyman on the organ, because it didn't sound anything like the finished record until Bill said "You go like this."" Keith
London US LP (2 July 1966)
US: No.2, charted 50 weeks
10. Between The Buttons (UK version)
An album without a hit single in sight that was part recorded with Dave Hassinger in Hollywood – the last to be recorded in what had been the band's 'hit factory' – and Glyn Johns at the newly opened Olympic Studios in Barnes; some of the tracks were started in America and finished in London.
Recording technology was by now allowing for greater experimentation and although every track is credited to Mick and Keith there are certainly very different styles of music and song writing to be heard on this album – 'Yesterday's Papers' has the distinction of being the first song to be written solely by Mick. 'Connection' was played live at the London Palladium the week after the album came out and was featured in 'Shine a Light' in 2008. Cartoons and drawings by Charlie are used on the album artwork.
"Andrew told me to do the drawings for the LP & he told me the title was between the buttons. I thought he meant the title was 'Between The Buttons', so it stayed." Charlie
Decca UK LP (20 January 1967)
UK: No.3, charted 22 weeks
This album, despite its nod towards the prevailing mood of the moment, 'The Summer of Love', is a mixture of hits and tracks collected together by the band's US record label. The Stones' contribution to its compilation was minimal, but despite this it has some classic tracks including an Anglophied cover of 'My Girl' that had topped the US charts, two years earlier by the Temptations. It also includes US No.1, 'Ruby Tuesday' on which Brian plays flute, that had become the band's fourth chart topping American single earlier in 1967, its b-side 'Let's Spend The Night Together'. 'Have You Seen Your Mother, Baby', 'Mother's Little Helper' and 'Lady Jane', had all been American hits during 1966, making this a not-quite-greatest-hits LP.
"Brian was a cat who could play any instrument. It was like. 'There it is, music comes out of it, if I work at it for a bit, I can do it'" Keith
London US LP (15 July 1967)
US: No.3, charted 35 weeks
12. Their Satanic Majesties Request
It seems entirely appropriate that the most unusual of all the band's albums – the one that polarizes opinion among fans and critics alike – should be the first to be released on both sides of the Atlantic, and around the world, with the same running order and in the same sleeve.
Recorded between February and October at Olympic Studios in Barnes, West London during what was the most difficult time in the band's career, against a background of personal issues and criminal trials, it is an eclectic mix of music that includes 'She's a Rainbow' which made No.2 in America and a second record that was released as a single in America that was billed as, 'Bill Wyman's, In Another Land'; Bill wrote the track and it features Steve Marriott from the Small Faces on vocals. There were no UK single releases from the album that took its inspiration for its title from the words inside a British passport – Her Britannic Majesty's Secretary of State requests and requires…
"The first thing we did was She's A Rainbow, then 2,000 Light Years From Home, then Citadel and it just got freakier as we went along." Mick
UK Decca / US London LP (8/9 December 1967)
UK: No.3, charted 13 weeks US: No.2, charted 30 weeks
This is the first Stones album to be produced by Jimmy Miller, who also produced Traffic and Spooky Tooth as well as co-writing 'I'm A Man' with Stevie Winwood. This is an album as different from its predecessor as it's possible to be. It came out a year after Their Satanic Majesties Request, making it the longest wait for a Stones' album since the start of their career.
On the start of each side of the original LP are tracks that are pivotal to the history of the Rolling Stones – 'Sympathy For The Devil' and 'Street Fighting Man'. Among the other musicians who appear on the album are, Nicky Hopkins on piano, Dave Mason on guitar and mandolin and a gospel choir from Los Angeles. It's strongly blues influenced record, getting back to the band's roots and no more so than on the only non Jagger & Richards song on the album – 'Prodigal Son'. The original of which was first recorded in 1929 as 'That's No way To Get Along' by Robert Wilkins; a year earlier he had recorded the first known song to be entitled, 'Rolling Stone'. It was also the last album on which Brian Jones plays any significant part, including some lovely slide guitar on 'No Expectations'.
"Street Fighting Man came about because I was fascinated by the possibilities of playing an acoustic guitar through a cassette recorder, using it as a pick-up." Keith
UK Decca / US London LP (6/7 December 1968)
UK: No.3, charted 12 weeks US: No.5, charted 32 weeks
The first studio album to be released following Brian Jones departure from the band and subsequent death, it features his replacement, 20 year old guitarist Mick Taylor. Like Beggars Banquet it was produced by Jimmy Miller and it's also similar in that both sides of the LP open with two Stones' classics, 'Gimme Shelter', with Merry Clayton's wonderful backing vocal, and 'Midnight Rambler'; songs that have been a part of Stones live shows for the last five decades.
In another similarity to the band's previous studio album it also features a blues cover, this time, 'Love in Vain', written by the King of the Delta Blues Singers – Robert Johnson. The last track on the record is the ambitious and very different 'You Can't Always Get What You Want' featuring the London Bach Choir arranged by Jack Nitzsche, while Al Kooper, late of Blood Sweat & Tears, plays keyboards and French Horn. And finally. . .the future queen of British TV cookery programmes, Delia Smith, baked the cake on the front cover.
"From the very basic Chicago sound of Midnight Rambler to the original Hank William's type version of Honky Tonk Women." Keith
UK Decca / US London LP (US 29 November, UK 5 December 1969)
UK: No.1, charted 29 weeks US: No.3, charted 44 weeks
As the name implies this album is a round up of various single versions of album tracks, b-sides and other odds and ends from 1960s Stones' recordings. It includes two covers of The Coasters' 'Poison Ivy'. Barrett Strong's 1959 hit 'Money', as well as 'Fortune Teller' – the Stones' brisk version of a 1962 B-side by the New Orleans singer Benny Spellman. Mick sings, 'As Tears Go By' in Italian and there's 'Stoned,' the wryly titled instrumental flip of 'I Wanna Be Your Man' along with the 1965 outtake of Otis Redding's 'I've Been Loving You Too Long' (freed of the fake applause applied to disguise its studio origin when the track appeared on the 1966 LP Got Live If You Want It!); and the electric-Chicago B-side 'Who's Driving Your Plane.'
A rare, precious and beautiful collection.