Andrea Bocelli Signs Global Partnership With Universal Music Group
Andrea Bocelli, the world's most beloved tenor, has announced an exclusive global recording agreement with Universal Music Group.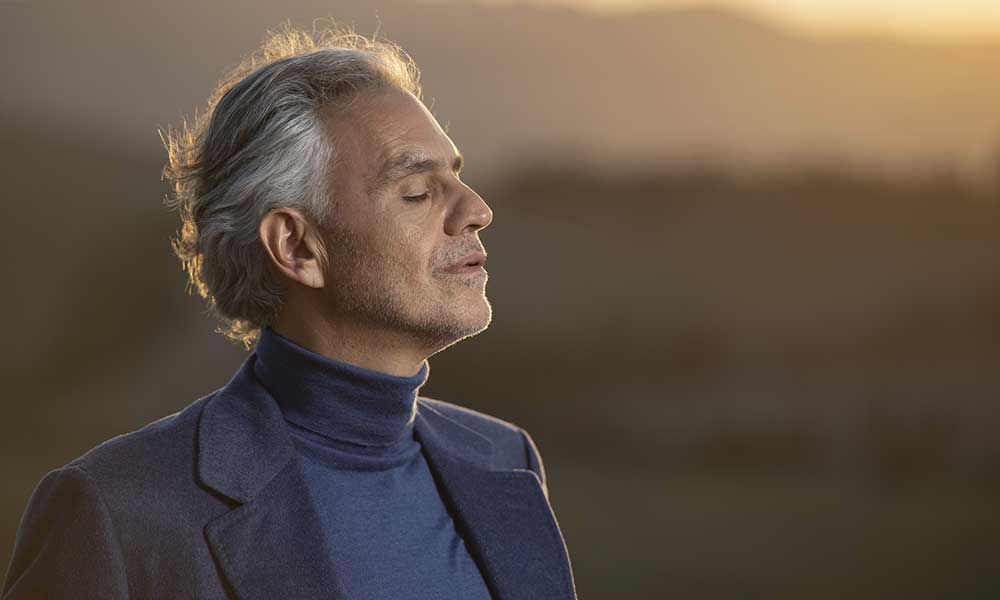 Andrea Bocelli, one of the world's most celebrated singers, today announced an exclusive and expanded global recording agreement with Universal Music Group (UMG), the world's leading music company. The strategic global partnership sees Andrea Bocelli signing directly to Universal Music Group for the first time and significantly expands his historic relationship with Decca and UMG, which have distributed his albums for over 25 years through their longstanding relationship with Sugar Music.
Global music icon Andrea Bocelli has sold over 90 million albums to date and generated more than five billion streams. This new multi-dimensional agreement marks the beginning of a long-term multi-album deal that will support Bocelli's recorded music and audiovisual projects, music merchandising, synchronisation, brand partnerships, and further solidify his position as the world's most beloved tenor. Universal Music Group will leverage its unique combination of global reach, creative and commercial expertise, and work closely with Andrea Bocelli and his management team at Almud and Maverick, to ensure his future releases and historic catalogue continues to reach and inspire new audiences globally.
Puccini: Turandot / Act 3 - Nessun dorma! (Live at Central Park, New York / 10th Annive...
"This agreement represents a great honor for me"
"It is an exciting novelty, but also the confirmation of our solid and well-established collaborative relationship over the years," explained Andrea Bocelli. "Fully joining the artist stable of the largest record company in the world is the culmination of a dream, but it is also a bit like returning home, because in UMG I have always found that family dimension that is ideal, even in the artistic field, to give the best of oneself … This agreement represents a great honor for me, for Veronica, and perhaps even a little for all of Italy, which through my songs I will continue to celebrate with the world. With gratitude, I celebrate this new adventure, full of ideas, new projects and of course music."
Sir Lucian Grainge, Chairman and CEO of Universal Music Group noted, "For over two decades, I have had the privilege to work closely with Andrea. To expand and extend our long-term partnership with Andrea—an artist in the truest sense who is nothing less than a cultural icon—is a thrilling moment for me and for our teams around the world. We look forward to putting the global organization to work on Andrea's behalf, ensuring his new music and brilliant catalog are enjoyed by his millions of fans and discovered by millions more."
"We look forward to working even more closely with Andrea"
Dickon Stainer, President and CEO of Global Classics & Jazz, Universal Music Group added, "In every corner of the world people have taken the unique artistry of Andrea Bocelli to their hearts. We look forward to working even more closely with Andrea on the next chapter of his extraordinary and inspiring musical journey."
Andrea Bocelli's Music for Hope performance from the historic Duomo cathedral in Milan on Easter Sunday 2020, watched live by millions across the globe, achieved the largest simultaneous audience for a classical live stream in YouTube history and ranks amongst the biggest musical live streams of all-time.
Andrea Bocelli's most recent studio album, 2020's Believe, features a poignant and personal collection of uplifting songs celebrating the power of music to soothe the soul. It was accompanied by another major live stream, Believe in Christmas, which became the most successful classical music live stream to date. In 2018 the record-breaking Italian tenor achieved further historic sales and streams for his album Sì which simultaneously topped the Official UK and US Billboard charts. His most recent release, Concerto: One Night In Central Park, celebrates the tenth anniversary of his landmark New York concert featuring an all-star cast including Céline Dion and Tony Bennett. This year also marks the tenth anniversary of the Andrea Bocelli Foundation (ABF) which was established in 2011 to empower people and communities in situations of poverty, illiteracy and distress due to illness and social exclusion.
Andrea Bocelli, one of the most renowned singers in modern history, has performed at major international events including the Olympic Games, World Cup, and UEFA European Championship, as well as his own sold-out arena shows around the world. He has received a Golden Globe, seven Classical BRITs and seven World Music Awards plus a star on the Hollywood Walk of Fame. He has performed for four US Presidents, three Popes and the British Royal Family and collaborated with a host of A-list stars including Luciano Pavarotti, Ariana Grande, Jennifer Lopez, Christina Aguilera, Ed Sheeran, Dua Lipa, Céline Dion and Tony Bennett.
Listen to Andrea Bocelli's most famous recordings here.
Do you want to be the first to hear the latest news from the classical world? Follow uDiscover Classical on Facebook and Twitter.
---
Format:
UK English