Costello Soundtrack Album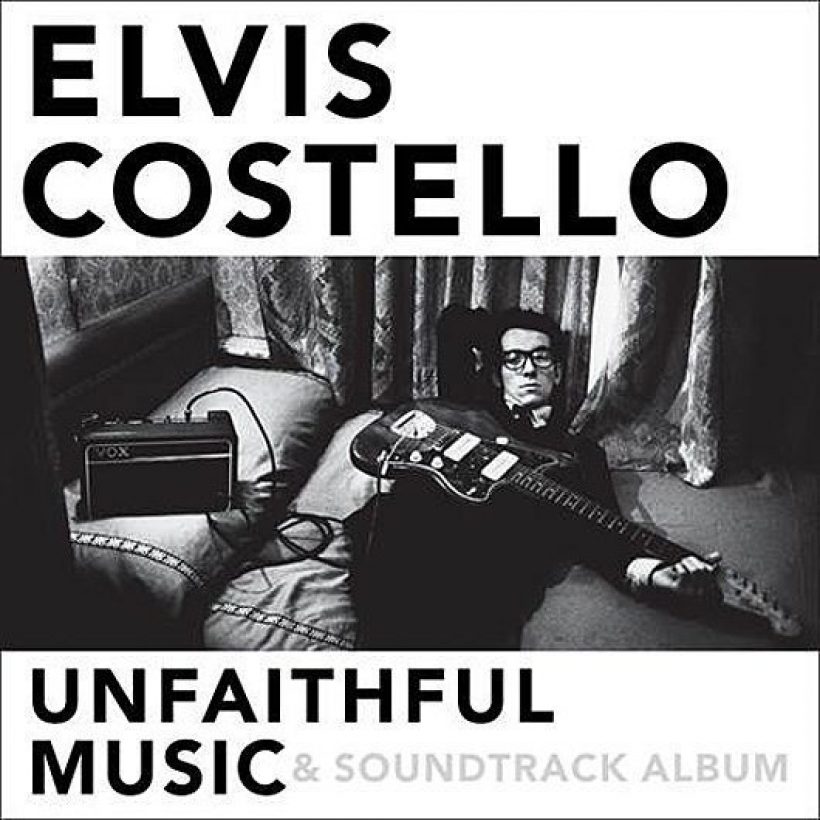 As we've said before here at uDiscover, "Elvis Costello, impossible to predict, difficult to pigeonhole. He is a true artist…" And as if to prove our point, he has come up with a very special 38-track, 2-CD set he's calling, Unfaithful Music & Soundtrack Album as a companion to his memoir Unfaithful Music & Disappearing Ink to be published by Blue Rider Press/Penguin Random House, on 13 October.
Costello has personally chosen songs that offer the deepest emotional connection to the themes and stories in his book and the album will be available on 8 October, a few days before the book's publication. The set includes both hits and rarities, including two previously unreleased titles: 'April 5th' – written and recorded with Rosanne Cash, Kris Kristofferson and John Leventhal – and one of Costello's earliest solo recordings, 'I Can't Turn It Off,' from 1975.
The collection also features three exclusive "audio book sketches" – that do not appear in the published memoir – and a 28-page booklet providing the complete lyrics and many unseen photographs, several of them from the MacManus family album.
DISC 1
1. Accidents Will Happen (Live) – Elvis Costello And Steve Nieve
2. Poison Moon – Elvis Costello
3. Watching The Detectives – Elvis Costello
4. Oliver's Army – Elvis Costello And The Attractions
5. Riot Act – Elvis Costello And The Attractions
6. New Lace Sleeves – Elvis Costello And The Attractions
7. Man Out Of Time – Elvis Costello And The Attractions
8. I Want You – Elvis Costello And The Attractions
9. When I Was Cruel No.2 – Elvis Costello
10. Stranger In The House – George Jones With Elvis Costello
11. Beyond Belief – Elvis Costello And The Attractions
12. Home Truth – Elvis Costello And The Attractions
13. Indoor Fireworks – The Costello Show Featuring His Confederates
14. Shipbuilding – Elvis Costello And The Attractions
15. Cinco Minutos Con Vos – Elvis Costello And The Roots
16. Bedlam – Elvis Costello And The Imposters
17. Deep Dark Truthful Mirror – Elvis Costello
18. Ascension Day – Elvis Costello & Allen Toussaint
19. Red Cotton – Elvis Costello And The Sugarcanes
Disc 2
1. Veronica [Demo] – Elvis Costello
2. In The Darkest Place – Elvis Costello With Burt Bacharach
3. I Want To Vanish – Elvis Costello And The Attractions
4. My Dark Life – Elvis Costello With Brian Eno
5. The Other Side Of Summer – Elvis Costello
6. London's Brilliant Parade – Elvis Costello
7. Ghost Train – Elvis Costello
8. Suit Of Lights – The Costello Show Featuring His Confederates
9. Jimmie Standing In The Rain – Elvis Costello And The Sugarcanes
10. The Birds Will Still Be Singing – Elvis Costello And The Brodsky Quartet
11. Wise Up Ghost – Elvis Costello And The Roots
12. Almost Blue – Elvis Costello And The Attractions
13. All The Rage – Elvis Costello
14. Couldn't Call It Unexpected No. 4 – Elvis Costello
15. Alison – Elvis Costello
16. My Three Sons – Elvis Costello And The Imposters
17. I'm In The Mood Again – Elvis Costello
18. April 5th – Rosanne Cash, Elvis Costello And Kris Kristofferson (Previously Unreleased)
19. I Can't Turn It Off – D.P. Costello (Previously Unreleased)
20. Sketches From Unfaithful Music & Disappearing Ink – Elvis Costello
Format:
UK English