New Budget Price Charlie Parker Box Set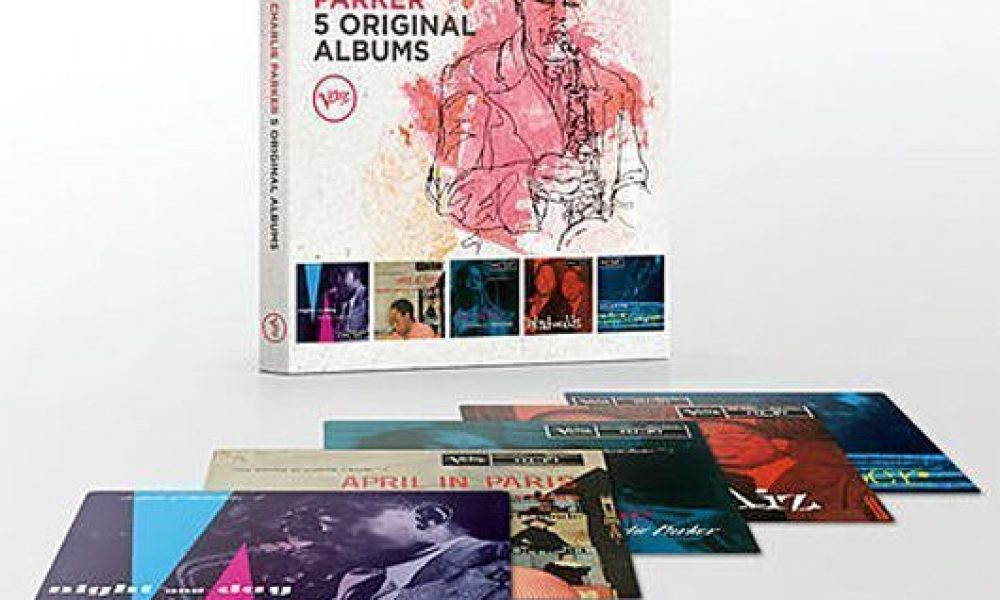 It was early in 1949 that Charlie Parker recorded for the first time for the Mercury label, with Norman Granz producing – it was with Machito And His Orchestra. More sessions followed and an appearance at the JATP at Carnegie Hall in February and again in September. In November he recorded with the Jimmy Carroll Orchestra for what became the quintessential, Charlie Parker With Strings. The following month a new club opened in New York; it was named Birdland in the saxophonists honour.
The following year, in June, he recorded with Dizzy Gillespie, pianist, Thelonious Monk, Curly Russell on bass and Buddy Rich the sides that made up the classic recording, Bird & Diz, which features in this brand new box set.
These are the first five albums issued by Verve Records shortly after it was founded by Norman Granz in 1956. Each one of them is an essential album and traces the career of the brilliant saxophonist during his long association with Granz.
Volume 1 dates from sessions in 1950 and 1952 which had in part been issued by Mercury under the title of Charlie Parker Big Band. Besides Bird, Oscar Peterson and Ray Brown are heard on some tracks and among the standouts are the title track and the sumptuous 'Autumn in New York.'
Volume 2 is a reissue of the Clef classic, Charlie Parker With Strings; suffice to say everyone should own this record. Volume 3, Now's the Time are quartet recordings that all have Max Roach on drums with Percy Heath and Teddy Kotick sharing bass duties and Hank Jones and Al Haig doing likewise on the piano.
Volume 5 are quintet recordings from 1954 with Walter Bishop Jr. on piano Jerome Darr and Billy Bauer sharing the guitar playing, with Teddy Kotick on bass and Roy Haynes and Art Taylor sharing the drum stool.
This brand new Charlie Parker box set is housed in a cardboard outer waller all the albums come in replica sleeves of the original LPs
• The Genius Of Charlie Parker Vol.1: Night And Day
• The Genius Of Charlie Parker Vol.2: April In Paris
• The Genius Of Charlie Parker Vol.3: Now's The Time
• The Genius Of Charlie Parker Vol.4: Bird And Diz
• The Genius Of Charlie Parker Vol.5: Charlie Parker Plays Cole Porter
Format:
UK English