Ariana Grande, Megan Thee Stallion, And Doja Cat Throw A Slumber Party For '34+35 (Remix)' Video
Ariana Grande hosts a quarantine slumber party for the 'Positions' remix visual.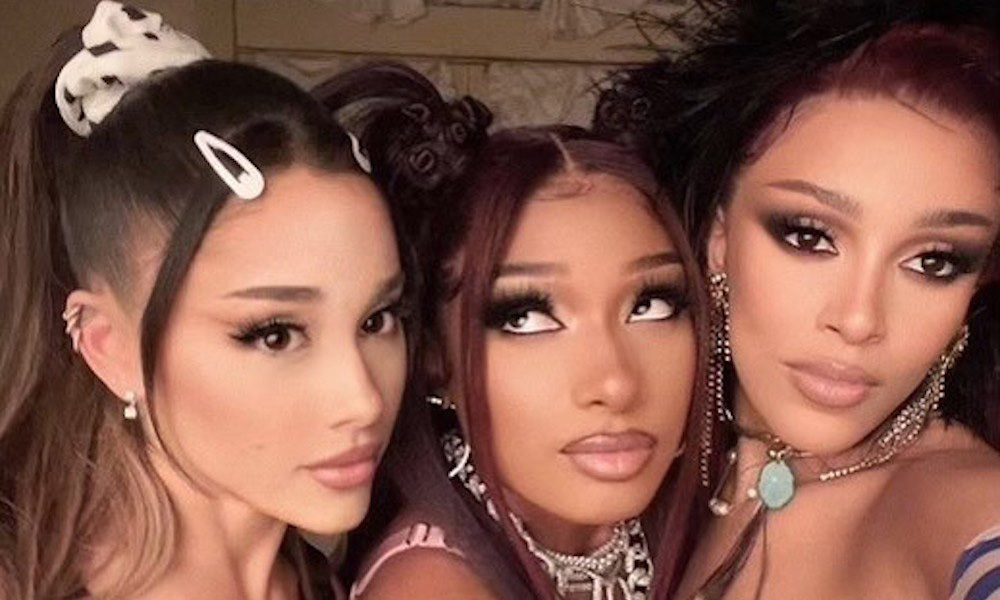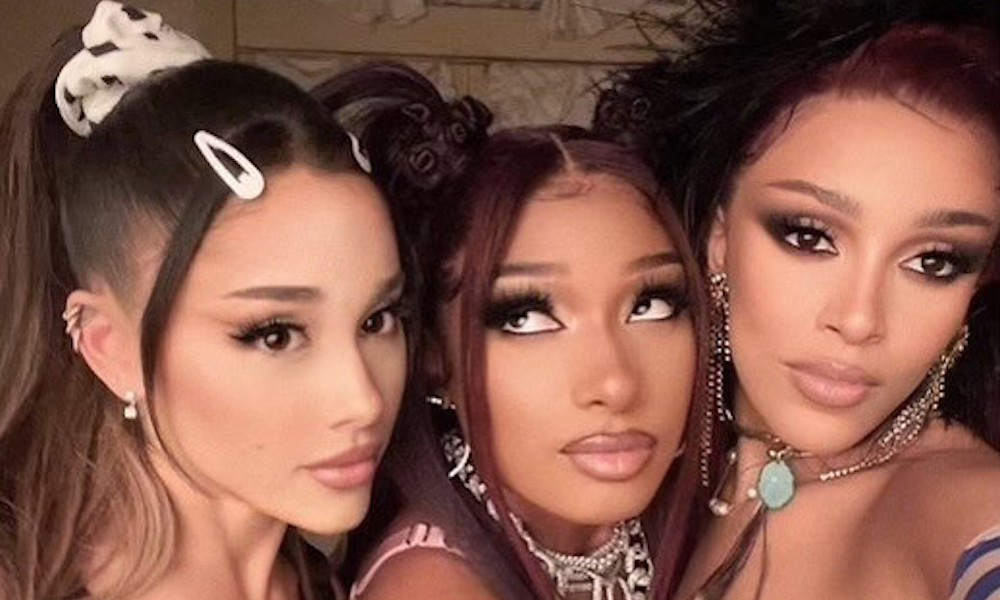 Ariana Grande enlists Megan Thee Stallion and Doja Cat for her quarantine slumber party for the music video for the remix of her Positions track "34+35."
Consider it this generation's "Not Tonight (Ladies Night Remix)," as Grande and her pals Meg, and Doja get dolled up in lingerie, sip champagne, order some room service, and film each other on an old school camcorder in the new visual.
Grande dropped the music video for the original version of "34+35," late last year, which saw the singer turn herself into a fem-bot by a team of scientists.
Ariana Grande - 34+35 (Remix) ft. Doja Cat, Megan Thee Stallion
Since adding these leading the "Say So" and "Savage" MCs to the mix, the Positions track has jumped from No. 11 to No. 2 on the Billboard Hot 100 last month.
The remix marked the highest-charting Hot 100 hit by a trio of women soloists in nearly 20 years, according to Billboard.
Along with teasing behind-the-scenes photos from the shoot, Grande also announced an expanded edition of her No.1 album Positions was on the way and will arrive on February 19.
The deluxe edition will feature four new songs in addition to her recent "34+35" remix. Despite not being the lead single, the sex-positive anthem "34+35" quickly became a fan-favorite track off Positions.
Last month, Grande released Excuse Me, I Love You, a Netflix film consisting largely of concert and tour footage shot during her 'Sweetener' world tour. It includes performances shot during her last night of five at London's O2 Arena, her final show in Europe, and day 81 of 101 days on tour.
Meanwhile, Megan The Stallion has been keeping busy, dropping the trippy visual for single with DaBaby "Cry Baby," featuring a toy store that comes alive at night.
Positions can be bought here.