Broken Social Scene's 'Old Dead Young: B-Sides And Rarities' Compilation Is Out Now
The new release collates obscure tracks from across the Toronto indie legends' career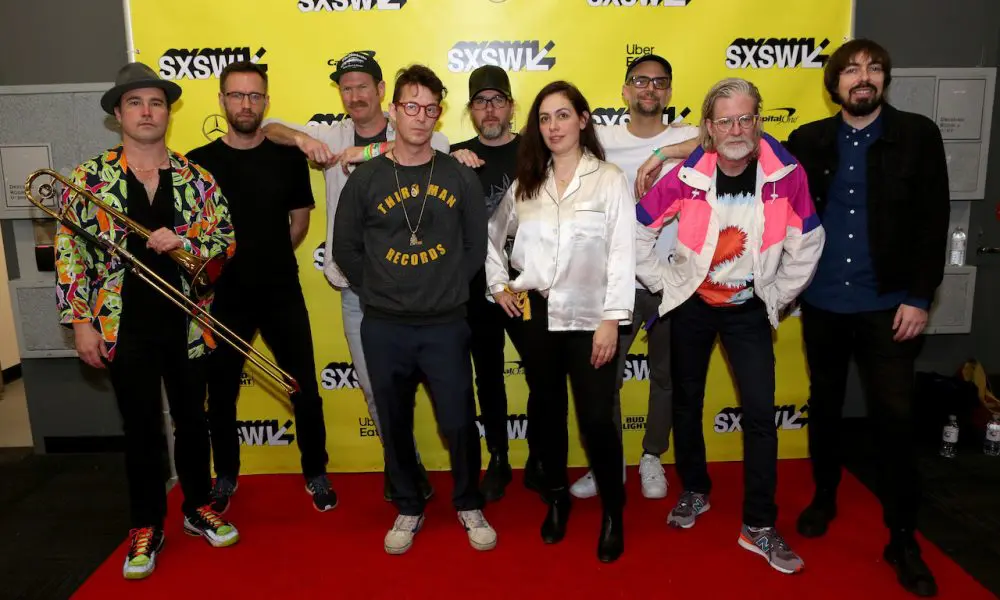 Broken Social Scene has shared a new career-spanning compilation, bringing together B-sides, rarities, outtakes, and more on one release.
Old Dead Young: B-Sides And Rarities brings fans previously hard-to-find tracks that fill in the gaps of the Toronto indie-rock band's story between its official albums. The new compilation boasts the likes of "Curse Your Fail," which was released in 2009 as part of a split 7" with its then-touring partners The Sea And Cake and features alternating vocals from four lead singers, including DFA 1979's Sebastien Grainger.
Alongside it are songs like "This House Is On Fire" – a previously unreleased dream-pop song recording during sessions for the band's 2009 album Forgiveness Rock Record – and 2001's "Death Cock," which marked its very first recording with producer Dave Newfeld.
"I'm happy we're able to put out some of these tunes, where you listen back and say 'You know what, this easily could have been an A-side,'" the band's co-founder Brendan Canning recently told the Calgary Herald. "I'm just happy to clear out the closet, as it were."
Canning formed Broken Social Scene alongside Kevin Drew in 1999, welcoming a revolving cast of musicians into the project over the intervening years. Early iterations of the touring line-up included the likes of Metric's Emily Haines, solo star Feist, Stars' Evan Cranley, and more.
The band released its debut album Feel Good Lost in 2001, presenting the project as an anonymous ambient project that reflected its humble, homespun origins. Later, it set a new gold standard for indie rock in the 21st century with 2002's You Forgot It In People, an album that pushed the genre far beyond its noisy '90s slacker roots toward a more sonically expansive, emotionally expressive vision.
Since then, with follow-up releases like the blissfully chaotic Broken Social Scene (2005), the rapturous Forgiveness Rock Record (2010), and the intricate, melodic Hug of Thunder (2017), Broken Social Scene has amassed a thrillingly amorphous, unpredictable body of work.
Buy or stream Old Dead Young: B-Sides And Rarities.
Old Dead Young: B-Sides And Rarities includes the following tracks:
"Far Out" (2009, from the Forgiveness Rock Record pre-order EP Lo-Fi For The Dividing Nights)
"Do The 95" (2001, b-side to "Stars And Sons" 7")
"Curse Your Fail" (2009, from tour 7" split with The Sea And Cake)
"Not At My Best" (2010, from the end credits for the film It's Kind Of A Funny Story)
"National Anthem Of Nowhere" (2004, early Broken Social Scene version of an Apostle Of Hustle song)
"Golden Facelift" (2009, Forgiveness Rock Record outtake, released on Globe & Mail's Broadsheet Music project)
"This House Is On Fire" (2009, Forgiveness Rock Record outtake)
"Canada vs America" (2004, from the Self-Titled bonus CD, EP To Be You And Me)
"Day Of The Kid" (2005, released on Arts & Crafts' 10th-anniversary compilation)
"Stars And Spit" (2006, b-side to "7/4 Shoreline" 7")
"Until It's Dead" (2006, from Lake Ontario Waterkeeper compilation At The Barricades: Vol. 1)
"All My Friends" (2004, from the Self-Titled bonus CD, EP To Be You And Me)
"Death Cock" (2001, very first recording with producer Dave Newfeld, released on Arts & Crafts' 10th-anniversary compilation)
"Old Dead Young" (2016, Hug Of Thunder vinyl-only track)