Remembering Buddy Bregman: Arranger, Composer And Music Producer
Buddy Bregman, born in Chicago 1950 went on to play a key role in the formation of Verve Records in 1950, working with Ella, Louis, and Bing among others.
Producer, arranger and composer, Buddy Bregman passed away on 8 January 2017, he was 86 years old. When he was just 25 years old he was a key figure at the launch of Verve Records in 1956, but his career was much more diverse than many people imagine.
Born in Chicago in 1930 he was a nephew of songwriter Jule Styne, and while he was studying at UCLA he arranged and conducted Jerry Leiber and Mike Stoller's 'Bazoom (I Need Your Lovin')' for The Cheers. In 1955 he was appointed orchestra leader for the Gary Crosby Show on CBS radio.
Shortly after he met record label owner, Norman Granz at the home of Rosemary Clooney and José Ferrer; Granz who was in the process of forming his new label, Verve Records, appointed Bregman as his first head of A&R.
Bregman became head of A&R and his first signing was the long-forgotten Toni Harper and the first LPs released by the label included, Anita O'Day Sings, Toni Harper Sings and In A Romantic Mood by Oscar Peterson. Peterson's Trio also accompanied Toni Harper. Anita O'Day's record with The Buddy Bregman Orchestra had been cut at the start of the January 1956 and became the first album to be issued by Verve, and is in every respect a lovely record.
Verve had been started by Granz to showcase the talents of Ella Fitzgerald. On 25 January, Ella went into the recording studios for her first session for her new label. The Ella recordings were not for a new album; they were four songs that were designed to be singles and the session was at the Capitol Studios in Los Angeles with an orchestra conducted by Bregman that featured the cream of LA session men, among them trombonist, Milt Bernhart, famous for his trombone solo on Sinatra's 'I've Got you Under my Skin.' Also in the band was guitarist Barney Kessel, saxophonist, Bud Shank, Harry 'Sweets' Edison on trumpet and drummer Alvin Stoller.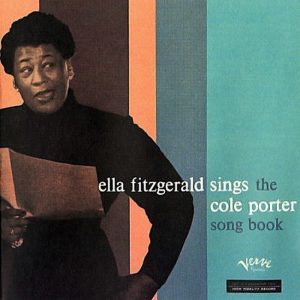 The following week, Ella was back in the studio with Buddy Bregman arranging and conducting, with Granz producing what was to become the template for the heart and soul of Ella's Verve recordings – the Song Book Series. On 7 February at Capitol Records studio in Los Angeles, the same studio in which Frank Sinatra recorded all his classic albums, Ella recorded ten songs that would be included on Ella Fitzgerald Sings The Cole Porter Song Book. It is essential listening, a record that no self-respecting lover of music should live without this wonderful music.
The Songbooks helped to create what we have come to think of as the modern album. According to Granz, the process was a simple one: "I'd come up with fifty songs that would suit Ella. We would sit together and reduce it down to, say, twenty and then I would make an arbitrary about what to include, because part of what we were doing with the Songbooks was to explore songwriters."
Entrusting the arrangements to 25-year-old Bregman was perhaps a bold move, yet Granz knew that no matter who he chose, Ella would get it right. That thinking does a disservice to Bregman's arrangements; they provide the perfect musical cushion and accentuate the melodies of Porter's wonderful songs.
The thirty-two track, Ella Fitzgerald Sings The Cole Porter Songbook, came out on 15 May 1956 as a double album and sold for $9.96. By July it had made No. 15 on the Billboard Best Sellers list after Verve had taken an extensive advertising campaign in Esquire, The New Yorker, High Fidelity and a dozen Sunday Newspapers across America. In the summer of 1956 Bregman arranged and conducted the orchestra on the much loved Ella and Louis album, yet again his arrangements are the perfect foil for what is one of the greatest vocal duet albums in the jazz canon.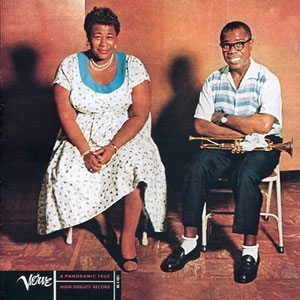 Also in 1956 Bregman conceived, arranged and conducted Bing Sings Whilst Bregman Swings, which went platinum. That same year, he was the arranger and conductor on Verve Record's The Greatest!! Count Basie Plays, Joe Williams Sings Standards. He also worked with other Verve signings including, Fred Astaire, Jane Powell and the teenage sensation, Ricky Nelson. In 1957 Buddy Bregman made his own record, the excellent Swinging Kicks album of big-band jazz that features among others, Stan Getz, Ben Webster, Andre Previn, Jimmy Giuffre and Maynard Ferguson.
After leaving Verve in the late 1950s he worked on Eddie Fisher's TV show as musical director and was involved in creating the scores or orchestrations for a number of movies, including, The Pajama Game. In the early 1960s he became a television producer and director working in the UK with David Attenborough for the BBC and in 1966, he was appointed head of light entertainment for Rediffusion London. He later moved to London-based TV and film production company and directed The New-Fangled Wandering Minstrel Show, a film starring Olivia Newton-John and Georgie Fame. He returned to the US and continued working in television as a producer and director.
Louis 'Buddy' Bregman passed away On 8 January 2017 from complications of Alzheimer's disease, which he had suffered from for many years.
Format:
UK English