Celebrate The Beatles 'Sgt. Pepper's' 50th Anniversary With Global Pepper Day Events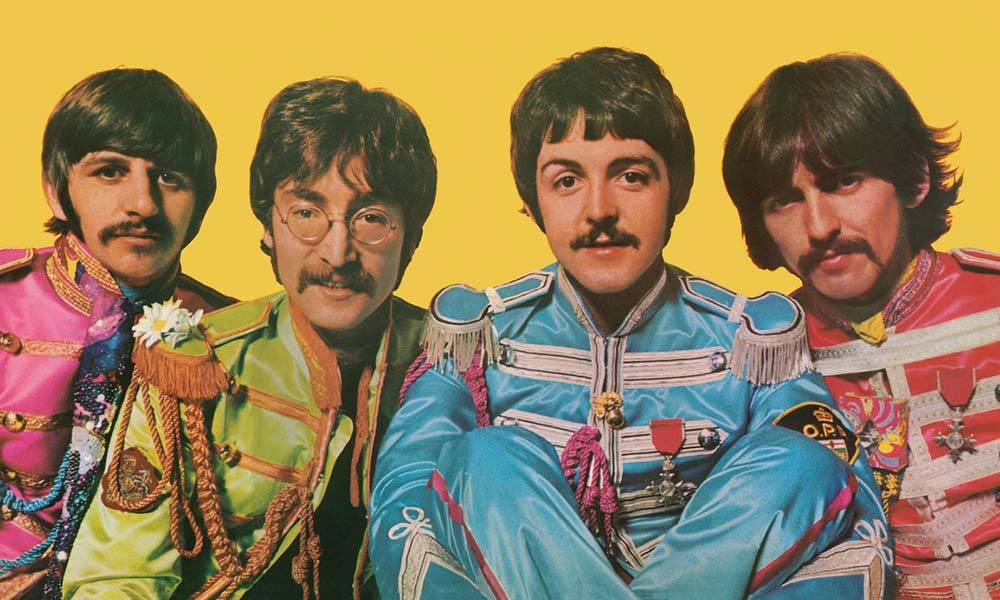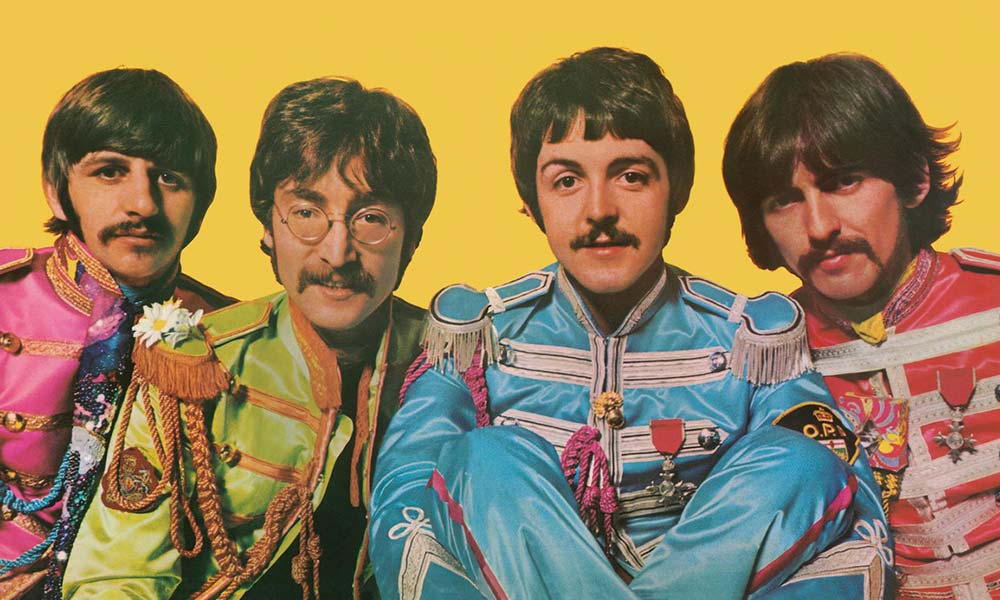 To celebrate the 50th anniversary of The Beatles' groundbreaking album, Sgt. Pepper's Lonely Hearts Club Band on 1 June 1967, their hometown of Liverpool has invited the rest of the world to play the album on Sgt. Pepper Day: "no matter where you are – open the windows, blast those speakers and turn it up."
Just as the band took the first pressing of Sgt. Pepper to Mama Cass Elliot's apartment in London to hear it for the first time outside of the recording booth and broadcasted it to the neighbourhood, The Beatles are inviting all to recreate that moment on a global scale.
On 1 June 2017, visit the official listening website, to take part in the global listening party and share your own personal celebrations by using the tag #LetsPlayPepper on social media.
As the anniversary approaches, all of the UK has been getting "Pepperi-fied", with black cabs getting decked out in official Pepper uniform colours, making the rounds in London, while Liverpool has been staging events inspired by different songs on Sgt. Pepper.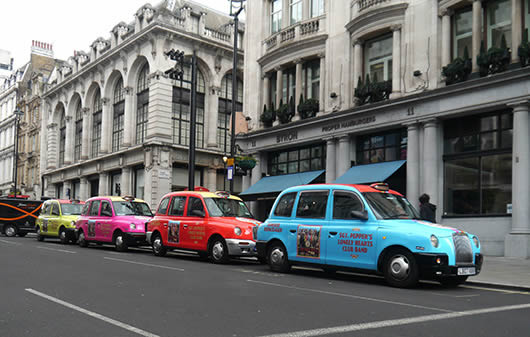 'Suspended Time' Pyrotechnic Light Show – Liverpool
From the dynamic French team behind the opening and closing ceremonies of the Olympics, the Eurovision song contest and Bastille Day, pyrotechnic artist Christophe Berthonneau and Groupe F are staging a musical, interactive themed event inspired by 'Lucy In The Sky With Diamonds' called Suspended Time that's part-performance, part-storytelling and part-pyrotechnic display at Camp Hill, Woolton Woods in Liverpool on 1 June, from 8pm-11.30pm. Kicking off the evening will be street theatre by circus performers from Circo Rum Ba Ba and illuminated lantern characters that will light up the night.
This event is just one of 13 themed events for the Sgt. Pepper At 50: Heading for Home Festival that includes street theatre, dance shows and musical performances by some of the world's leading artists – each one to celebrate different tracks on the Beatles' iconic album.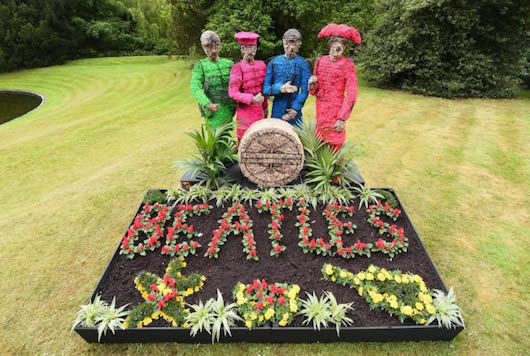 Chiswick House & Gardens Sgt. Pepper Garden Display – London
See the Fab Four in flower form in the very gardens where they shot the promotional films for their singles 'Paperback Writer' and Rain' in May of 1966. Now the album cover has come to life, redesigned in front of the Ionic Temple at Chiswick House and will be on display as part of the Chelsea Fringe Festival.
Meanwhile the rest of the world is celebrating "Sgt. Pepper Day" in a variety of ways.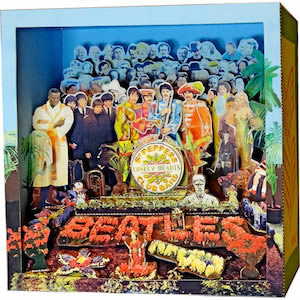 The Beatles Official Pop-Up Stores – Tokyo & Osaka
Universal Music Japan has announced two pop-up stores in Tokyo and Osaka that will be open until 4 June. Along with the new remixed version of Sgt. Pepper's, they will also be selling over 50 official items, including a paper diorama version of the album cover, mugs, exclusive t-shirts, jumpers and more. The Osaka Pop-Up will be in the underground mall DiAMor, located at Umeda, Osaka, while the Tokyo location is at Shibuya Modi in 1F.
Sgt. Pepper Listening Party & Jam Sessions at Strawberry Fields in Central Park – New York
To honour John Lennon, Beatles fans are gathering at the Imagine mosaic in Central Park in NYC to pay tribute to the late Beatle before moving into the park to play aloud the new remixed and remastered edition of Sgt. Pepper's, followed by a jam session of attending musicians. Click here for details.
Sgt. Pepper Day Celebration at Capitol Records – Los Angeles
Starting at 9:00am PST on 1 June, a specially designed Sgt. Pepper's flag will be raised on top of the famous Capitol Records tower in Hollywood by one of the performers from Cirque du Soleil's Beatles-themed Las Vegas production LOVE. The tower will also be adorned with a variety of themed decorations, including special signs and an inflatable Sgt. Pepper's drum above the tower's Vine Street entrance. Then at sunset, the roof of the building will be illuminated with the four official pepper suit colours from the album cover.
The Analogues Play 'Sgt. Pepper' At The Ziggo Dome – Amsterdam
The Netherlands premiere Beatles tribute band, The Analogues, will be playing Sgt. Pepper in its entirety at the 15,000-seater Ziggo Dome in Amsterdam on 1 June. Click here for more ticket information and watch this clip of them performing 'Penny Lane' from their 2016 show at the Chassé Theatre Breda in the Netherlands.
A German Bakery Bakes A 'Sgt. Pepper Cake'
Take that, Cake Boss. Watch as the talented team at the German bakery, Lucà de Luxe, create a brilliant Sgt. Pepper cake step-by-step, complete with chocolate Beatles on top in Pepper uniforms.
Hear Sgt. Pepper's Lonely Hearts Club Band in Dolby Atmos in Select Theatres
Here's an event for the audiophiles out there. Apple Music and UMG have teamed up with Dolby Laboratories to host free listening sessions of the new remastered Sgt. Pepper remixed in Dolby Atmos® at theatres across the US only on 1 June. Click here for details and RSVP for the event at www.thebeatlesrsvp.com.
Sgt. Pepper Twitter Sticker Packs
For those who want to celebrate online, Twitter is releasing special Sgt. Pepper themed sticker packs for people to add to their tweets from midnight 1 June to midnight 6 June.
Share your celebrations of this incredible album on social media with the hashtag #SgtPepperDay and explore The Beatles Artist Page.
Format:
UK English