Frank Turner's 'Lost Evenings' Festival Returns To London's Roundhouse
Turner's four-night extravaganza will be in Camden from September 16 to September 19.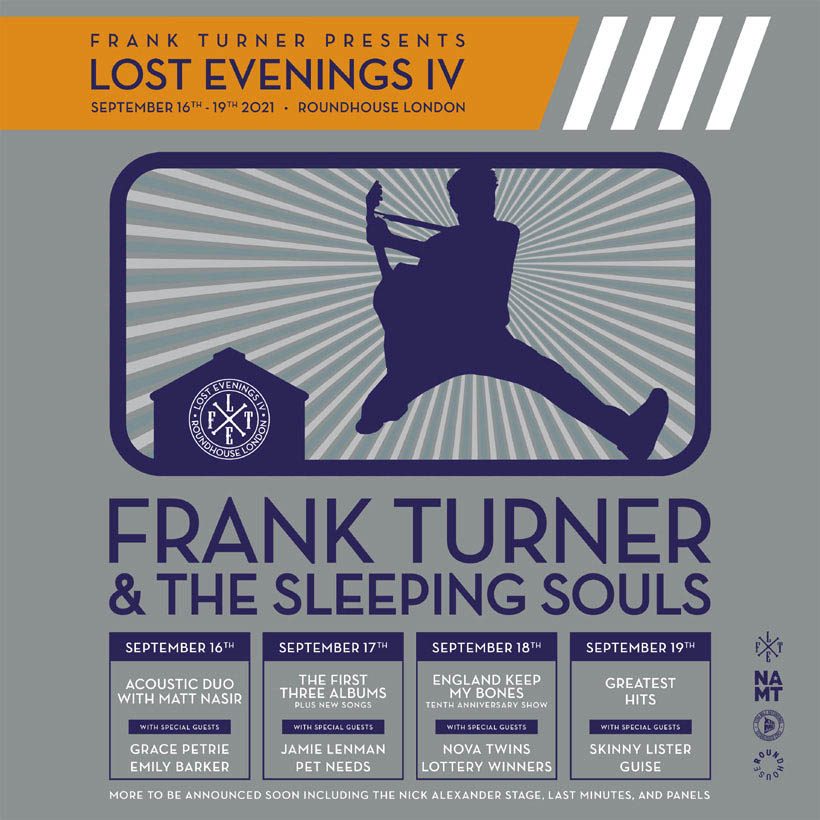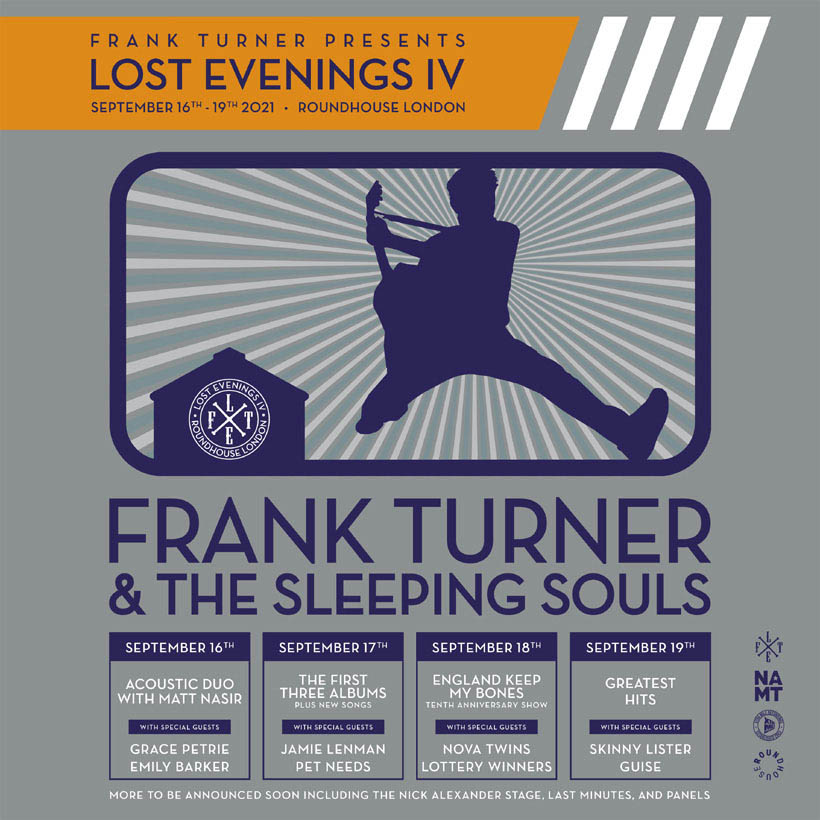 Following the cancellation of last year's 'Lost Evenings IV' in Berlin, Germany, due to the pandemic, Frank Turner is thrilled to announce the fourth instalment will instead return to London's iconic Roundhouse venue on 16-19 September 2021.
The 4-day festival (winner of the AIM Best Independent Festival Award in September 2017) will occupy the many rooms, bars and outside spaces in Camden, to create an exciting program of events, talks and live music.
Tickets for 'Lost Evenings IV' are on sale at 12pm BST on June 11, but fans who pre-order a super limited 'Collector's Edition' of a hand-stamped and signed copy of the artist's forthcoming album FTHC from the official Frank Turner UK store before 5pm on June 8 can get early access to tickets.
As in previous years 'Lost Evenings IV' will see Frank Turner headline each night with very different shows: Thursday 16th September Frank will perform an Acoustic Duo Show with Matt Nasir; Friday 17th September sees Frank and The Sleeping Souls play songs from the First Three Albums + new songs; Saturday 18th September will celebrate the tenth anniversary of England Keep My Bones and then on Sunday September 19, a Greatest Hits Set will close the festivities. Supports for the main stage for each of these nights can also be revealed.
Frank Turner — THE GATHERING (Official Lyric Video / Audio)
On the Thursday, Turner is joined by friends and past touring buddies Grace Petrie and Emily Barker. Following on Friday, the amazing Jamie Lenman (full band) and Pet Needs warm up the main stage. Saturday will see supports from the Nova Twins and Lottery Winners. And on Sunday Xtra Mile Recordings label mates Skinny Lister and Guise will help close the festival in style.
Once again, the second stage, named as the Nick Alexander Stage, will run concurrently across the weekend. Named after the merchandise manager and long-time friend of Turner's, who was tragically killed in the Paris, Bataclan attack in 2015 – the stage will honor his memory by playing host to some of the best emerging acts – personally selected by Frank Turner.
In addition to the evening performances at the Roundhouse, a selection of panels, masterclasses and workshops under the banner of 'Last Minutes' will also run across the 4 days featuring leading industry insiders, musicians, experts and music professionals offering inspiration, insight and advice to audiences. The full programme of events will be announced soon.
Speaking about 'Lost Evenings IV', Frank Turner says: "After a thoroughly miserable year for live music – not least having to cancel the Berlin Lost Evenings event last year – I'm ecstatic to say we're bringing the festival back to where it started, at the Roundhouse London in Camden Town. It's going to be a family affair – old friends (Grace, Jamie, Skinny Lister) and new (Nova Twins, Lottery Winners, Pet Needs), and just a huge celebration of what we all missed lately – getting together for a singalong."