Listen To Machine Gun Kelly Cover Frank Ocean's 'Swim Good'
Kelly recently said that he'll be releasing two albums in 2022.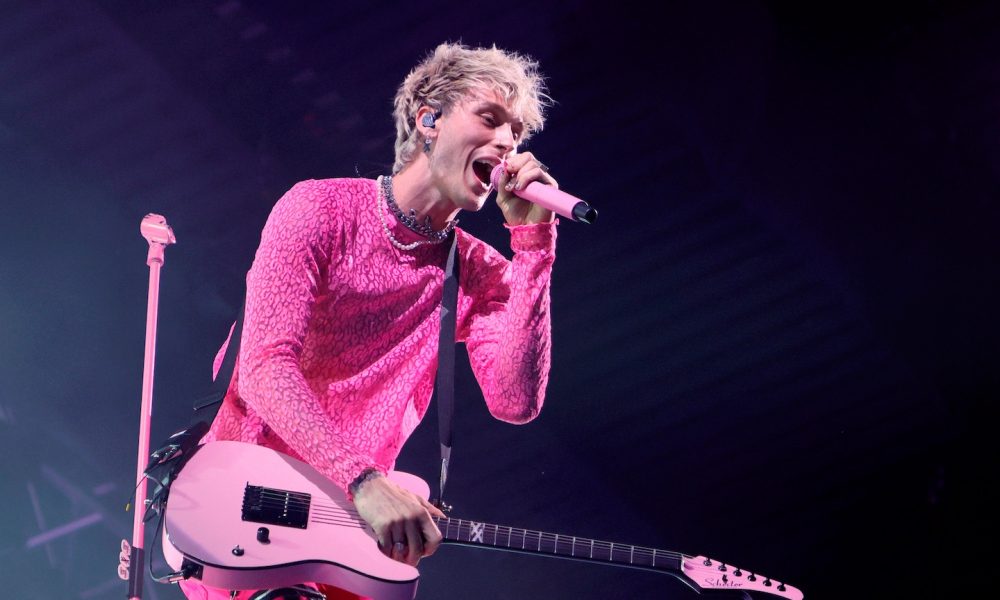 Machine Gun Kelly rarely shows off his quieter side, but the punk-rock superstar has done just that with his beautiful cover of Frank Ocean's gorgeous "Swim Good."
On the track, MGK replaces Ocean's layers of synths with a gently plucked acoustic guitar, bringing new meaning to Ocean's lyrics, like, "I'm about to drive in the ocean/ I'ma try to swim from somethin' bigger than me."
Machine Gun Kelly - Swim Good (Frank Ocean Cover)
In other MGK news, the electric star recently confirmed that he'll be releasing two albums in 2022. MGK announced the upcoming release of the Travis Barker-produced Born With Horns this past August, and provided the first taste of the album shortly after with the single "Papercuts."
MGK teased that he would be releasing new music in the early days of 2022. "The second you open your eyes and it's 2022, you'll have something to listen to," he said.
However, on December 31, he rescinded that release date in a tweet. "I know the rumor was I was dropping New Year's Eve but… see you in 2022," he wrote. Then, on January 2, he followed the matter up by tweeting, "Two albums this year."
Whenever the first of the two LPs drops, it'll serve as a follow-up to 2020's Tickets to My Downfall, Kelly's first collaboration with Blink-182 drummer Travis Barker, which debuted at No.1 on the Billboard 200 upon its release, and spawned singles "Bloody Valentine," "Concert for Aliens" and the Blackbear-assisted "My Ex's Best Friend."
As 2021 drew to a close, MGK announced the cast for his upcoming musical film Taurus, including wife Megan Fox, Naomi Wild, Lil Tjay, and more.
Back in November, MGK worked closely with Schecter designers to create the custom signature MGK Tickets To My Downfall pink guitar which is now available for fans and musicians alike.
Though Kelly has yet to unveil details on his new albums, perhaps his cover of "Swimming Good" is a sign of more music to come.
Listen to the best of Machine Gun Kelly on Apple Music and Spotify.