Machine Gun Kelly Changes Name Of New Album To 'Mainstream Sellout'
Machine Gun Kelly sat down with executive producer Travis Barker to comically unveil the new album title.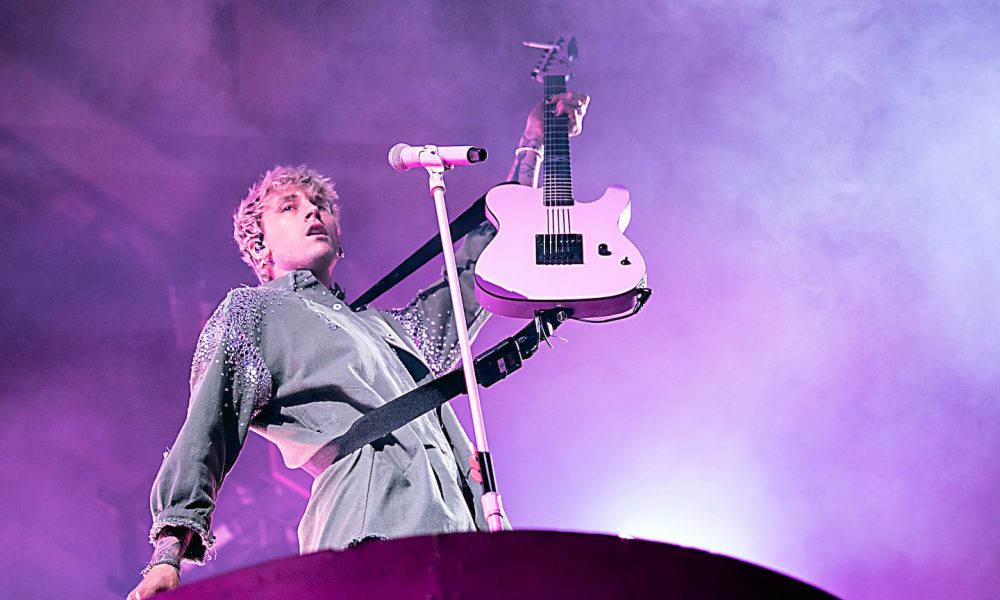 In a new TikTok clip, Machine Gun Kelly sat down with executive producer Travis Barker to comically unveil the new album title after the pair previously tattooed the former name born with horns six months ago.
Machine Gun Kelly's sixth studio album, Mainstream Sellout, will serve as the predecessor to his breakthrough effort, Tickets to My Downfall.
The news comes after he confirmed he'll be releasing two albums in 2022. MGK announced what was then-titled Born With Horns this past August, and provided the first taste of the album shortly after with the single "Papercuts."
MGK teased that he would be releasing new music in the early days of 2022. "The second you open your eyes and it's 2022, you'll have something to listen to," he said. He eventually delayed that release, but with Mainstream Sellout on the horizon, fans are suspecting that new music could be coming soon.
The punk-rock also recently released a beautiful cover of Frank Ocean's gorgeous "Swim Good." On the track, MGK replaces Ocean's layers of synths with a gently plucked acoustic guitar, bringing new meaning to Ocean's lyrics, like, "I'm about to drive in the ocean/ I'ma try to swim from somethin' bigger than me."
Machine Gun Kelly landed his first Billboard 200 No. 1 album with Tickets To My Downfall, selling a career-best 126,000 equivalent album units and delivering the first rock album in 2020 to top the Billboard 200 upon its release.
Executive produced by Travis Barker, Tickets To My Downfall bests Kelly's 2012's Lace Up and 2015's General Admission, which both debuted at No. 4 on the Billboard 200. The album features collaborations with Halsey, Trippie Redd, Iann Dior and blackbear.
Lauded by Billboard for its "dazzlingly effective songs" and Vulture for its "punk rock excellence," MGK's fifth studio album has propelled him into a bonafide superstar in the rock world. After winning best alternative for "bloody valentine" at the 2020 VMA's, in addition to his role in the latest Netflix film Project Power, starring Jamie Foxx, MGK's ascension speaks to his tireless work ethic and sheer versatility.
Listen to the best of Machine Gun Kelly on Apple Music and Spotify.