Miles Davis Famed 'Moon and Stars' Trumpet Is Headed to Auction
Christie's is set to auction off a unique 'Moon and Stars' trumpet designed and played by jazz icon Mile Davis next month on 29 October.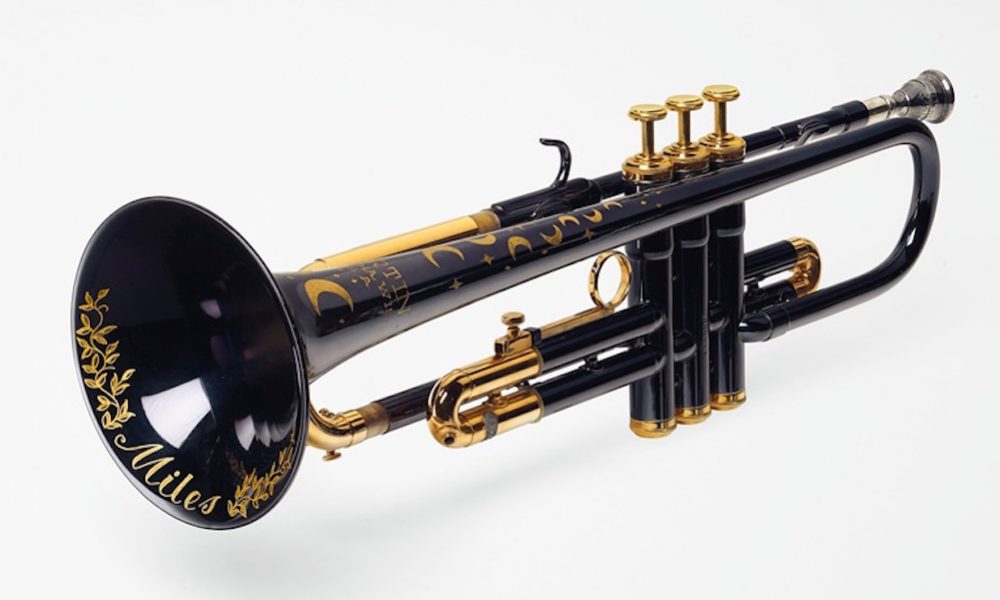 Christie's is set to auction off a trumpet designed and played by jazz icon Mile Davis next month on 29 October as part of their 'Exceptional Sale'.
Davis himself personally commissioned the Martin Company in 1980 to manufacture the horn, that features a distinctive crescent moon and stars design along with his name, 'Miles', inscribed inside the bell. The auction house has estimated the horn is worth between $70,000 and $100,000.
The trumpet is one of three instruments conceived by designer Larry Ramirez, who was a part-time jazz trumpeter himself, in three different coloured editions: red, blue and black, each decorated with a gilt moon and stars and 'Miles' inscribed inside.
While only the deep-blue version is up for auction, the red horn is part of the Davis' family estate while the black one is buried with Davis in the Bronx's Woodlawn Cemetery. The current owner of the blue trumpet acquired it from jazz guitarist and sometime Davis collaborator George Benson. Along with announcing the sale, Christie's also released a video, featuring jazz trumpeter Keyon Harrold who played a number of trumpet sections heard in the Miles Davis biopic, Miles Ahead from 2016.
In the video, Harrold explains the significance of the iconic instrument and Davis' unfathomable impact on jazz.
"This is a classic. This is a relic. As a trumpet player holding this horn, this is amazing," Harrold says in the video. "Knowing the history of Miles as being very, very detail-oriented, I can imagine he designed this totally himself. He was a visual artist as well. The layout of this is so beautiful: the moon, the stars. Just looking at the design, it's just flawless."
The Miles Davis 'Moon and Stars' trumpet is part of Christie's The Exceptional Sale, which will take place in New York on 29 October. Meanwhile a new Mile Davis documentary, Birth Of The Cool, recently hit select theatres in August and is set to screen in additional US theatres this month.
Visit Christie's official site to learn more details and watch the trumpet in action.
Format:
UK English