Steven Van Zandt Releases Deluxe, Expanded 'Voice Of America'
It follows the announcement of the box set RockNRoll Rebel – The Early Work and the surprise digital deluxe edition of his 1982 set 'Men Without Women.'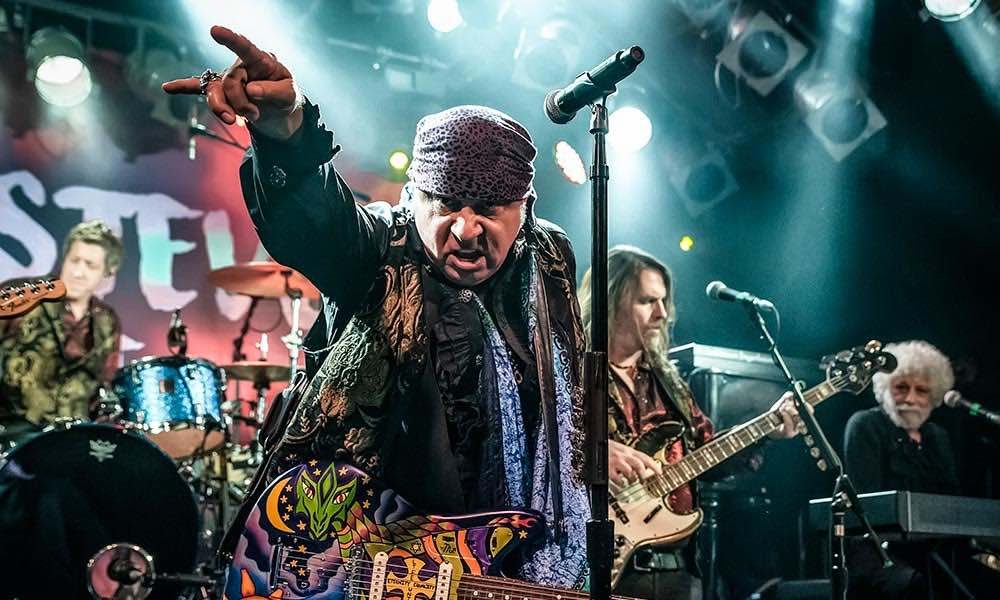 Steven Van Zandt is continuing his extensive review of his personal musical archives with the release today (25) of the Digital Deluxe Edition of his 1985 sophomore solo album, Voice Of America. It follows the announcement of the early solo career box set RockNRoll Rebel – The Early Work (to be released on 6 December by Wicked Cool/UMe) and the surprise Digital Deluxe Edition release of his 1982 set Men Without Women.
The expanded edition of Voice Of America features ten bonus tracks, including radio spots and non-album singles, and six unreleased tracks, comprising live performances and never-before-heard studio gems. Among the highlights of both the expanded Voice of America and the box set is the recently-discovered studio recording 'RockNRoll Rebel.' This was unearthed by Van Zandt while he was compiling the early solo career retrospective, and he was inspired to name the collection after it.
"'RockNRoll Rebel' was going to be the title and lead track of the second album that became Voice Of America," says Van Zandt. "It is rather advanced tongue-in-cheek for the time. Half reference lyrics, I cut it as a demo in Brussels on the first tour. But then I dropped the horns and my sense of humour at the same time and it disappeared until the ice age thawed out."
Among other unreleased highlights are live performances of 'Caravan' and 'I Don't Want To Go Home,' recorded at the Marquee Club in London in 1982. There's also an emotional and vastly different, piano-vocal version of the Men Without Women track 'Inside Of Me,' taken from a French television performance. Meanwhile the unissued 'Alive For The First Time' is a glimpse of how Van Zandt says he used to write, and the song's evolution.
Listen to the expanded digital deluxe edition of Voice Of America on Apple Music and Spotify.
LITTLE STEVEN AND THE DISCIPLES OF SOUL: VOICE OF AMERICA (1983)
Voice Of America
Justice
Checkpoint Charlie
Solidarity
Out Of The Darkness
Los Desaparecidos (The Disappeared Ones)
Fear
I Am A Patriot (And The River Opens For The Righteous)
Among The Believers
Undefeated (Everybody Goes Home)
Voice of America Radio Spot (1984)
RockNRoll Rebel (Previously Unreleased – Studio Track – 1983) – Little Steven
Caravan (Previously Unreleased – Marquee Club – London, UK – October 18, 1982)
I Don't Want To Go Home (Previously Unreleased – Marquee Club – London, UK – October 18, 1982)
Alive For The First Time (Previously Unreleased – Writing Session, The Birth of a Song – 1983)- Little Steven
Out Of The Darkness (12" single – 1984) – Little Steven
Inside Of Me (Previously Unreleased – French TV – 1983) – Little Steven
US Festival Radio Spot (1983)
It's Possible (Previously Unreleased – Studio Track – Mono – Date Unknown) – Little Steven
Vote! (That Mutha Out) (12" single – 1984) – Little Steven
+ VOTE! (1984 Digital Single EP)
Vote! (That Mutha Out) (12" single – 1984) – Little Steven
Vote! Part II (Previously Unreleased – Rap Version – 1984) – Little Steven
Vote! Part III (After World War III) (Rap Version – 12" single – 1984) – Little Steven
Vote! Part IV (Instrumental) (12" single – 1984) – Little Steven
Vote! Part V (Previously Unreleased – Rap Version – 1984) – Little Steven
Format:
UK English