Tenacious D Shares Medley Of Classic The Beatles Hits 'You Never Give Me Your Money' And 'The End'
Proceeds from the limited edition vinyl release will benefit the Doctors Without Borders charity.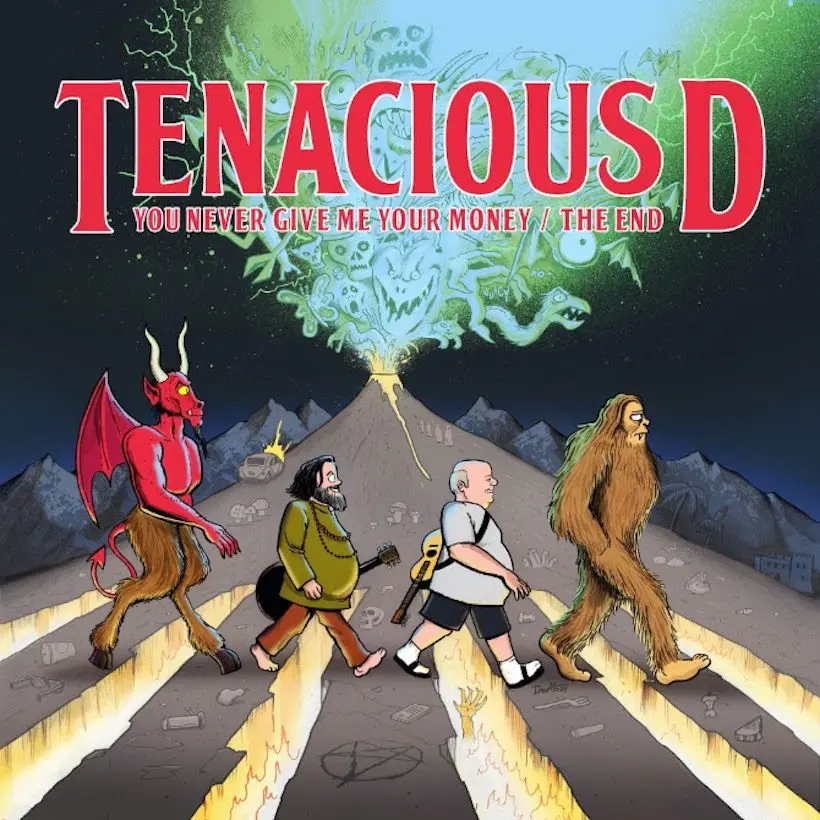 Jack Black and Kyle Gass' rock band Tenacious D has shared a medley of two classic hits from The Beatles, joining "You Never Give Me Your Money" and "The End" for a playful rendition of the Abbey Road tracks.
"Tenacious D are paying tribute to the greatest band in the world…not themselves…The Beatles! In the spirit of healing the world, please enjoy Tenacious D's mashup of two classics from Abbey Road," the duo shared of the release.
The medley will be released on a limited edition 7" vinyl with all proceeds benefiting the Doctors Without Borders charity. The international medical humanitarian organization is known for providing medical assistance through projects in countries impacted by endemic diseases and in known conflict zones.
Tenacious D has been covering "You Never Give Me Your Money" and "The End" together during live shows for over a decade, through which it quickly became a fan-favorite.
With the release of the medley, the duo has also shared a trippy music video. Comedic as always, Tenacious D spend the visual singing and playing guitar in a number of green screen locations. In one moment, they're in the clouds surrounding the moon and are cruising down the road in a convertible in the next. They perform in a grayscale television set and, at the conclusion of the visual, run into the ocean.
Released in 1969, "You Never Give Me Your Money" was originally recorded by The Beatles as a rising piano ballad written by Sir Paul McCartney about financial instability. The track features the addition of bells, birds, bubbles and crickets tucked into the layers of production. "The End" is a heavier rock song, recorded to be the final track on Abbey Road before "Her Majesty" was added to the album.
Tenacious D's "You Never Give Me Your Money / The End" 7" Vinyl for Doctors Without Borders is available for pre-order now.