… And You Will Know Us By The Trail Of Dead's 'Source Tags & Codes' Receives 15th Anniversary Vinyl Reissue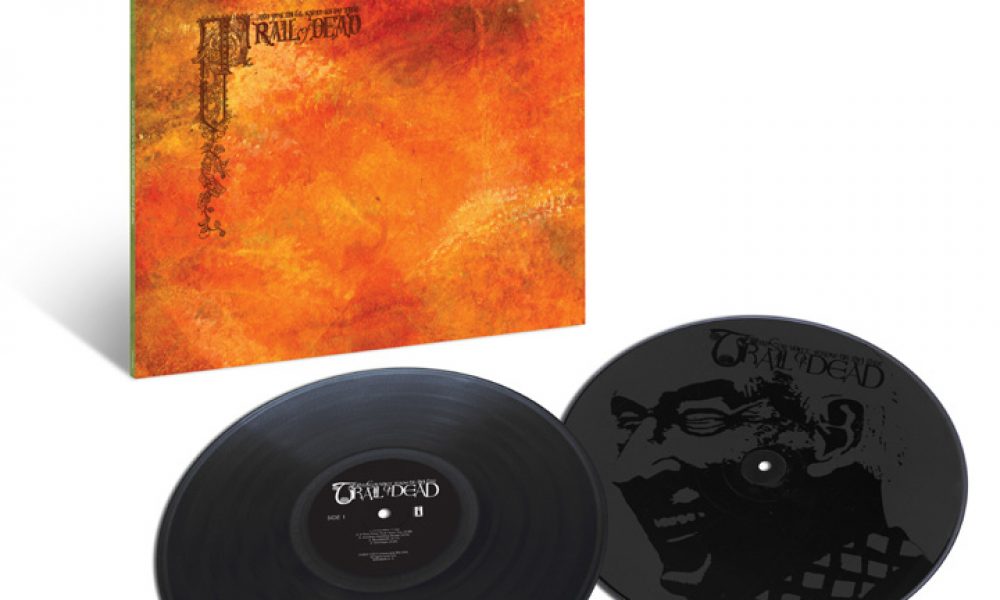 Source Tags & Codes, the landmark 2002 album by …And You Will Know Us By The Trail Of Dead is to celebrate its 15th anniversary with an expanded vinyl edition released by Interscope/UMe on 11 August 2017.
Housed in a gatefold sleeve, the album – which will also be available digitally – will be pressed on black vinyl as a double-album for the first time ever. It will also include three tracks ('Invocation', 'Life Is Elsewhere' and 'Blood Rites') which were previously only available on various rare and international releases.
The back cover will be a replica of the Japanese version which features a drawing of a teenage by while the iconic image of a cackling Henry Miller from the compact disc and North American back cover will be represented with a unique etching on Side D of the second disc. A very limited amount of 500 copies will be available on midnight navy vinyl exclusively via The Sound Of Vinyl.
Few albums in 2002 were as highly anticipated as Trail Of Dead's major label debut, Source Tags & Codes, which saw the Austin, Texas rockers making the leap from venerable indie Merge Records to Interscope. Having already amassed a rabid fanbase off the strength of two acclaimed albums and their legendary nihilistic live shows, the band – fronted by dual vocalists and multi-instrumentalists Conrad Keely and Jason Reece along with rhythm section of Neil Busch and Kevin Allen – had many waiting to see what their move to the majors would produce.
To make the album Trail Of Dead teamed back up with producer Mike McCarthy (who helmed their second album Madonna) and secluded themselves away at Prairie Sun Recording Studio, just outside Sonoma County in California. Free from financial and time constraints, they were able to focus, experiment and fully realise their distinctive sound.
"Source Tags & Codes was our moment to take a stab at creating a timeless album," says founding member Jason Reece. "We had the chance to have that freedom to experiment with new sonic possibilities while messing with the major label paradigm. It was truly a chaotic, strange and beautiful time in our young lives."
Upon release on February 2002, Source Tags & Codes thrust Trail Of Dead into the mainstream spotlight. Critics and fans alike hailed it as a masterpiece, with Pitchfork awarding the album a Perfect 10 rating and putting it in rarefied company with such classic alternative records as Radiohead's OK Computer and Wilco's Yankee Hotel Foxtrot. A decade and a half later, Source Tags & Codes has stood the test of time and retrospective reviews have continued to heap on the praise with the BBC hailing it as "one of the finest rock albums of recent history".
The double-vinyl reissue of Source Tags & Codes will be available on 11 August and can be ordered here.
Format:
UK English