Delta Rae's Rich Mix: Country, Roots And Southern Gothic
Our interview with a self-described 'band of southern storytellers.'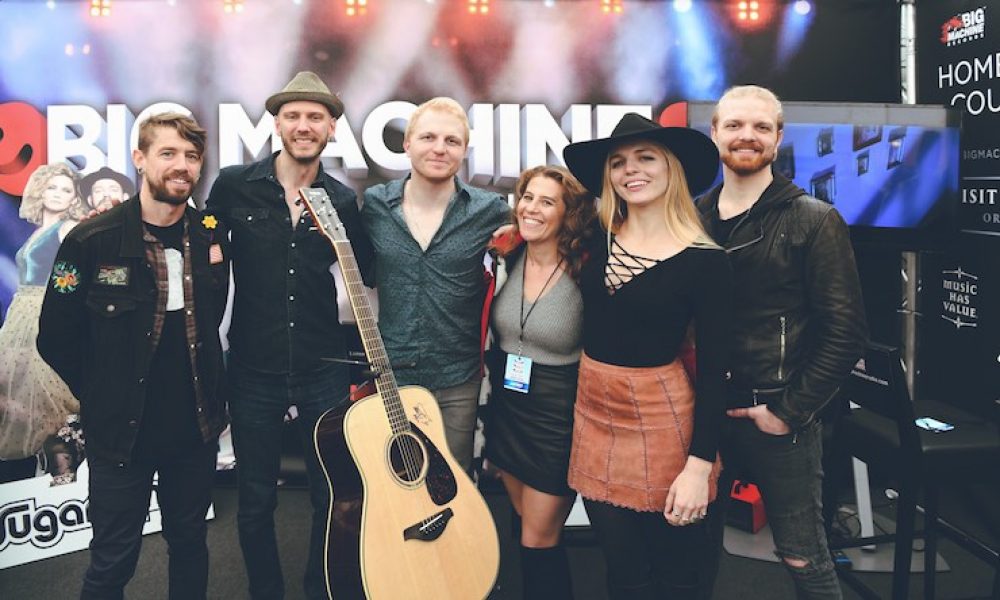 Sometimes what seems like a swift rise up the music ladder can mask many years of tireless endeavor. Delta Rae, the sextet formed of three siblings and three other friends, came together in Durham, North Carolina the better part of ten years ago. But now, based in Nashville and releasing independently after previously being signed to Big Machine Label Group, they're creating ever more mature music and fulfilling their own description as a "band of southern storytellers."
March 2021 saw the appearance of Delta Rae's fourth album The Dark, a swift follow to The Light, released just 12 months earlier. In 2019, they played the Take Me There tour, which warmed up on the Melissa Etheridge Cruise and then took in countless dates of their own through spring into early summer.
In October 2018, they released the powerful musical and social statement "Hands Dirty." It drew on personal experience to stand firmly behind the modern-day fight for women to be judged as equals, and to celebrate their achievements in their lives, art, politics and beyond.
Delta Rae - Hands Dirty (Official Music Video)
Also in 2018, the group's momentum swept them across the Atlantic, for acclaimed performances at the Country to Country (C2C) Festival. We saw Delta Rae play a short but impressive set at a media showcase in London, then spoke to them ahead of no fewer than four appearances for the group at the country festival. They were enjoying the eclectic and wide-ranging passion for American roots music among the event's loyal British constituency.  
"Coming to the UK, I feel like Americana almost rivals the popularity of country music," said joint lead singer Brittany Hölljes, "whereas in the States, Americana is very underground and country is the wider known genre." Well aware that many of the biggest names in Americana are those that migrated from mainstream country, Hölljes added that the six-piece took some of their influence from artists such as their fellow C2C 2018 performer Emmylou Harris. 
Originally a quartet featuring Hölljes, her brothers Eric and Ian and vocalist and longtime friend Elizabeth Hopkins, Delta Rae played their first shows at Duke University in Durham in 2009. They expanded into a sextet with the arrival of Grant Emerson and Mike McKee a year or so later and made waves with their initial self-released EP of 2010.
Delta Rae - No Peace In Quiet
A 2012 deal with Sire brought that year's Carry The Fire album and 2015's After It All, during which time the group were sometimes marketed in the pop-rock area. But they were much more comfortable at the melodic, yet unpredictable, edge of country, where the melodic balladry of "No Peace In Quiet" rubbed shoulders with the percussive southern gothic drama of "Bottom Of The River."
'The dark and the light'
"We call it the dark and the light," said Brittany, foretelling their subsequent releases. "We've got our lighter side, that's got the music that feeds your soul both joyfully and emotionally, and then we've got the darker side, which tells the ghost stories." Indeed, the group's very name was drawn from a mythical tale written by the Hölljes' mother about a Southern girl called Delta Rae who summons the Greek gods to earth.
After signing to Valory, the group released two 2017 EPs, A Long And Happy Life and The Blackbird Sessions. Priding themselves on stunning harmonies, and happy to admit to the ambition of being the "Southern Fleetwood Mac," the group  took a step in that direction when Lindsey Buckingham remotely added a guitar part to their second album's "If I Loved You." But their focus is on individuality, much more than on chasing a hit.
Delta Rae - Seven Bridges Road (Recorded at Blackbird Studios, Nashville)
"We talk about this all the time," says Brittany. "It's very hard, do you chase after something that's already there, or do you create the next thing and let people follow you? I think we're just following our own muse. The most important thing is being true to ourselves as artists."
Listen to the Delta Rae: Complete Discography playlist on Spotify.
As for that innate competitive edge that has accounted for many a sibling band, they all admit that it's there, but never anywhere near breaking point. "Our mom wouldn't let us," said Brittany. Added bandmate Liz Hopkins, a friend of 20 years: "At this point it feels like all six of us are family. At the end of the day, we know we love each other and we love the art we're making.
"This is truly a partnership and has been since day one," she concluded. "It makes it harder sometimes, but it leads to stronger conclusions."
Buy or stream Delta Rae's track "Hands Dirty."
Format:
UK English