Andy "Thunderclap" Newman Passes, Aged 73
Andy Newman, multi-instrumentalist for Thunderclap Newman, has died, aged 73. His group, which took their name from Newman's own nickname – given to him in reference to his piano-playing style – is best known for their 1969 hit 'Something In The Air', which topped the UK charts in 1969 and remains an evergreen classic rock staple from the psychedelic era.
Thunderclap Newman originally formed at the behest of The Who's Pete Townshend. Townshend had worked with songwriter and drummer John "Speedy" Keen on The Who's Sell Out album (Keen had penned the track 'Armenia City In The Sky'), and envisioned Thunderclap Newman as an outlet for Keen's songwriting. With guitarist Jimmy McCulloch (later of Paul McCartney's Wings) and Newman's multi-instrumental talents, Thunderclap Newman formed in 1968, releasing their era-defining single the following year.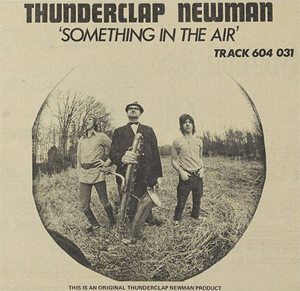 Debut album Hollywood Dream followed in 1970. With Pete Townshend producing and performing bass duties (under the pseudonym Bijou Drains), it included 'Something In The Air', along with a cover of Bob Dylan's "Basement Tapes" offering 'Open The Door, Homer', plus three more A-side releases: the UK Top 50 entry 'Accidents', followed by 'The Reason' and 'Wild Country'. Yet despite the exquisite songwriting and musicianship on display (Andy Newman played no fewer than 14 instruments, among them piano, organ, saxophone, oboe, glockenspiel and Bengali flutes), the album failed to make a dent in the UK, while it only managed to hit No.161 in the US.
A tour with Deep Purple followed in early 1971, before the group – by then a five-piece – broke up in April that same year. Andy Newman resurrected the Thunderclap Newman name in February 2010, when he performed live at the Con Club in Lewes, Sussex, with a new line-up that included ex-Big Country drummer Mark Brzezicki, and Pete Townshend's nephew Josh Townshend on guitar. This line-up released the second Thunderclap Newman album, Beyond Hollywood, in 2010, before touring in support of Big Country the following year.
Andy Newman died on 29 March 2016. At the time of writing, the cause of death remains unknown.
Format:
UK English