The Beatles' Christmas Records Receive Limited Coloured Vinyl Box Set Release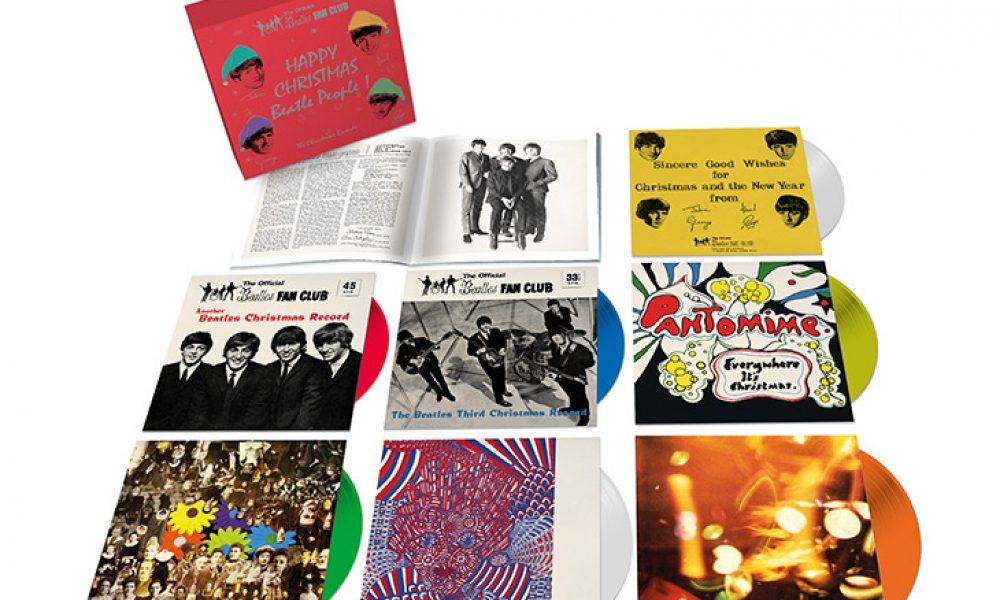 As ably proved by the phenomenon that was Beatlemania, no band inspired such devoted fandom as The Beatles. And, in turn, no band looked after their fans quite like rock's finest foursome. As special thank yous to all the "Beatle people" around the world – as the group referred to their dedicated fanbase – The Beatles recorded Christmas flexi discs for their fan club members each year from 1963 to 1969. Previously only ever available through The Beatles' fan club, this year, as a bumper stocking filler, the seven Beatles Christmas records are being reissued on coloured vinyl in one 7" box set.
Christmas comes early for Beatle people around the world this year, as the limited edition The Christmas Records box set is due for release on 15 December. Not only collecting all seven Beatles Christmas records in their original artworks, it also includes a 16-page booklet featuring reproductions of The Beatles' fan club's National Newsletters, while each disc is pressed on its own coloured vinyl.
With 2017 also marking the 50th anniversary of The Beatles' legendary Sgt Pepper's Lonely Hearts Club Band album, this Christmas also sees the deluxe reissue of the album appear in high-definition digital audio (96kHz/24bit), featuring Giles Martin's 2017 stereo mix of the album, plus 18 bonus tracks. And if that's not enough Beatles booty for one holiday season, the album will also appear in a 180g 1LP black vinyl edition, and as a limited edition 1LP picture disc.
The Beatles' The Christmas Records box set is due for release on 15 December. Scroll down to read the full details of each of the Beatles Christmas records, and buy the box set here.
The full details of each of the Beatles Christmas records are:
1963: The Beatles' Christmas Record (one-sided, 5:00 TRT)
Recorded: 17 October 1963, Studio Two, EMI Studios, Abbey Road, London
1964: Another Beatles Christmas Record (one-sided, 3:58 TRT)
Recorded: 26 October 1964, Studio Two, EMI Studios, Abbey Road, London
1965: The Beatles' Third Christmas Record (one-sided, 6:20 TRT)
Recorded: 8 November 1965, Studio Two, EMI Studios, Abbey Road, London
1966: Pantomime – Everywhere It's Christmas: The Beatles' Fourth Christmas Record (one-sided, 6:36 TRT)
Recorded: 25 November 1966, Dick James Music, New Oxford Street, London
1967: Christmas Time (Is Here Again): The Beatles' Fifth Christmas Record (one-sided, 6:06 TRT)
Recorded: 28 November 1967, Studio Three, EMI Studios, Abbey Road, London
1968: The Beatles' Sixth Christmas Record (two-sided, 7:48 TRT)
Recorded: 1968, various locations
1969: The Beatles' Seventh Christmas Record (two-sided, 7:39 TRT)
Recorded: 1969, various locations
Format:
UK English