Beatles Exclusive: Mark Ellen On 1 and 1+
On this red letter day for Beatles fans, with the 1 and 1+ collections just released, we have an exclusive preview of an upcoming BBC Radio 2 interview with music writer Mark Ellen, who wrote the appreciation for these remarkable new audio-visual compilations.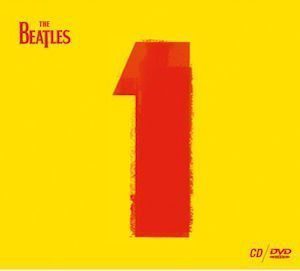 Ellen will be the guest of fellow journalist and uDiscover contributor Paul Sexton when he sits in for Bob Harris to host his Sunday 3-6am show this weekend (8 November) on Radio 2. The programme will be available via the network's website to listen to live, or for 30 days after broadcast here, with the interview feature airing in the second hour and incorporating several tracks from both 1 and 1+. Here are some highlights of the conversation.
PS: Mark, tell me about your role in this amazing new Beatles project.
ME: Well, Apple asked me to write the over-arching appreciation, the essay, a 4,000-word piece that's with the box set. I think it's probably because I've interviewed [The Beatles] a few times, I interviewed Paul McCartney when I was the editor of Smash Hits and eight times since, not that I'm counting, because that would be pathetic. And I've interviewed Ringo, and George three times. I'm sadly not old enough to have interviewed John Lennon, but I've done a lot with them with the magazines I've worked on over the years. But it's been fantastic, so I got to see these videos very early on in the summer, and had a chance to really think about them.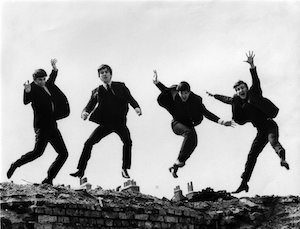 PS: The set came out on Friday. What are people going to get? Let's try and explain the different configurations.
ME: There are two basic packages. Everyone will remember the 27-track compilation 1 that came out in 2000, which sold a phenomenal number. So [the new] 1 is a kind of visual version of that, it's promotional footage and film to accompany each track. You get 'From Me To You' at the Royal Variety Show, you get 'Can't Buy Me Love' on Ready Steady Go! where they're being jostled by the dancers, and John Lennon does this slapstick.
There's a brilliant 'Day Tripper' where they're performing in some scaffolding with strange choreography behind them, and of course the amazing 'Penny Lane,' where they all ride horses, you'll have seen that, it's fantastic. McCartney says in the DVD how crazy it is that they gave these valuable pop commodities horses, and as he says, Ringo was no horseman, and that was a whole lot of horse. Ringo charges off at one point over the horizon.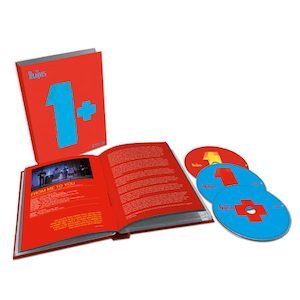 But the other thing is the DVD Deluxe box set, which has got an extra 23 tracks, and it's amazing. You get a version of 'I Feel Fine,' which is known as 'I Feel Fried,' where their time was so valuable that even in their lunch break, they shot an extra take where they're eating fish and chips.
PS: And you can tell that the track is playing, but they're thinking 'Are we supposed to be doing something?'!
ME: They're not quite sure, John Lennon's making a chip butty, it's brilliant. And there's a great version of 'Day Tripper,' where Ringo is bored, really, and starts to saw through the set. There's so many.
PS: They're perfect time capsules of their lives and other people's as they impacted on them, aren't they? It's like a documentary of an entire generation.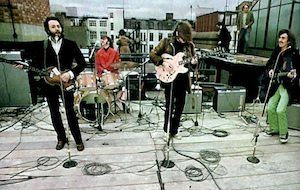 ME: Yes, it is. We're hedging around the phrase 'the glorious soundtrack of our lives,' but it's true, isn't it? I was just about old enough to remember, I was eight, I think, when the Beatles happened, so I can map out my own life, and as a piece of popular culture too, the times they were reflecting. It's amazing.
PS: A lot of people are going to be discovering The Beatles for the first time through this new set. This is the great thing about how they renew themselves for a new generation every so often. It's a pretty good way of getting into it, isn't it, having these films to look at as well.
ME: Oh, it's the perfect way to get into it. That's absolutely right, for everybody else who grew up with it, it's just a tremendous reminder. But it's a brilliant, self-contained history of the story, it starts in 1962 and ends in 1970, and you can see the way the Beatles change, the way the clothes change, the music changes and get a real sense of the personalities that wrote these extraordinary songs.
Format:
UK English