Carly Pearce Brings 'Diamondback' To 'The Tonight Show Starring Jimmy Fallon'
Pearce performed a stunning rendition of 'Diamondback.'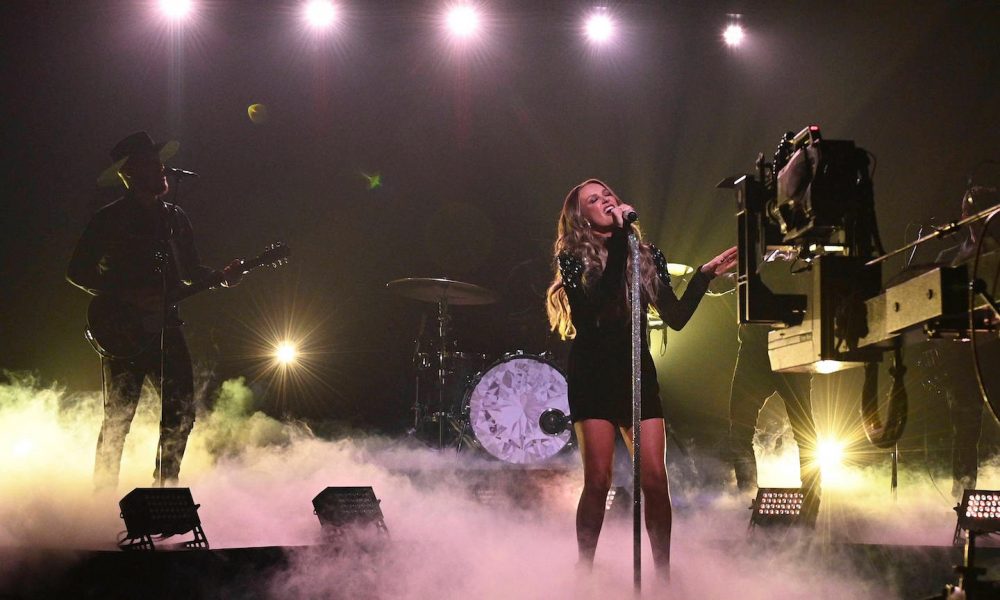 Carly Pearce made her debut performance on The Tonight Show Starring Jimmy Fallon with a dazzling performance of "Diamondback."
In symbolic formation and donning strategic sparkle, the chart-topping artist and her band utilized minimal production to create the song's twisted fairytale vibes.
Carly Pearce: Diamondback | The Tonight Show Starring Jimmy Fallon
"Out of such a dark time, light keeps pouring in with these songs. I'm in awe how music fans in cities across the country have embraced me. I truly can't believe our first performance of the year was in the Fallon studio! My fans already shout all the words, but I hope a few more sassy voices will be singing along to 'Diamondback' with us now. What is that they say about a woman scorned," laughs Carly.
The track opens her critically-acclaimed album 29: Written In Stone (Big Machine Records), which landed on several 2021 year-end accolades lists from Billboard, NPR, Rolling Stone, The New York Times, No Depression, and more.
This spring, Carly will take the entire collection of songs back on the road for another leg of The 29 Tour, following a sold-out inaugural run. Partnering with PLUS1, $1 of each ticket sold will support tornado recovery efforts in the Taylor Mill native's home state of Kentucky. In addition to her own headline dates, Carly will join Kenny Chesney's 2022 Here and Now Tour. Additionally, her duet with Ashley McBryde, "Never Wanted To Be That Girl," continues to climb the Country radio charts as eager fans gear up for the live shows.
Back in November of 2021, Pearce gave a stirring performance of "O Holy Night" as part of the 12th annual holiday special from the Country Music Association, CMA Country Christmas. The show aired in primetime across the US on ABC. Pearce's version of the carol from the special was immediately released and is available to stream and download.