Chuck Berry's 'CHUCK' Album Release Confirmed, Listen To 'Big Boys'
Chuck Berry's final album CHUCK will be released by Dualtone/Decca on 16 June. It includes guest appearances by modern-day blues-rock guitar hero Gary Clark Jr, Nathaniel Rateliff and Tom Morello of Rage Against The Machine, Audioslave and Prophets of Rage, among others. Morello and Rateliff are both on the lead track 'Big Boys,' a typically boisterous piece by the rock 'n' roll originator who died on 18 March at the age of 90. Listen to it here:
The album, Berry's first since 1979's Rock It, will feature ten new recordings, eight of them self-composed. Some of the material was conceived as far back as the 1980s and developed by Chuck up until 2014, in his home studio in St. Louis in breaks between tours.
CHUCK was recorded in various studios around St. Louis with Berry's longtime, hometown backing group. That includes his children Charles Berry Jr. on guitar and Ingrid Berry on harmonica and vocals, as well as Jimmy Marsala (Berry's bass player for 40 years), Robert Lohr (piano), and Keith Robinson on drums. This is the line-up that supported him on almost 200 residency shows at the Blueberry Hill club across two decades.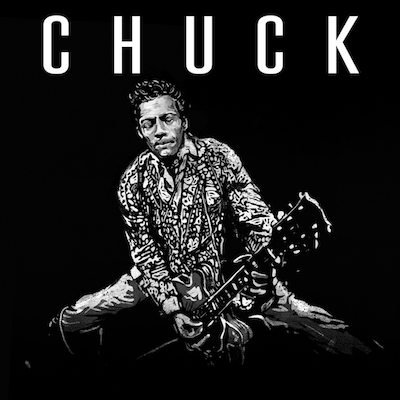 A statement about the album explains that when health concerns forced Berry to stop touring and recording in 2015, he continued to oversee production and planning for the album, enlisting his family and close friend Joe Edwards, the owner of Blueberry Hill, to fulfill his wishes that the album be completed and released.
Among the highlights of CHUCK are 'Lady B. Goode,' described as "a spiritual sequel to the iconic 'Johnny B. Goode' featuring ripping solos from three generations of Berry guitarists," to the country ballad 'Darlin',' a duet with his daughter Ingrid.
"Working on my Dad's record has been one of the best experiences of my life," said Charles Berry Jr. "I will forever treasure the musical conversations we had, and the time we spent together completing it."
The track listing for CHUCK is as follows:
'Wonderful Woman'
'Big Boys'
'You Go To My Head'
'3/4 Time (Enchiladas)'
'Darlin''
'Lady B. Goode'
'She Still Loves You'
'Jamaica Moon'
'Dutchman'
'Eyes Of Man'
Click here to explore our Chuck Berry Artist Page
Format:
UK English