Cinderella Guitarist Jeff LaBar Dies Aged 58
The much-admired guitarist was found dead at his apartment in Nashville. No cause of death has yet been revealed.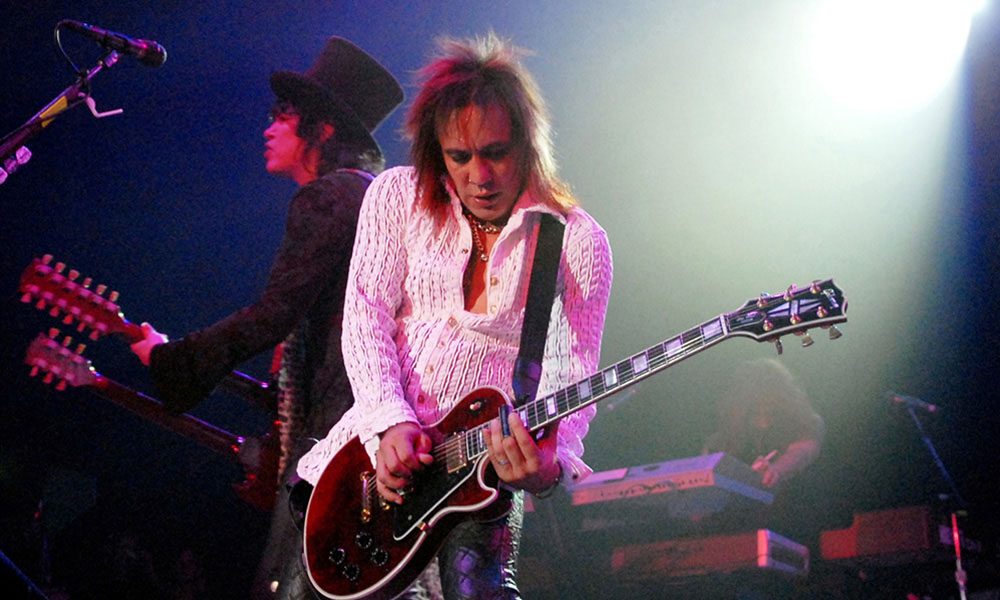 Cinderella guitarist Jeff LaBar has died at the age of 58. No cause of death has yet been revealed.
LaBar's passing was confirmed by his son Sebastian. He wrote on social media: "So I just got the call… Jeff LaBar, my father, my hero, my idol, passed away today. I'm currently at a loss for words. I love you pop!"
Jeff's father, Bob LaBar, also shared the tragic news. "We have been told that our son Jeff LaBar has passed away in Nashville", he wrote on his Facebook page.
The band, their families, and management request privacy at this time.
"Heavy hearts cannot begin to describe the feeling of losing our brother Jeff. The bond between us over decades of creating music and touring the world is something that we as a band uniquely shared. Those memories with Jeff will be forever alive in our hearts. It's unimaginable that one of our band brothers has left us. We're sending his wife Debinique, his son Sebastian, family, and friends our deepest condolences. Jeff's memory and music will be with us forever. We all… band, family, and management appreciate the overwhelming outpouring of love. Rest In Peace Jeff" – Tom, Eric, and Fred.
TMZ reported that LaBar's friends and family were unable to reach him for the past few days before his first wife, Gaile LaBar-Bernhardt, found him dead Wednesday inside his apartment in Nashville.
Although Cinderella haven't released a new studio album since 1994's Still Climbing, the band started playing sporadic shows again in 2010 but have been largely inactive for the last few years while frontman Tom Keifer focused on his solo career.
Back in 2016, LaBar accepted blame for Cinderella's prolonged period of inactivity, explaining that his "drinking problem" caused a rift between him and his bandmates. He told 'Another FN Podcast With Izzy Presley': "I can only speculate, but I believe it's all my fault. It's no secret that I've had a drinking problem. And it showed its ugly face on one of those [cruises that Cinderella played]. I guess that's what caused a rift… When I fell out on one of those cruise ships in front of everybody — like, basically O.D.'d — that's when the band, and mostly Tom [Kiefer] took notice.
Asked if he was sober at the time of the interview, LaBar said: "No, I'm not. Which is the problem. Which is probably the problem. Like I said, I can only speculate, because I don't talk to the other guys anymore. I talk to Fred every now and then. Eric [Brittingham, bass] lives 20 minutes from me. We haven't talked lately, but Eric and I have been the most consistent of all my bandmates throughout the past 32 years. It's just Tom and I that don't talk anymore. And I can only speculate that he's very disappointed and doesn't wanna see me die. He doesn't wanna witness me dying."
Jeff Labar was a key part of Cinderella as the hard rock outfit rose to fame during their 1980s heyday. The band were formed in the Philadelphia, Pennsylvania suburbs and were among the big-haired, hard rock groups that emerged in a wave during the mid-1980s. Signed to Mercury Records in the US, the band had several multi-platinum albums and became an MTV sensation.
Cinderella - Shake Me (Official Music Video)
Labar joined the band in 1985, replacing original guitarist Michael Schermick. He played on all four of the band's studio albums. The group's first two albums, 1986's Night Songs and 1988's Long Cold Winter were both certified triple platinum for sales of over 3 million copies each.
"I think I'm a 70's British rock influenced guitar player who has made his way thru the 80's & halfway thru the 90's in an underrated rock band with marginal success", Labar commented in an interview with Back To The Hard Rock. "Sometimes I feel underappreciated but then again, sometimes overrated as a legend."
Labar revealed in the same interview: "My older brother, Jack played guitar. When he worked after school, I'd take his guitar & dance in front of a mirror to Alice Cooper records. After catching me a few times, he asked if I wanted to pose or play. He showed me 3 chords & a song book & the rest I taught myself by ear, listening to his records.
"I grew up listening to British prog-rock of the 70s like Yes, Genesis, Pink Floyd, etc. After I started playing drums, at 1st & then guitar, it was Led Zeppelin, Black Sabbath, Deep Purple, Queen & the Alice Cooper band was as big an influence on me as Zeppelin.
"I have songs that are special to me. Stevie Nicks' "Leather & Lace" was my wedding song to my 1st wife.  [Led] Zeppelin's "The Rain Song" is the 1st song my son, Sebastian ever asked me to teach him. But I think "Kashmir" is my all-time favorite song."
As their era of hard-partying hard rock ended, Cinderella's fortunes waned. They kept working, but broke up in the early 1990s. They reunited in 1996 and continued to perform, but stopped recording after the 1994 album Still Climbing. The band was last seen in the 2014 'Monsters of Rock Cruise' Labar refers to above, but then again went on hiatus.
Outside of Cinderella, LaBar also launched a solo career, releasing his debut record One For The Road in 2014. He also played in another outfit with his Cinderella bandmate Eric Brittingham called the Naked Beggars.