CRAWLERS Share Stripped Back 'Come Over (Again)' Acoustic Live Recording
'We wanted to perform Come Over in the rawest form and provide the listeners with a new way of listening to this song we are super proud of.'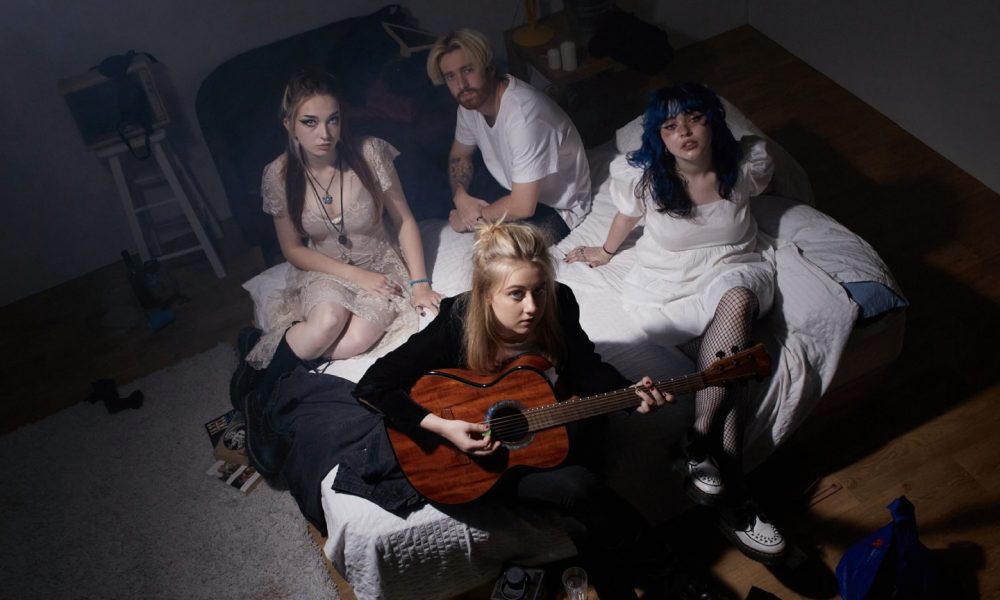 British rock band CRAWLERS has reimagined their popular single "Come Over (Again)" for a stripped back acoustic live recording shared via Interscope Records. The single first appeared in its original form on the band's 2021 self-titled EP which also featured "MONROE," "Breathe," and "Statues."
"We wanted to perform Come Over in the rawest form and provide the listeners with a new way of listening to this song we are super proud of," the group shared of the recording.
A swift kick of virality sent streams for "Come Over (Again)" soaring to become the first hit single for the band made up of vocalist and trumpet player Holly Minto, lead guitarist Amy Woodall, bassist Liv Kettle, and drummer Harry Breen. The track has amassed over 19 million streams on Spotify and over 1 million views on its official music video.
CRAWLERS - Come Over (again) (Official Video)
"Come Over (Again) is a song we're all incredibly proud of," CRAWLERS shared of the original single release last year. "The whole writing process in the studio lifted the song from a small and gentle acoustic number, to an enormously abrasive and emotional coup. We've never done anything like it before and it has shown us what we're really capable of as musicians."
In March and April, CRAWLERS will made their debut in the UK on a sold-out tour before popping over to North America in June for a 16-date trek. The band will make stops in Atlanta, New York, Chicago, Los Angeles and more. Tickets are on sale now via the official CRAWLERS website. View the full list of North American tour dates below.
Stream or purchase "Come Over (Again) [Live Acoustic]"
CRAWLERS North American Tour
June 1 – Atlanta, GA – Aisle 5
June 3 – Washington DC – DC9
June 4 – Philadelphia, PA – Philamoca
June 7 – New York, NY – Mercury Lounge
June 10 – Montreal, QC – Bar Le Ritz PDB
June 11 – Toronto, ON – The Velvet Underground
June 13 – Chicago, IL – Subterranean
June 14 – Minneapolis, MN – 7th Street Entry
June 17 – Houston, TX – HOB Bronze Peacock
June 18 – Dallas, TX – Club Dada
June 21 – Phoenix, AZ – Valley Bar
June 22 – Los Angeles, CA – The Moroccan Lounge
June 23 – San Francisco, CA – Popscene @ Rickshaw Stop
June 26 – Portland, OR – Polaris Hall
June 27 – Seattle, WA – Funhouse
June 28 – Vancouver, BC – Fox Cabaret