Elton John Announced As Record Store Day's Worldwide Record Store Day Legend
As Elton John celebrates 50 years of songwriting this year, Record Store Day celebrates its 10th birthday – so it's only fitting that the two have joined forces, with Elton being named the first ever Worldwide Record Store Day Legend. As part of the festivities, he is releasing an exclusive, expanded 180g 2LP edition of his acclaimed live album, 17.11.70, with six extra tracks that didn't feature on the original release.
Speaking about his life-long love of vinyl, Elton says, "I love record stores. I can go to the record store in Vegas and spend three hours in there… I love vinyl so much: the tactile nature, the ritual of it, looking at the sleeve… And it does sound better, I know it does! It's just the wonder of having vinyl."
And so to the live album which is resurfacing on his favourite format. 17.11.70+ will be released on 22 April. Recorded in November 1970, before an intimate 125-person audience at A&R Studios in New York, for WABC FM, it was never actually intended to be released at all. But, as Elton explains, the recording got bootlegged so much that it screamed for an official release – and rightly so. The album peaked at No.11 on the Billboard charts when it was issued in May 1971.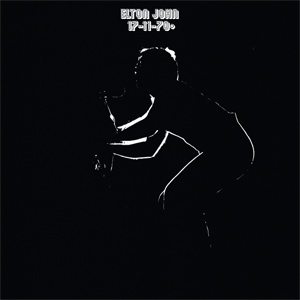 Remembering 17.11.70 today, Elton says, "I'm astonished by how good we were, listening to this record. A lot of it was improvised, and you can do that when you're a three-piece band because I'm really the lead instrument, and Dee [Murray, bass] and Nigel [Olsson, drums] were so brilliant at following what I did… I'm very proud of it."
Now expanded to 13 tracks and spread over two discs, 17.11.70+ captures the fledgling star on the cusp of worldwide fame, showcasing some of his finest songwriting to that point, and rendering classics by The Beatles, Elvis and the Stones, knowing full well that he was on their trajectory.
The full 17.11.10+ tracklisting is:
Side One:
'Take Me To The Pilot'
'Honky Tonk Women'
'Sixty Years On'
'Can I Put You On'
Side Two:
'Bad Side Of The Moon'
'Burn Down The Mission' (including 'My Baby Left Me'/'Get Back'
Side Three:
'Indian Sunset' [previously unreleased]
'Amoreena' [newly remixed]
'Your Song' [previously unreleased]
Side Four:
'Country Comfort' [previously unreleased]
'I Need You To Turn To' [previously unreleased]
'Border Song' [previously unreleased]
'My Father's Gun' [previously unreleased]
Format:
UK English