Listen To Guns N' Roses Exhilarating New Track, 'Hard Skool'
Sounding like vintage GNR, the hard-hitting track is now available via Geffen Records.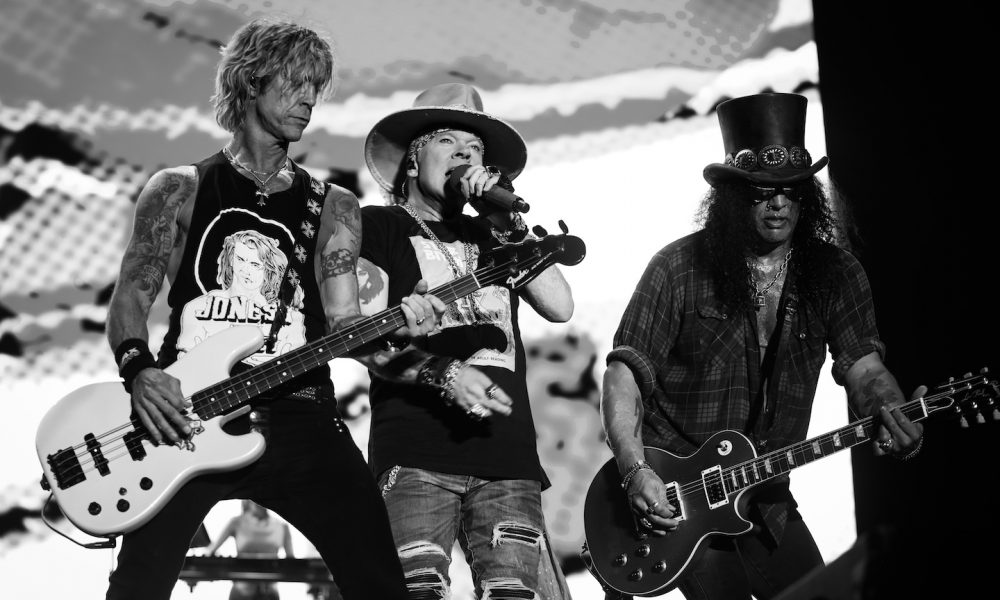 Guns N' Roses have released their new song "Hard Skool." The song follows last months' surprise release of the song "Absurd."
Written by Axl Rose and co-produced by Rose and Caram Costanzo, "Hard Skool" is available now at all digital retailers via Geffen Records. You can check out the song's official visualizer video below.
Guns N' Roses - Hard Skool (Audio)
Sounding like vintage GNR, the hard-hitting track, which is the band's second of 2021, was originally recorded during the sessions for the band's 2008 album Chinese Democracy.
On "Hard Skool", Axl Rose sings: "But you had to play it cool, had to do it your way/Had to be a fool, had to throw it all away/Too hard school and you thought you were here to stay/ If that were true, it wouldn't matter anyway."
Ahead of the release of the track, guitarist Slash posted a video of himself rehearsing "Hard Skool" at a soundcheck in Chicago.
Rumors of the new song's imminent release began to circulate last week, after a fan was reportedly told about it by frontman Axl Rose when the pair met backstage at a recent show in Atlantic City.
Initially composed with the working title "Jackie Chan", the track was recorded during sessions for Chinese Democracy, but never made the album. Short clips of the song have since been posted online, and a full version leaked in 2019.
"Hard Skool" is the band's second track of 2021, following the single "Absurd" in August. The band debuted "Absurd" – a reworking of another Chinese Democracy outtake called Silkworms – during a show in Boston's Fenway Park that took place a few days before it was officially released.
In other Guns N' Roses news, the band recently celebrated a new milestone for their 1998 classic "Sweet Child O' Mine", with the track surpassing a billion streams on Spotify last month.
Listen to the best of Guns N' Roses on Apple Music and Spotify.