Knopfler Speaks #2: Being A "Pretend" Everly Brother
Mark Knopfler and his band's 'Tracker' tour has been winning rave notices all around Europe for the past two and a half months. Tomorrow night (Friday July 31), the European leg of the tour comes to a close at Poble Espanyol in Barcelona. "The last week in Spain has been magic," fiddle player John McCusker tweeted today.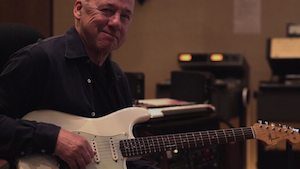 Before Mark and his distinguished company of players break for the summer holidays, returning for the North American leg in Vancouver on September 10, uDiscover has more words of wisdom from the bandleader himself. This is the second in our series of exclusive audio interview clips with Mark, and on this occasion he's talking about early influences, current inspiration and how he goes about distilling his ideas into songs.
You'll hear him reminisce about the thrill of working with the Everly Brothers, having been an enormous fan and a "little pretend Everly Brother, with your mate, playing your first chords. That's a real circle of events happening," he muses.
Knopfler also discusses his prolific productivity in the studio and on the road, and the process of taking ideas and making them "into something really, really simple, into three chords and hopefully the truth."
'Tracker,' meanwhile, has been a resounding critical and commercial success, reaching No. 1 in such countries as Germany, Holland, Denmark, Norway, Austria and Belgium, and hitting the top five in the UK, Sweden, Switzerland and Italy, among other markets.
Listen to a sampler from 'Tracker' on Spotify
Explore our dedicated Mark Knopfler Artist Page