Robert Plant To Be Honoured At 2018 UK Americana Awards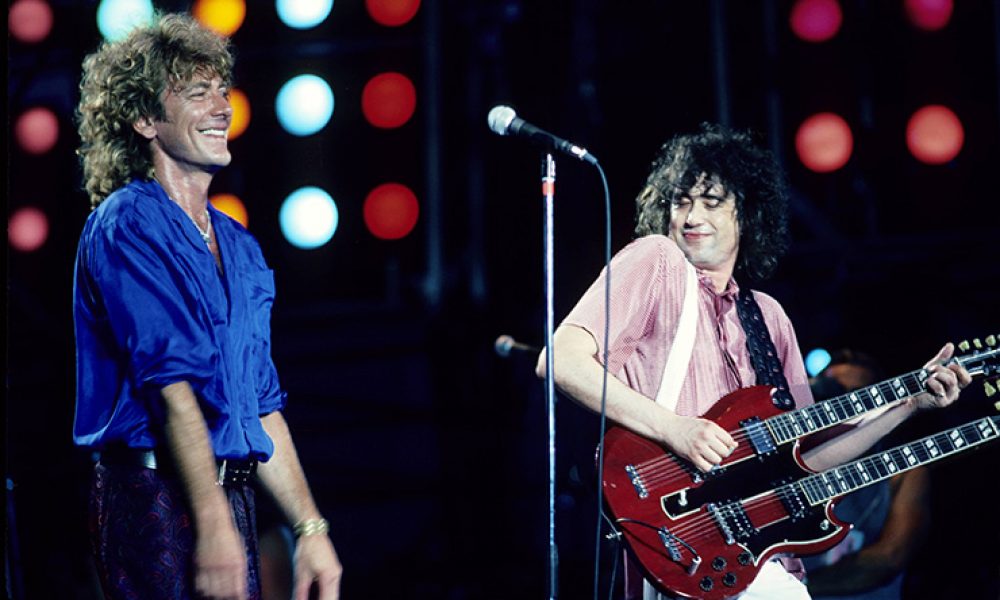 Robert Plant is to be awarded the prestigious Lifetime Achievement Award at the 2018 UK Americana Awards.  Next year's event, which is the third of its kind, is scheduled for Thursday, 1 February 2018 at London's Hackney Empire. The ceremony is moving to a larger venue in 2018 due to the increasing popularity of the event.
The Lifetime Achievement Award is the UK Americana Awards' highest honour and it is being presented to the iconic former Led Zeppelin singer in recognition of his contribution to the Americana genre over the span of his career and life in music.
"We are so excited to announce that Robert Plant will be accepting our Lifetime Achievement Award in 2018," said Stevie Freeman, CEO of the Americana Music Association UK.
"The award is our highest honour and it couldn't be going to a more deserving recipient. Over the course of a legendary career, from his early love of blues and rock'n'roll, through the seventies with rock pioneers Led Zeppelin, to a solo career that has never stood still, Robert Plant has introduced countless millions of music lovers to American roots music. In 2007 he released the iconic Raising Sand album with bluegrass star Alison Krauss, creating new fusions in the Americana world and garnering six Grammys along the way. His latest album, Carry Fire, continues to combine elements of American roots and blues with folk styles from the UK and beyond."
The Bob Harris Emerging Artist Award will be given to up and coming London based four-piece The Wandering Hearts.
Newly-established for 2018 and selected by the AMA-UK board members, The Grass Roots Award celebrates the sometimes un-sung heroes of the UK Americana scene. It is presented to people working in the industry (in a capacity other than as artists) who have made outstanding efforts to support Americana music from the grass roots up and its first winners are Come Down & Meet The Folks, Alan Tyler & Big Steve.
The nominations shortlist for the seven membership-voted Awards was also announced (see below) and the winners will be revealed at the third annual Awards show at Hackney Empire. The show will be hosted by legendary broadcaster Bob Harris and will feature performances from nominees and award winners, including Robert Plant and The Wandering Hearts.
Robert Plant, Alison Krauss - Gone Gone Gone (Official Music Video)
The Awards show coincides with the second anniversary of the Official Americana Albums Chart, which was launched in 2016 by the Official Charts Company in partnership with the AMA-UK and is published each week on OfficialCharts.com. To celebrate the occasion, the best-selling UK Americana album of 2017 will be recognised with a special award.
Americana UK Awards 2017 Nominees:
UK Album of the Year:
Brilliant Light – Danny & The Champions of The World
I'll Make The Most Of My Sins – Robert Vincent
Proud Disturber Of The Peace -William The Conqueror
Sweet Kind Of Blue – Emily Barker
International Album of the Year:
A Deeper Understanding – The War On Drugs
Honest Life – Courtney Marie Andrews
So You Want To Be An Outlaw – Steve Earle & The Dukes
The Nashville Sound – Jason Isbell
UK Song of the Year:
'Devon Brigade' – Police Dog Hogan
'Endless Road' – Worry Dolls
'Home' – Yola Carter
'Moonshine' – Foy Vance
International Song of the Year:
'Pa'lante' – Hurray For The Riff Raff
'Ready To Die' – Aaron Lee Tasjan
'Thirteen Silver Dollars' – Colter Wall
'Tenderheart' – Sam Outlaw
UK Artist of the Year:
Danni Nicholls
Danny & The Champions of The World
Emily Barker
Laura Marling
International Artist of the Year:
Angaleena Presley
Courtney Marie Andrews
Imelda May
Rhiannon Giddens
UK Instrumentalist of the Year:
Georgina Leach
Kit Hawes
Harry Harding
Thomas Collison
Explore Our Robert Plant Artist Page
Format:
UK English