Simple Minds Announce Multi-Disc Box Set Edition Of 'Street Fighting Years'
The band's fourth chart-topping album in the UK, this landmark title also included the No.1 single, 'Belfast Child'.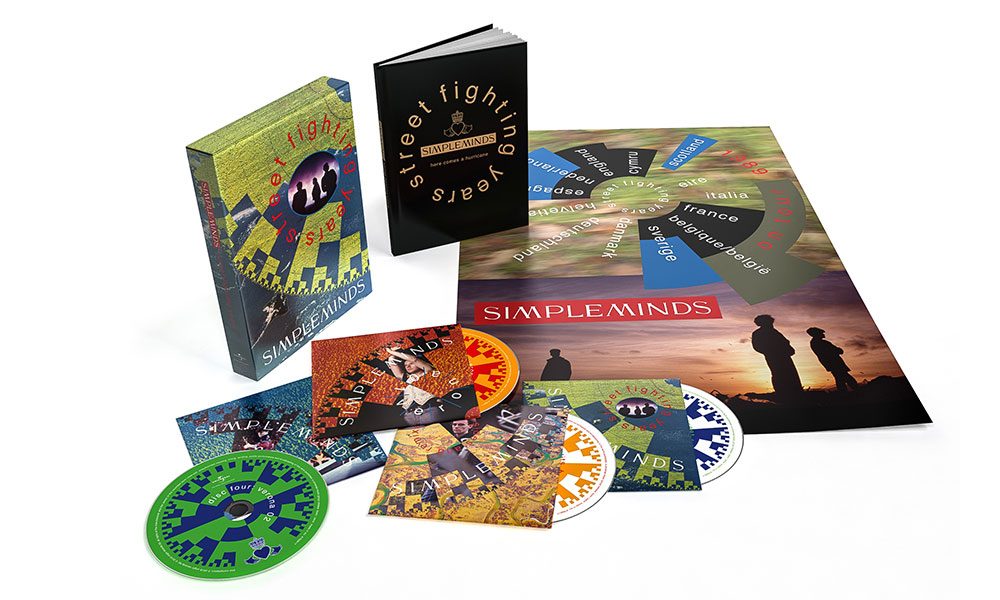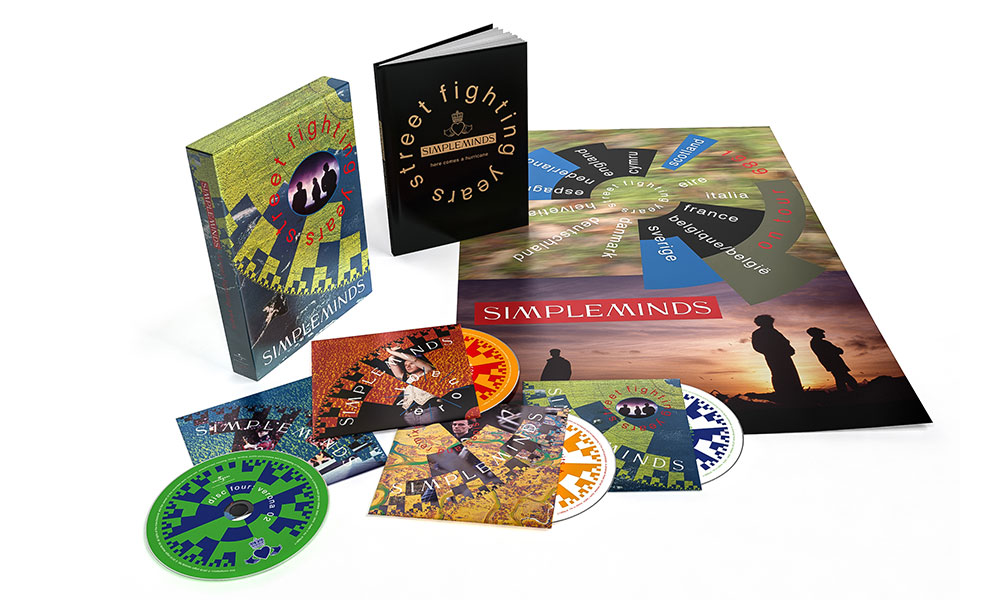 On 6 March, UMC will release a multi-disc box set edition of Simple Minds' 1989 album, Street Fighting Years. Produced by Trevor Horn (and Stephen Lipson), Street Fighting Years was the band's fourth number one album in the UK and featured their first UK number one single, 'Belfast Child'.
An artistically ambitious and elegant album, it arrived at a time of personnel changes. It saw the band reduced to a trio of Jim Kerr, Charlie Burchill and Mick MacNeil with session musicians playing the bass and most of the drum roles (notably Manu Katché from Peter Gabriel's band and former Police drummer, Stewart Copeland).
Recorded in Scotland between 1988 and 1989, it was also a stylistic departure from the sound of Simple Minds' previous album, Once Upon A Time. After 10 years of recording and releasing music, the band had learnt their craft, becoming skilled musicians and songwriters.  This resulted in an album with a sense of drama and cinematic in quality.
Having recently turned 30 years of age, and at the end of an incredibly divisive decade in British politics – not to mention global tensions – an outward-looking maturity emerged in frontman Jim Kerr's lyric writing, which found him confronting major themes of the times.
Simple Minds - Belfast Child
"I was 30 years old and I wanted to write about Belfast….Apartheid and I wanted to write about the policies of Margret Thatcher. I'm glad I wanted to do that", says Simple Minds' frontman Jim Kerr.
This is demonstrated on songs that tackle such subjects as Apartheid ('Mandela Day', and a cover of Peter Gabriel's 'Biko'), the on-going troubles in Northern Ireland ('Belfast Child'), knife crime ('Street Fighting Years' – a very personal lyric about the loss of a Kerr family close friend), as well as the Poll Tax, Berlin Wall and nuclear submarines off the coast of Scotland.
Musically, where Once Upon A Time was influenced by American soul and gospel, Street Fighting Years was a much more atmospheric album, incorporating many styles, including Celtic and folk influences. It was Trevor Horn who recognised a folk quality about the band, especially in Kerr's voice, and encouraged them to explore new territory.
Nowhere is this exemplified more than on 'Belfast Child'. Released three months prior to the album on the 'Ballad of the Streets' EP, 'Belfast Child' was based on the Irish folk song 'She Moved Through The Fair'. Kerr heard the melody of this song a few days after the horrific Enniskillen bombing, and wrote a song trying to relate to the people of Northern Ireland and those who had lost loved ones. The song received praise for addressing such a painful and emotive subject, including from Q Magazine (who also awarded the album five stars).
Equally contemplative songs on the album include 'Soul Crying Out' (about Margaret Thatcher's government) and 'Let It All Come Down'. Conversely, though in large part a highly meditative and reflective album, Street Fighting Years also features more strident, uptempo numbers, such as 'Take a Step Back', 'Wall of Love' and 'Kick It In'. Songs which showcase the guitar-playing skills of Charlie Burchill.
Street Fighting Years will be released in multiple formats which are all fully endorsed by the band. The album was remastered at Abbey Road studios by Andrew Walters and contains the album as well as a bonus disc of B-sides, edits and 12 remixes and a previously unissued Verona show from 1989 round the set off.
The booklet was designed by long time contributor Stuart Crouch and contains sleeve notes by Daryl Easlea who interviewed the band and producer Trevor Horn extensively for the set. They provide a fantastic insight into how the album was recorded and produced.
Street Fighting Years is out on 6 March. Scroll down to read the full tracklist and buy it here.
DISC ONE: Street Fighting Years:
'Street Fighting Years'
'Soul Crying Out'
'Wall of Love'
'This Is Your Land'
'Take A Step Back'
'Kick It In'
'Let It All Come Down'
'Mandela Day'
'Belfast Child'
'Biko'
'When Spirits Rise'
DISC TWO: Edits, B-Sides and Remixes:
'Belfast Child' – Edit
'Mandela Day'- Edit .
'This Is Your Land' – Edit
'Saturday Girl' – B-Side
'Year of The Dragon' – B-Side
'This Is Your Land' – DJ Version
'Kick It In' – Edit
'Waterfront' – '89 Remix
'Big Sleep' – Live
'Kick It In' – Unauthorised Mix
'Sign O' The Times' – Edit
'Let It All Come Down' – Edit
'Sign O' The Times' – B-Side
'Jerusalem' B-Side
'Sign O' The Times' – C. J. Mackintosh Remix
DISC THREE: Verona
'Theme for Great Cities '90'
'When Spirits Rise'
'Street Fighting Years'
'Mandela Day'
'This Is Your Land'
'Soul Crying Out'
'Waterfront'
'Ghost Dancing'
'Book of Brilliant Things'
'Don't You (Forget About Me)'
DISC FOUR: Verona
'Gaelic Melody'
'Kick It In'
'Let It All Come Down'
'Belfast Child'
'Sun City'
'Biko'
'Sanctify Yourself'
'East at Easter'
'Alive and Kicking'
Format:
UK English