Tony Allen's Last Album 'There Is No End' To Arrive A Year After His Death
The album will feature guest appearances by Damon Albarn, Ben Okri, Skepta, Sampa The Great, Lava La Rue, Danny Brown, and more.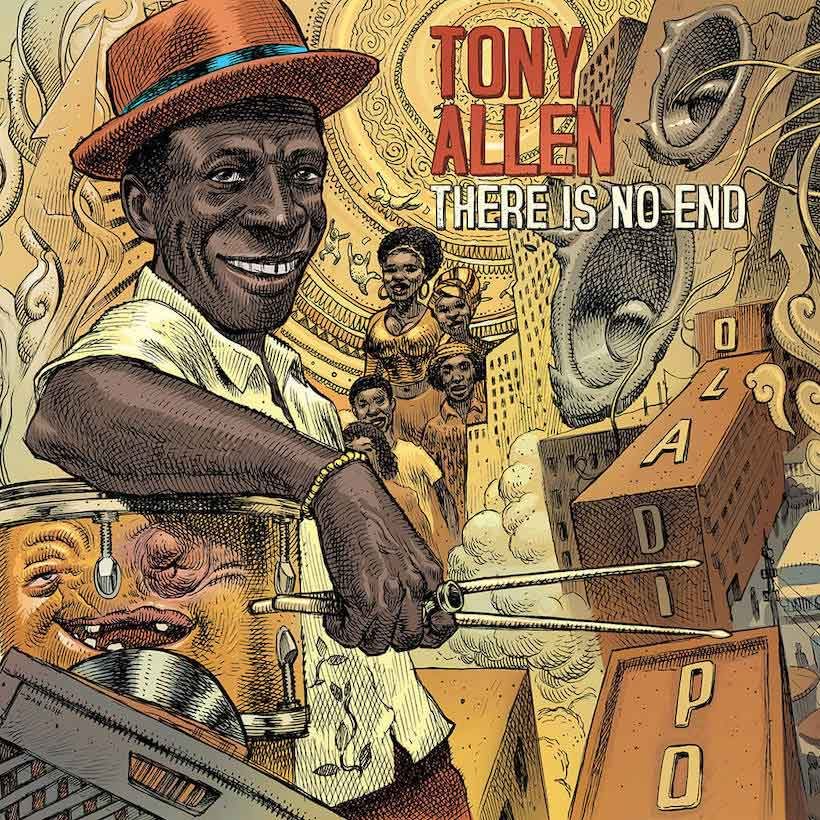 Revered jazz drummer and Afrobeat figurehead Tony Allen's final album There Is No End will be released by Decca France on April 30, the first anniversary of his death. It will feature guest appearances by Damon Albarn, Ben Okri, Skepta, Sampa The Great, Lava La Rue, Danny Brown, and more.
The first single from the set, "Cosmosis," is released today (12) on all digital and streaming services. It features Skepta, Okri, and Albarn, who said of the session: "Recording 'Cosmosis' was the last time I hung out with Tony. A fantastic night was had by all."
At the beginning of the album, Allen is heard saying: "I play yours, you play mine. The music never ends." Hugely respected for his peerless playing, live performances, and collaborations with Fela Kuti and Ginger Baker some 50 years ago and with such as Albarn and Bernard Purdie in later years, Allen's last work will provide fresh inspiration to current and future generations of musicians, artists and fans.
Tony Allen - Cosmosis (Official Clip) ft. Skepta, Ben Okri
Allen's central premise for There Is No End was to work with younger artists, notably the new generation of rappers, to amplify their voice at a time of global turmoil. As he said in explaining the concept: "I want to make something very much in the present but also bring the young rappers back home."
Nigerian novelist and poet Okri, whose words and voices are featured on "Cosmosis," says: "We were in the studio with Damon Albarn and Remi Kabaka and Tony said, 'I lay out this universe in which dreams can come forth,' and then I understood that for him the beat he lays out is like this textual landscape.
An invitation to dream
"It has a psychic structure or DNA of a universe of music for which Tony had worked out a kind of mathematical basis for it in his elliptical beats, and then an invitation to dream could been given."
Allen died before most of the rappers he planned to work with had been able to record their contributions. But luckily, the drummer and producer Vincent Taeger had already recorded the grooves, and as Vincent explains: "Tony's idea was to give rappers the space to breathe and freely create.
"He wanted really not to just do Afrobeat, but rather something new and open, with very different sounds for the drums for each song and feels and tempos that were really grounded to the core in hip hop."
Okri wrote the lyrics for the lead track, he says, "in a way as a tribute to Tony because it was written to ask 'How do you absorb a cosmos or integrate a cosmos, enrich a world, infiltrate in the highest possible way and change the mentalverse, the spiritverse – it's by cosmosis."
A teacher without speaking
Taeger says that Allen "was a teacher without speaking…a drummer and a guardian, with a great artistic vision and that vision filled the songs even after he had left us." Okri notes in wonder that "this man could have lived another 150 years and kept creating new worlds. He had become the master shaman of his art. He knew himself and his mind.
"He wanted the album to be open to the energies of a new generation…but like a great mathematician or scientist who found a code for a new world, with just a few beats, he created this extraordinary canvas."
There Is No End is released on April 30. Pre-order it here.
The full There Is No End tracklist is:
1. Tony's Praeludium
2. Stumbling Down (Featuring Sampa The Great)
3. Crushed Grapes (Featuring Lord Jah-Monte Ogbon)
4. Très magnifique (Featuring Tsunami)
5. Mau Mau (Featuring Nah Eeto)
6. Coonta Kinte (Featuring Zelooperz)
7. Rich Black (Featuring Koreatown Oddity)
8. One Inna Million (Featuring Lava La Rue)
9. Gang On Holiday (Em I Go We?) (Featuring Jeremiah Jae)
10. Deer In Headlights (Featuring Danny Brown)
11. Hurt Your Soul (Featuring Nate Bone)
12. My Own (Featuring Marlowe)
13. Cosmosis (Featuring Ben Okri + Skepta)
14. There's No End