Watch Traveling Wilburys' Restored, All-Star 'Wilbury Twist' Video
The clip featured John Candy, Woody Harrelson, Whoopi Goldberg, Milli Vanilli, Eric Idle and others.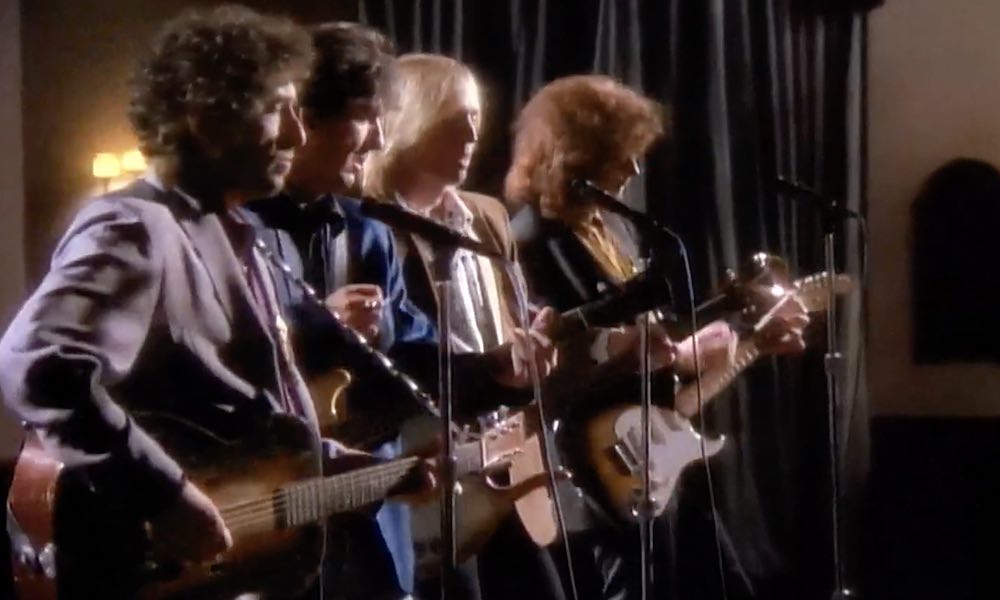 The all-star video that accompanied the Traveling Wilburys' 1991 single 'Wilbury Twist,' from their Traveling Wilburys Vol. 3 album of the year before, has been restored and is now available digitally for the first time. You can watch the clip here, with its introductory scenes featuring actor John Candy, before appearances by numerous celebrities of the day.
The Traveling Wilburys - Wilbury Twist (Original Version)
Among those making fun cameos in the clip are Woody Harrelson, Whoopi Goldberg, hitmakers of the era Milli Vanilli, Cheech Marin, actors Fred, Ben and Kala Savage and Monty Python member and comic performer Eric Idle. These were filmed at the Wilshire Ebell Theatre in Los Angeles, along with the performance by the stellar band. George Harrison, Bob Dylan, Tom Petty and Jeff Lynne are accompanied on drums, as throughout the Vol. 3 album, by Jim Keltner.
'Wilbury Twist' was the closing track on the original album release, and the second to be released as a single following 'She's My Baby.' The latter song reached No. 2 on Billboard's Mainstream Rock Tracks chart, after which 'Inside Out' hit No. 16. 'Wilbury Twist' registered at No. 46 on that listing. Traveling Wilburys Vol. 3 made No. 11 on the Billboard 200, No. 14 in the UK and reached the top five in several European countries, including Sweden and Norway.
The sleeve for the single gave instructions for the decidedly tongue-in-cheek dance of the song's title. "To dance the Wilbury Twist," it said, "you must have some idea of the basic steps and hand motions. Grace is the key to successful dancing. Fluid, co-ordinated movements are what make a dancer outstanding. Good dancers do not wiggle their hips, but move them naturally in rhythm with the steps and music.
"Briefly, there are three things to remember: 1. Feet keep time. 2. Swaying-hips is a natural movement that accentuates rhythm. 3. Hands and facial expressions interpret the meaning of the dance."
Explore our Traveling Wilburys Artist Page.
Format:
UK English