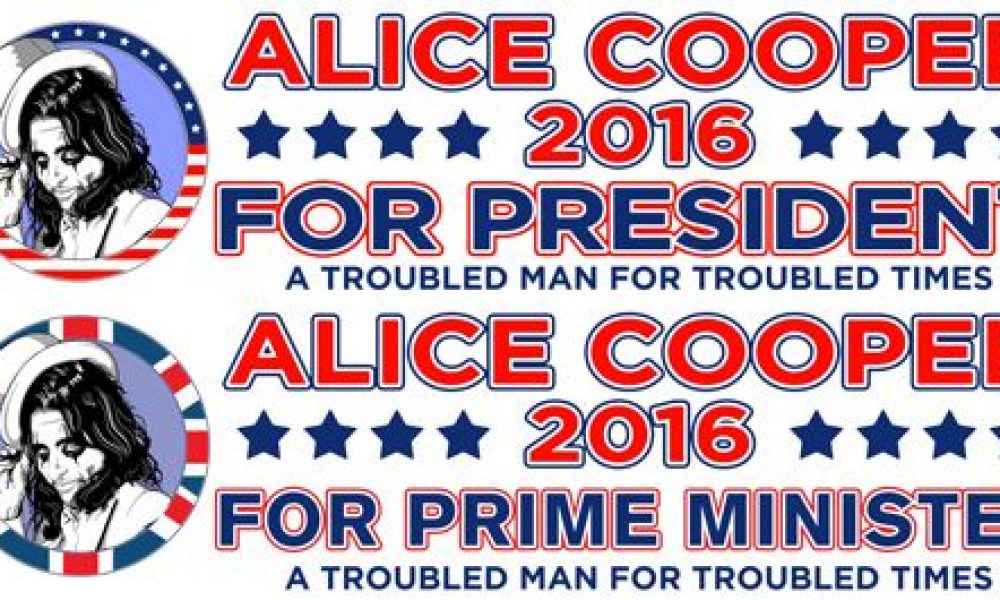 When the world goes crazy, you need a leader with a global vision. Someone who inspires, who isn't afraid to tackle the big issues, and whose voice booms from the loudest sound systems. You need… Alice Cooper.
Forty-four years on from its original release, 'Elected' once again rears its head in a newly recorded version, as Alice Cooper seeks to recruit US and UK members to The Wild Party. "What's his manifesto?" you ask… Just take a look at this 10-point plan, addressing some of the burning issues in British and American politics today:
1: Getting Brian Johnson back in AC/DC
2: A snake in every pot
3: No more pencils, no more books
4: Adding Lemmy to Mt Rushmore
5: Rename Big Ben "Big Lemmy"
6: Groucho Marx on the $50 bill
7: Peter Sellers on the £20 note
8: Cupholders required for every airplane seat
9: Ban on talking during movies in movie theatres
10: Ban on taking selfies, except on a designated National Selfie Day
You think Donald Trump has stage presence? Just watch Alice Cooper perform. Think he can't run two countries at once? Just ask how he balances his solo career and his role as Hollywood Vampires lynchpin. Questioning his education plan? Two words: school's out.
Cooper is, as his slogan puts it, "a troubled man for troubled times" – and, with global uncertainty, an unelected UK Prime Minister and an increasingly heated contest for position of POTUS, perhaps Cooper is exactly what the world needs. You can't doubt his commitment to the cause. As he himself says: "Why not me? I have T-shirts to sell."
Well, we'd rather give our money to the merch stall than the Trump empire, and we know that Cooper has previous when it comes to addressing a crowd. He's well and truly earned his place in the running, so cast your votes at www.votealicecooper.com and get the master of schlock rock elected… Really, how much worse can things get?
Format:
UK English