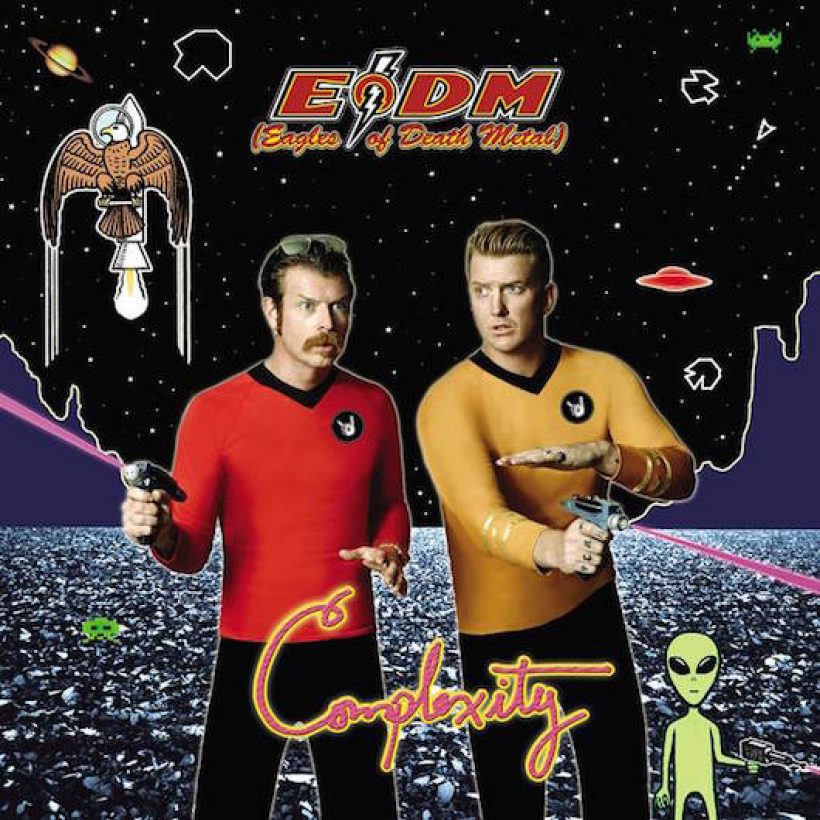 US rock band EODM, comprising Jesse Hughes and Queens Of The Stone Age's Joshua Homme, have today (Wednesday) announced release plans for their fourth album 'Zipper Down.'
Their first since 2008, it will be released worldwide on October 2 by T-Boy/Universal Music, and can be pre-ordered from today, here. The digital album pre-order at iTunes unlocks an instant download of the lead single 'Complexity.'
The band are currently on tour in Europe, with a gig tonight at Koko in London, and dates continuing until mid-July. They've now also confirmed an extensive North American tour to follow, running from late August to late October. They'll then return to Europe for a UK tour and further shows around the continent.
The new album, produced by Homme, was recorded at Pink Duck Studios in Burbank, California, with Hughes and Homme co-writing all of the songs, with the exception of a cover of Duran Duran's 'Save A Prayer.' They played all the instruments and sang all the vocals themselves.
Hughes comments that 'Zipper Down' "really represents to me an attitude and philosophy of life. One should not zipper up, they should zipper down and let it all hang out." Homme, otherwise known as 'Baby Duck,' adds: "In an independent study, four out of three doctors say 'Zipper Down' is an eargasm trapped inside a crazerbeam. And I believe them."
He adds: "'Complexity' is the musical equivalent of holding a lucky rabbit's foot with the unlucky rabbit still attached." Hughes says the track "is sort of our way of saying, 'Keep it simple, stupid.' You can listen to the track at Pitchfork here.
There will also be a new documentary film, 'The Redemption of the Devil,' about a year in the life of the charismatic Hughes (also known as 'Boots Electric'), produced by VICE. It's produced by VICE Media and directed by Alex Hoffman, and you can see the trailer here:
The Redemption of the Devil - Official Trailer [HD]
The track listing for the album is as follows:
1. Complexity
2. Silverlake (K.S.O.F.M.)
3. Got A Woman
4. I Love You All The Time
5. Oh Girl
6. Got The Power
7. Skin Tight Boogie
8. Got A Woman (slight return)
9. The Deuce
10. Save A Prayer
11. The Reverend
Format:
UK English