Watch Andrea And Matteo Bocelli's Spring Festival Gala Performance
Andrea Bocelli and his son Matteo performed at China's CCTV Spring Festival Gala celebrating Chinese New Year – watch the video here!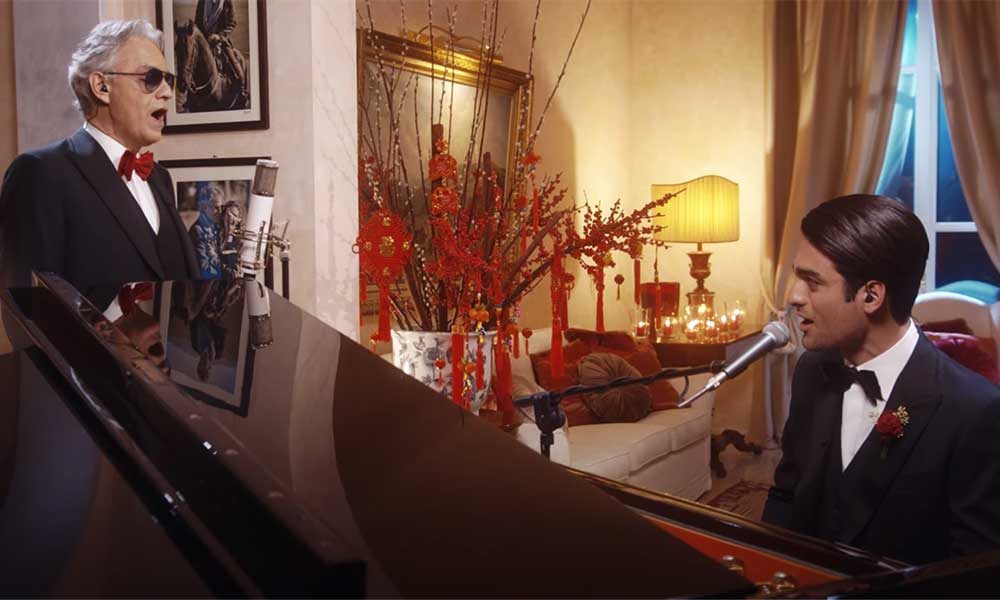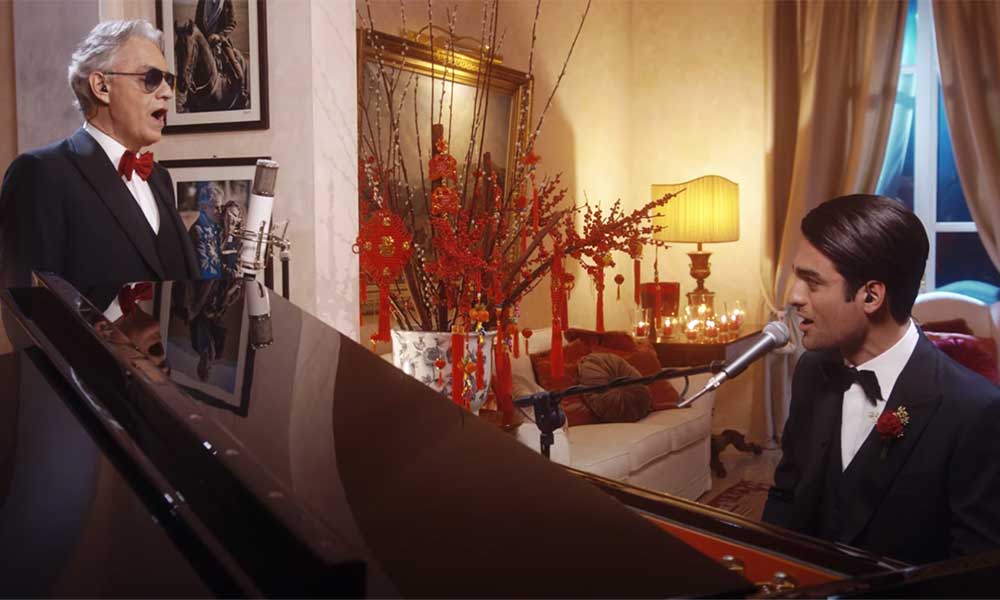 Last night global music icon Andrea Bocelli performed 'O Sole Mio' followed by the poignant duet 'Fall On Me', with his son Matteo Bocelli, for China's national television CCTV Spring Festival Gala Evening celebrating Chinese New Year. Over 1.2 billion people watched the 2021 Spring Festival Gala which has been a Chinese tradition since 1983. Watch Andrea and Matteo Bocelli's performance which was filmed from their beautiful home in Italy.
Andrea Bocelli & Matteo Bocelli for CCTV NYE Gala
'Fall On Me' reflects the special bond between parent and child
'Fall On Me' is an emotional song reflecting the special bond between parent and child. Andrea Bocelli explained, "Anyone who is a parent, anyone who knows the precious responsibility of being a mother or a father, will fully grasp the meaning of this piece."
Andrea and Matteo Bocelli released 'Fall On Me' as a single in September 2018, which was the first time they had ever recorded together, and their duet was featured on Andrea Bocelli's No. 1 album Si. The song was played over the end credits of the Disney movie The Nutcracker and the Four Realms and Andrea and Matteo Bocelli's music video has surpassed 90 million views making it one of the top viewed classical crossover music videos.
Regarding their contrasting voices Andrea Bocelli noted, "Technically they are very different, but there is one thing that makes them most similar: the attitude. That characteristic way of expressing yourself through your voice. That is something that you cannot learn, that cannot be taught. That is something you are born with."
Andrea Bocelli is one of the most celebrated singers in modern history
Andrea Bocelli is one of the most celebrated singers in modern history, he has performed at major international events including the Olympic Games and the World Cup, as well as his own sell-out arena shows around the world. He has received a Golden Globe, seven Classical BRITs and seven World Music Awards plus a star on the Hollywood Walk of Fame. Throughout his career spanning more than a quarter of a century Bocelli has collaborated with a host of A-list stars including Luciano Pavarotti, Ariana Grande, Jennifer Lopez, Christina Aguilera, Ed Sheeran, Dua Lipa, Céline Dion and Tony Bennett.
Last year Andrea Bocelli's record-breaking 'Music for Hope' performance on Easter Sunday from the historic Duomo cathedral in Milan was watched live by millions across the globe. In November Andrea Bocelli released his latest album Believe featuring a collection of uplifting songs that have inspired and sustained him through his career.
Andrea Bocelli understands that all music is good for the soul in a way that taps into the most subtle nuances of humanity, irrespective of individual belief. He explained, "Good music brings with it a powerful message of peace and fellowship, teaching us about beauty, and helping us to open our hearts and minds."
Listen to 'Fall On Me' here.
Do you want to be the first to hear the latest news from the classical world? Follow uDiscover Classical on Facebook and Twitter.
---
Format:
UK English