Best Symphonies: Top 10 Greatest
Discover our selection of the best symphonies featuring masterpieces by composers including Beethoven, Mahler and Mozart.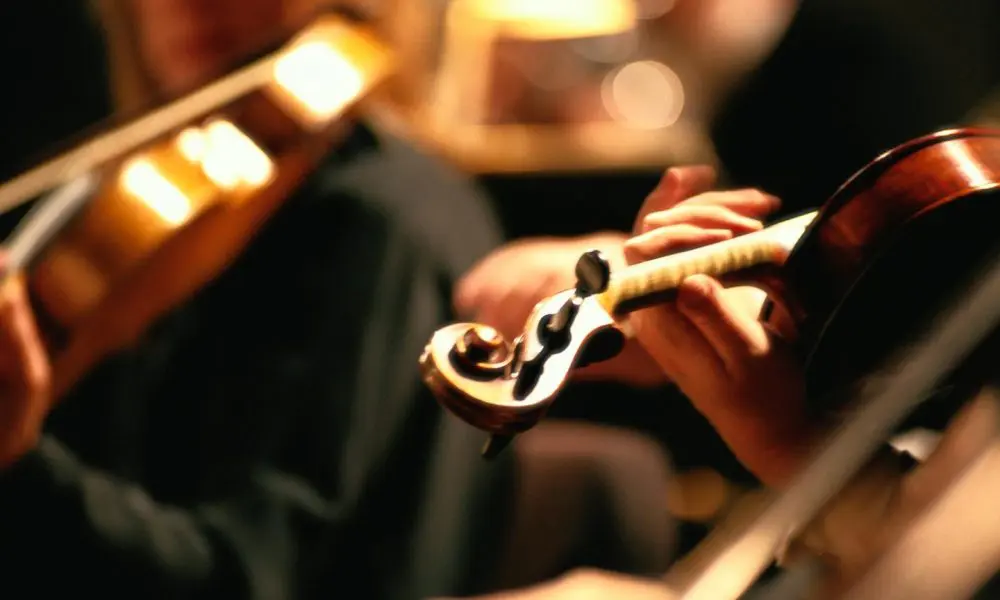 Historically seminal and musically gobsmacking: from Mozart to Beethoven to Mahler, here's our selection of the best symphonies. The Western Classical canon is littered with the grand, luxurious musical form that is the symphony. Since its emergence in the mid-seventeenth century, composers throughout history have one by one picked up the symphonic gauntlet. The original four-movement rigid structure was, over time, developed, stretched, and transformed into a boundless form, which composers filled with all manner of musical ideas, innovations, and narratives. Perhaps this is why symphonies often feel not only epic and theatrical but also deeply personal. Choosing just ten of the best-ever symphonies is perhaps the ultimate musicological quandary … but these pieces undeniably showcase the symphony in its most glorious forms. Scroll down to explore our selection of the top 10 greatest symphonies.
10: Mozart: Symphony No. 41, 'Jupiter'
An early exponent and experimenter of symphonic form, Mozart was partly, if not largely, responsible for molding the symphony into its original figuration. His forty-first and final symphony was later nicknamed 'Jupiter' in reference to the unrelenting energy, the density of motivic development, and the immense scale of the piece, which in its time was unprecedented. From the memorable, spritely beginning to the high-octane finale, 'Jupiter' exudes graceful, pure-bread Classicism, making this one of the greatest symphonies of all time.
Mozart: Symphony No. 41 In C, K.551 - "Jupiter" - 4. Molto allegro
9: Brahms: Symphony No.4
Brahms had the historical misfortune of living in the generation after Beethoven. Brahms ostensibly felt enormous pressure to ensure his work did not fall short of the Beethovenian benchmark, but his careful, well-thought-out approach to composition undoubtedly yielded some of the most stunning in symphonies repertoire. Perhaps one of his most musically adventurous works was his fourth symphony. Brahms ingeniously bridges the chasm between tradition and innovation: Classical in its motivic development, compositional technique, and its passacaglia finale, yet beautifully Romantic in its rich harmonic language and orchestration.
8: Beethoven: Symphony No. 9, 'Choral Symphony'
An absolute giant. Beethoven's vast contributions to the development of Western Classical music, and to the symphonic genre, are simply incalculable. His final, ninth symphony is one of the most remarkable pieces in ever written. The addition of an enormous chorus and soloists (in the famous 'Ode to Joy' finale) to what had been a strictly instrumental form, left audiences, composers, and critics reeling for generations to come. Even more remarkable? At the premiere, his deafness had escalated to the point where he couldn't hear the full extent of the rapturous applause.
Beethoven: Symphony No. 9 In D Minor, Op. 125 - "Choral" / 4. - "O Freunde nicht diese Töne" -
7: Berlioz: Symphonie Fantastique
Berlioz pioneered the use of narrative in symphonic form. His Symphonie Fantastique is a programmatic masterpiece in five movements. The score paints a twisted, opium-induced dream that begins as a love story, a dream of a beloved and a night at a ball. By the fourth movement, however, the protagonist is marching to his own execution, having murdered his beloved, and the macabre finale depicts his own burial, attended by witches and other specters. Like the program, the accompanying musical imagery is as dramatic as it is genius.
Berlioz: Symphonie fantastique, Op. 14, H. 48 - V. Songe d'une nuit du Sabbat. Larghetto -...
6: Sibelius: Symphony No.2
Sibelius' second symphony is utterly joyful, with the clarity and charm that typifies Sibelius' compositional style. This piece exudes Finnish soul, with touches of pastoral pervading reappearing throughout, from the ripples of water and chirping oboes in the first movement, the busy scurrying of the third, and culminating in a goose-bumpy finale with a rousing, heroic theme. Although Sibelius rejected the notion of a program with political undercurrents, contemporary reception suggests that the piece truly captured the hearts of the Finnish people and became an emblem of national pride.
Sibelius: Symphony No. 2 in D Major, Op. 43 - I. Allegretto - Poco allegro - Tranquillo, ma...
5: Shostakovich: Symphony No. 10
The fingerprints of political turmoil are ubiquitous in Shostakovich's music. Much like his turbulent relationship with the Soviet Regime, his tenth symphony is a long, arduous journey. Although premiered after Stalin's death in 1953, it is unclear where the mighty tenth was written. The beauty of this symphony lies in its ugliness: feelings of desperation, fear, and anger at times make for uncomfortable listening, but the unbounded emotion and Shostakovich's genius compositional idiom mark this symphony as one of the most profound, epic symphonies ever written.
Shostakovich: Symphony No. 10 in E Minor, Op. 93 - I. Moderato (Live At Symphony Hall, Boston /...
4: Dvořák: Symphony No. 9, 'New World Symphony'
Completed in 1895 whilst he was living in America, Dvořák's 'New World Symphony' is one of his greatest, and most famous, works. Look beyond the beautiful, well-known tune from the second movement, and you'll discover so much more. For example, the epic scherzo, which races along at lightning speed, and the fiery finale, where the awesome power of the orchestra recapitulates thematic material so theatrically and so powerfully, that it'll leave your ears ringing.
3: Tchaikovsky: Symphony No.6, 'Pathetique'
Tchaikovsky's last symphony was also his last ever work: he died just nine days after he led the premiere in 1893. The myriad of theories surrounding his death has led many to interpret this piece as autobiographical, or at least as Tchaikovsky's meditation on death (whether he knew about the imminence of his own or not). The work is highly emotive, with the power of Tchaikovsky's raw Russian romanticism unleashed to full capacity. The symphony climaxes with a heart-wrenching finale, with stunningly desolate melodies that swoop and glide, but ultimately cannot avoid tumbling into darkness.
Tchaikovsky: Symphony No. 6 in B Minor, Op. 74, TH. 30 - I. Adagio - Allegro non troppo -...
2: Mahler: Symphony No. 5
Mahler is best known for his 'ripping up the rule book' approach to composition, a principle that he applied liberally to his symphonies. Whilst his second symphony deserves an honorable mention, it's his fifth that makes it into our greatest top ten. Five movements of exquisitely complex and indulgent music that demand huge, unrelenting performing forces. Mahler does offer a reprieve in the form of the gorgeous, light-as-air, 'Adagietto', before the all-guns blazing finale.
1: Beethoven: Symphony No.3, 'Eroica'
Put simply, Beethoven's 'Eroica' Symphony is a ground-breaking musical masterpiece that forever shaped the landscape of Western classical music. In 1803, Beethoven composed a work that was as legendary and revolutionary as both the composer himself and the muse to which the pieces were dedicated: Napoleon. There are quite frankly not enough superlatives in existence to do justice to the extraordinary innovation and sheer musical genius that has seen this symphony consecrated by history as the best symphony ever written – so you'll just have to listen to it.
Beethoven: Symphony No. 3 In E Flat, Op. 55 -"Eroica" - 1. Allegro con brio
Listen to our recommended recording of Beethoven's 'Eroica' Symphony, performed by the Berlin Philharmonic conducted by Herbert von Karajan, on Apple Music and Spotify.
---
Format:
UK English