Ludovico Einaudi Announces Deluxe Edition Of 'Underwater'
The deluxe edition features the chart-topping album 'Underwater' with three new tracks and six photography prints taken by Ludovico Einaudi.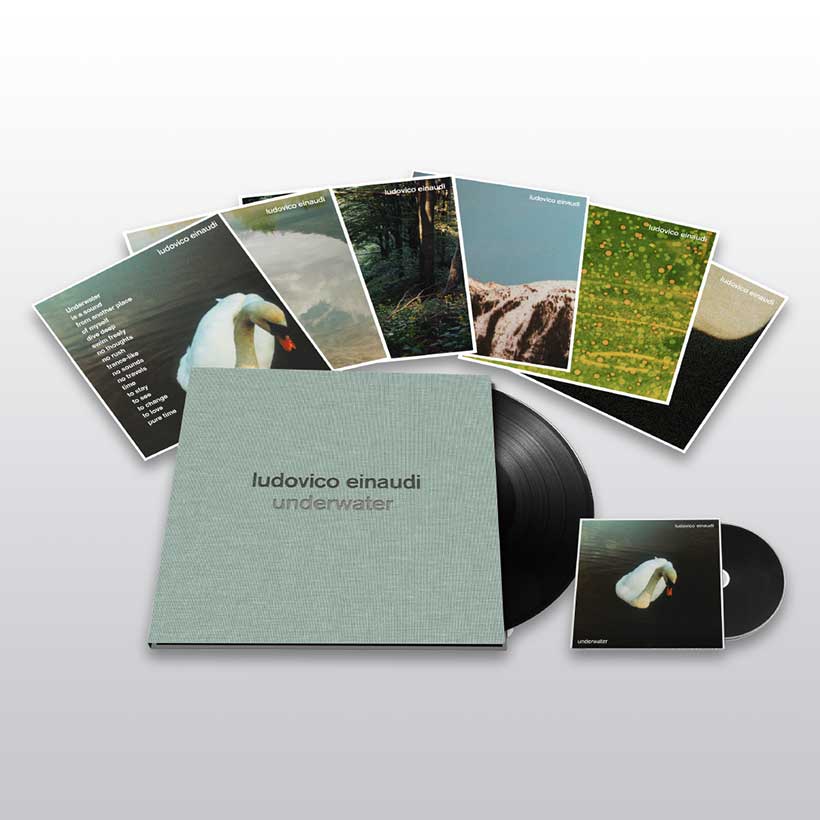 Ludovico Einaudi has announced that a deluxe edition of his chart-topping album Underwater, released earlier this year, will be available from 14 October 2022. The Underwater Deluxe box set includes the Underwater album with three new tracks, 85mm, Adieux and The Tree, in both double LP and CD formats, and six exclusive photography prints taken by Ludovico Einaudi.
Ludovico Einaudi - Underwater EPK (Full length)
"It came naturally, more than ever before"
Underwater, originally featuring 12 tracks, was Ludovico Einaudi's first solo piano album in 20 years. He wanted to write a solo piano album for several years but needed the right environment to be able to fully commit to the project. Lockdown gave him this rare opportunity and Underwater was written while he was isolated at his home in Italy. Einaudi explained, "It came naturally, more than ever before. I felt a sense of freedom to abandon myself and let the music flow differently. I didn't have a filter between me and what came out of the piano; it felt very pure. The title Underwater is a metaphor – it is an expression of a very fluid dimension, without interference from outside."
Later this year Ludovico Einaudi will return to the UK to perform for three nights at the Royal Albert Hall in London, from 16 – 18 October, following his sold-out UK tour in March.
"A sonic visionary"
BBC Music Magazine noted, "Einaudi's last few albums have showcased him as something of a sonic visionary, creating thrilling aural tapestries in collaborative projects of varying scales."
2021 was an outstanding year for Ludovico Einaudi with the release of soundtracks to Oscar, BAFTA, and Golden Globe-winning films Nomadland and The Father (which include tracks from his chart-topping 2019 release Seven Days Walking), and the compilation album Cinema, featuring his greatest works for film and television.
Experience: The Ludovico Einaudi Story, a new podcast mini-series, also launched in 2021 starring celebrated filmmakers including multiple award-winning actor and director Russell Crowe (Gladiator), Oscar-winning director Chloe Zhao (Nomadland), BAFTA-winning director and screenwriter Shane Meadows (This is England), Academy Award winner Florian Zeller (The Father), and multiple award-winning director Eric Toledano (The Intouchables). The series explores what it is that makes Einaudi's soothing minimalist compositions so perfect for these challenging times.
Earlier this year Ludovico Einaudi also became one of TikTok's biggest composers, with his track 'Experience' (from his 2013 album In A Time Lapse) forming the soundtrack to almost 7 million video creations which have received over 15 billion views. This online sensation caused Einaudi to hit the Spotify, Apple and TikTok charts in over 40 different markets across the world.
Ludovico Einaudi's Underwater Deluxe box set will be released on 14 October 2022 and can be pre-ordered here.
Do you want to be the first to hear the latest news from the classical world? Follow uDiscover Classical on Facebook and Twitter.
---
Format:
UK English