Best Irish Classical Music For St Patrick's Day: 20 Essential Pieces
Celebrate St Patrick's Day on 17 March by discovering our selection of the best Irish classical and folk music featuring 20 essential pieces.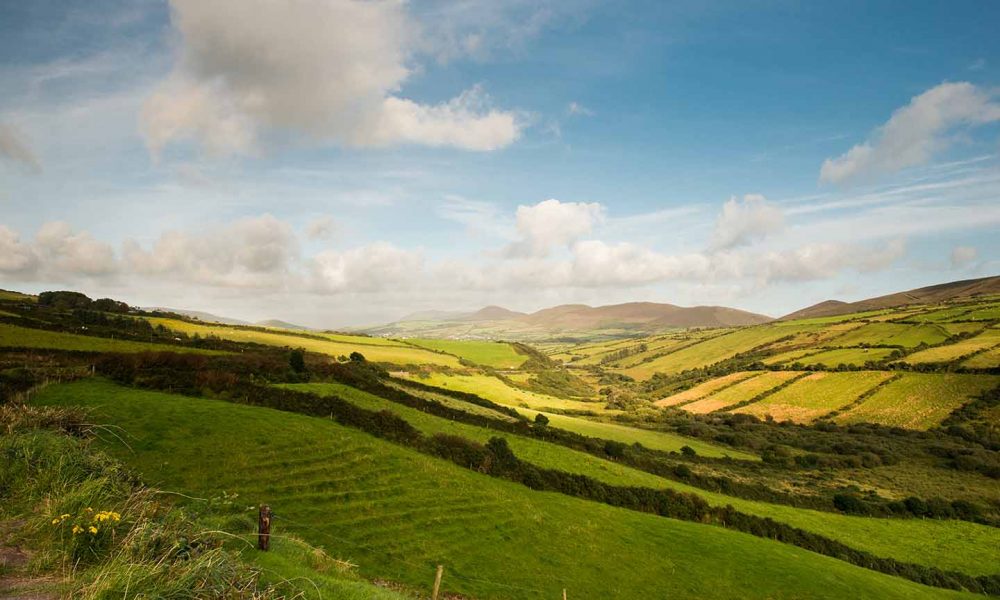 Celebrate St Patrick's Day on March 17 by discovering our selection of the best Irish classical and folk music. Whether your idea of Irish music is Riverdance, Val Doonican or John McCormack, Charles Villiers Stanford or William Vincent Wallace, the extraordinary range and depth of composers and musicians who have hailed from Ireland is truly remarkable. From the great tradition of Irish folk music, to the works of great classical composers, here are 20 tracks that could have been inspired by no other country.
Listen to Riverdance 25th Anniversary: Music From The Show on Apple Music and Spotify.
20: The Rose Of Tralee: William Pembroke Mulchinock/ Charles William Glover
A report written in 2019 finally solved the disputed authorship of this iconic Irish song featured in our selection of the best Irish classical and folk music for St Patrick's Day. The report concluded that it was by the Tralee poet William Pembroke Mulchinock and called Smile Mary My Darling which was published and passed off by Edward Mordaunt Spencer in 1846 in his book of poetry The Heir Of Abbotsville. The poem was adapted into a poem called The Rose Of Tralee with the air being re-set by Charles William Glover from one of his previous ballads. So now you know the real story behind The Rose Of Tralee!
19: Down By The Salley Gardens: Traditional
'Down by the salley gardens my love and I did meet; / She passed the salley gardens with little snow-white feet …' The words are by one of Ireland's greatest poets W. B. Yeats (written in 1889). They are sung to an old Irish air called The Moorelough Shore arranged by Herbert Howells.
Traditional: Down By The Salley Gardens
18: Maritana Overture: Vincent Wallace
(William) Vincent Wallace (1812–65) was an Irish composer, violinist and pianist, one of the most famous musicians of his day. Today he is best remembered for the first of his six operas, Maritana, which premiered at London's Theatre Royal, Drury Lane in 1845. It was immensely successful for the next half century. Its big hit number was 'Scenes That Are The Brightest' from Act 3.
Wallace: Maritana - Overture
17: Love's Old Sweet Song: James Lynam Molloy / G. Clifton Bingham
Another song by James Lynam Molloy (see The Kerry Dance, below), with lyrics by G. Clifton Bingham. Love's Old Sweet Song, sometimes misidentified by the first line of its chorus ('Just a Song at Twilight') was one of the most popular parlour songs of the Victorian era. The song is alluded to in James Joyce's Ulysses as being sung by Molly Bloom.
Molloy: Love's Old Sweet Song
16: Fantasia In E Major 'The Last Rose Of Summer' Op. 15:Felix Mendelssohn
Mendelssohn wrote his Fantasia In E Major 'The Last Rose Of Summer', based on the popular Irish song, in about 1830. The poem was written by Thomas Moore in 1805, and set to music by the Irish composer John Stevenson, who collaborated with Moore on the publication of his Irish Melodies. The tune was the basis of some variations for flute and piano by Beethoven, and also featured in Flotow's opera Martha (1847). It is also included in Anderson's Irish Suite compilation and Ernst's variations for solo violin.
Mendelssohn: Fantasia in E Major "The Last Rose Of Summer", Op. 15, MWV U 74
15: The Dawning Of The Day: Anon
There are two Irish songs called The Dawning Of The Day (Irish: Fáinne Gael An Lae). One is an air composed by the blind harpist Thomas Connellan in the 17th Century. The other was published by Edward Walsh (1805-1850) in 1847 in Irish Popular Songs and later translated into English as The Dawning Of The Day. It is played here by the great Irish virtuoso flute player James Galway.
Anonymous: Dawning of the Day - Arr. by Craig Leon
14: I Dreamt I Dwelt In Marble Halls (The Bohemian Girl / Act 2): Michael Balfe
Michael Balfe (1808-70) was an astonishingly successful Irish composer and singer. He wrote 38 operas, almost 250 songs and was a noted conductor. The Bohemian Girl was his most famous work, loosely based on a Cervantes story. It features the popular aria, I Dreamt I Dwelt In Marble Halls, sung in the opera by the character Arline, who is in love with Thaddeus, a Polish nobleman and political exile. This is the definitive recording sung by the glorious Dame Joan Sutherland.
Balfe: The Bohemian Girl / Act 2 - "I Dreamt I Dwelt In Marble Halls"
13: The Lark In The Clear Air: Traditional/ lyrics Sir Samuel Ferguson
The traditional Irish tune for The Lark In The Clear Air is taken from the collection of George Petrie (1790 – 1866), regarded as one of the most important 19th century collections of Irish music. It contains nearly 200 melodies and texts of songs. The English words were written by the Irish poet, barrister, antiquarian, artist and public servant, Sir Samuel Ferguson (1810-86).
12: Nocturne No. 9 In E Flat Major 'Romance': John Field
The Irishman John Field (1782-1837) was a pianist, composer, and teacher. He is remembered today as the inventor of the nocturne as a genre of piano music, one which his successor Frédéric Chopin developed to sublime heights. Field was born in Dublin but spent much of his career in Russia where he died after an eventful life, a large part of it devoted to alcohol and women.
Field: Nocturne No. 8 in E Flat Major, H.30
11: You Raise Me Up: Rolf Løvland / Brendan Graham
You Raise Me Up – a beautiful song with an obvious debt to the Londonderry Air – was composed by Norwegian pianist Rolf Løvland, a member of the piano/violin duo Secret Garden. It was originally an instrumental piece called Silent Story, but Løvland asked the Irish novelist and songwriter Brendan Graham to add lyrics after reading Graham's novel The Whitest Flower. Since its first performance in 2002 it has been recorded more than 100 times by various artists.
10: The Fairy Lough: Sir Charles Villiers Stanford / Moira O'Neill
Here is another song by Stanford. This one is the second of his collection An Irish Idyll In Six Miniatures, all settings of poems by Moira O'Neill, the pen name of Agnes Shakespeare Higginson (1864-1955), an Irish-Canadian poet who drew her inspiration from County Antrim where she lived. The song, featured in our selection of the best Irish classical and folk music for St Patrick's Day, dates from 1901. But the greatest interest here is that the singer is the divine and irreplaceable Kathleen Ferrier.
9: She Moved Through The Fair: Traditional
The tune for She Moved Through The Fair is quintessentially Irish, a traditional folk song that exists in a number of different versions. The narrator sees his lover move away from him through the fair, after telling him that since her family will approve, 'it will not be long, love, till our wedding day'. Returning as a ghost at night, she repeats these words. Is she referring to her own death and the couple's potential reunion in the afterlife? It's a mysterious, mystical song that has captured us since medieval times.
She Moved Through The Fair
8: The Kerry Dance: James L. Molloy
'Oh the days of the Kerry dancing / Oh the days of the piper's tune / Oh for one of the hours of gladness / Gone alas like our youth too soon …' was composed as a song, published in 1879 and usually attributed to the Irish songwriter James L. Molloy (1837-1909). The opening eight bars are virtually identical to The Cuckoo, written and composed by a Miss Margaret Casson in about 1790; Molloy added the music of the middle part and new words.
7: When He Who Adores Thee : Thomas Moore / Herbert Hughes
Margaret Buke Sheridan (1889-1958) was an Irish opera singer, born in Castlebar, County Mayo. She was known as Maggie from Mayo but spent much of her career in Italy and at Covent Garden. Puccini hailed her as 'the perfect Mimi' and the 'only Madame Butterfly'. This wonderful recording was made in 1944 long after she had retired, a setting of a poem by the Irish poet Thomas Moore, and sung with a moving intensity, perhaps reflecting her own unhappy love life.
6: Caoineadh Cu Chulainn (Lament) from Riverdance: Bill Whelan
Caoineadh Cu Chulainn (Lament) is a rare moment of repose from Riverdance, the legendary theatrical show that originated as an interval performance act during the 1994 Eurovision Song Contest. It was composed by Bill Whelan using mainly Irish traditional music and, since its stage premiere in 1995, has been performed in over 450 venues to more than 25 million people. Uilleann pipes (it translates as 'pipes of the elbow') are the traditional Irish pipes. They get their name from the way they are inflated.
Bill Whelan - Caoineadh Cú Chulainn (Audio)
5: Sechs Mehrstimmige Etüden, Etude VI, 'Die Letzte Rose'('The Last Rose'): Heinrich Wilhelm Ernst
Heinrich Wilhelm Ernst (1812-65) was one of the great violinists of 19th century and was widely seen as the heir to Paganini, famed for his stunning virtuosity. In 1862, however, Ernest was forced to retire because of severe neuralgia and spent the last seven years of his life in retirement in Nice, This is where he wrote his most famous piece, the sixth and last of his Polyphonic Studies for solo violin, an immensely challenging set of variations on the Irish folk melody to which Thomas Moore's poem 'The Last Rose Of Summer' is usually set.
The Last Rose Of Summer (Mono / With Violin Solo)
4: Macushla: Dermot MacMurrough (Harold R. White)/ Josephine V. Rowe
Macushla has been a favourite of many tenors – Irish and otherwise – composed in 1910 by Dublin-born composer Harold R. White (1868 – 1937) under the pseudonym Dermot MacMurrough. The lyrics are by Josephine V. Rowe. This seems to be their only song but it made them both very wealthy. Macushla is a transliteration of the Irish 'mo chuisle' – 'my pulse'. 'Chuisle Mo Chroi' means 'pulse of my heart' and thus 'Mo Chusle' has come to mean 'my darling' or 'sweetheart'.
3: The Blue Bird: Sir Charles Villiers Stanford
The Blue Bird is by the Irish composer Sir Charles Villiers Stanford (1854-1924), with words by Mary E. Coleridge (1861-1907), novelist, poet and great-grandniece of the famous Coleridge). It is an exquisite a capella setting of an exquisite poem, the third of Stanford's 8 Part-Songs, Opus 119, all settings of texts by Mary Coleridge.
Stanford: Eight Part-songs, Op. 119 - The Bluebird
2: Irish Suite : Leroy Anderson
Leroy Anderson (1908-75) was the king of American light music whose instrumental hits included The Typewriter and – a Christmas favourite – Sleigh Ride. The Eire Society of Boston, Massachusetts, commissioned him to create an orchestral suite of traditional Irish folk music to be performed by the Boston Pops Orchestra. Anderson completed four movements in just 11 days. Originally entitled Eire Suite, it was premiered in June 1947. Two years later Anderson added two further movements and retitled it Irish Suite.
Anderson: Irish Suite - 1. The Irish Washerwoman
1: Londonderry Air (Danny Boy): Traditional
No one knows for sure who composed the most famous of all Irish tunes, at the top of our list of the best Irish classical and folk music for St Patrick's Day, the Londonderry Air. It is an ancient air among those collected by the folklorist Jane Ross who wrote it down and sent it to a publisher in 1855. She lived in New Town, Limavady, in the County of Londonderry, which seems to be why the tune was given its title. However, we do know for certain who wrote the lyrics that fitted this great melody: the prolific English songwriter (and barrister) Frederic E. Weatherly wrote the words of Danny Boy in 1913.
Recommended Recording
Riverdance 25th Anniversary: Music From The Show
Celebrated around the world for its Grammy-Award winning score, thrilling energy, and passion of its Irish and international dance, this release is the powerful and stirring reinterpretation of Bill Whelan's mesmerizing soundtrack to Riverdance. Twenty-five years after its inception composer Bill Whelan went back into the studio to re-record the soundtrack and the original team reimagined the ground-breaking show with innovative and spectacular lighting, projection, stage, and costume designs.
Riverdance 25th Anniversary: Music From The Show can be bought here.
---
Format:
UK English