Best Chopin Works: 10 Essential Pieces By The Great Composer
Chopin was one of the greatest composers of the Romantic era – discover our selection of the best Chopin works featuring 10 masterpieces.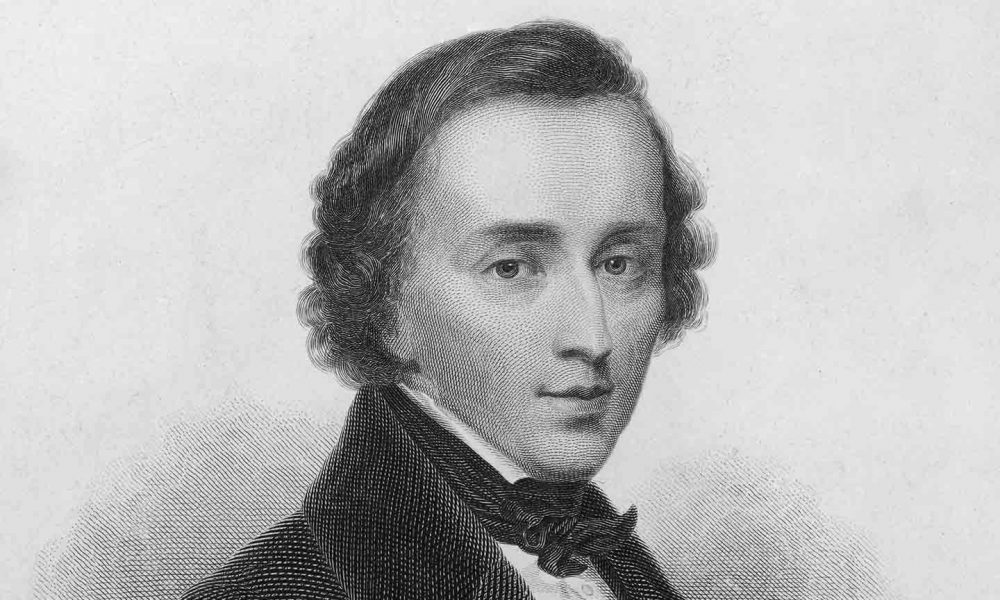 Frédéric Chopin (1 March 1810 – 17 October 1849) was a Polish composer and virtuoso pianist. He was one of the great masters of Romantic music and wrote primarily for solo piano. Chopin was born in the small village of Zelazowa Wola, in the Duchy of Warsaw, to a Polish mother and French-expatriate father, and was a child prodigy pianist. Among the influences on his style of composition were Polish folk music, the classical tradition of JS Bach, Mozart, and Schubert, and the atmosphere of the Paris salons of which he was a frequent guest. His beautiful melodies blended lush bel canto lyricism with Classical restraint. Chopin invented the concept of the instrumental Ballade. His major piano works include Sonatas, Mazurkas, Waltzes, Nocturnes, Polonaises, Études, Impromptus, Scherzos, and Préludes, some published only after his death. No other composer has contributed as many significant works to the piano's repertoire.
Listen to the best Chopin works on Apple Music and Spotify.
Nocturne in E flat, Op. 9, No.2
The 21 Nocturnes are brief poetic marvels: sometimes tranquil nightscapes, sometimes startling, shadowy, and haunted-sounding works. Many are concert favorites, so what, then, is so special about this one? Well, what isn't? Over a dipping and plunging accompaniment, two unmistakable voices seem to interact, plead, argue, conflict, despair, and reconcile – a pas de deux for invisible dancers or a wordless operatic duet, perhaps. The emotional world of this music is deeply sophisticated and sensual. It shines in the hands of interpreters who are prepared to burrow into the implications within this piece rather than stick to its surface.
Chopin: Nocturne No. 2 in E-Flat Major, Op. 9 No. 2
Piano Sonata No.2 in B flat minor, Op.35
Has there ever been another sonata as original and overwhelming as this? While it has become so familiar that perhaps we take it for granted today, we shouldn't, because this music becomes more startling and terrifying at every turn. The first movement, with its feverish rhythms, seems to be a dialogue with death; the scherzo contrasts hammering, struggling episodes with the seductive calm of the trio; the 'Funeral March,' placed third, needs no introduction; and the finale is a whirling, nearly rootless perpetual motion that was compared, by Arthur Rubinstein, to "wind howling around the gravestones."
Chopin: Piano Sonata No. 2 in B-Flat Minor, Op. 35 - I. Grave - Doppio movimento (Live)
24 Preludes, Op.28
Like Bach's The Well-Tempered Clavier (minus the fugues), Chopin's Preludes travel one by one through every key in a strict sequence. The pieces are brief – some shorter than a minute – yet the set is filled with such variety of invention and so many shades of expression that the listener can be left agape. Where does he dream up the hair-raising drama of the 'E flat minor' or 'D minor' preludes? How could he invent a melody as perfect as the 'E minor', its repeated notes transformed by shifting harmonies? Or the purity and simplicity of the tiny 'A major'? Best of all, no two pianists play the set the same way.
Chopin: 24 Préludes, Op. 28 - No. 15 in D Flat Major. Sostenuto "Raindrop"
Polonaise-Fantaisie
Of the self-contained longish pieces, the ten-minute Polonaise-Fantaisie – a late best Chopin work, published in 1846 – is the perfect musical novella, unique in structure and packing an astounding emotional punch. Its opening sounds free and improvisatory; the polonaise main section later contrasts with a middle episode that seems part lullaby, part love song, part dream under hypnosis. And at the core of that lies a middle-of-the-middle episode; a soft song without words in polonaise rhythm that haunts us. After the tempestuous return of the main theme, the central love song transforms into a triumphant coda – only to vanish with a couple of shuddering trills. Pure genius.
Chopin: Polonaise-Fantaisie in A-Flat Major, Op. 61
Ballade No.1 in G minor
Chopin was only 21 when he created the first and most popular of his ballades. It is a highly dramatic piece, its ballade nature defined by its lilting rhythm and long-spun, bard-like melodies; ferocious and impassioned outbursts interrupt and transform its themes until it ends in a startling coda of stark, wild gestures. Some commentators have suggested it could be based on Adam Mickiewicz's epic poem Konrad Wallenrod – a romantic tale written three years before the Ballade, featuring a mysterious hero, a long-lost beloved, concealed identities, ferocious battles, and a cataclysmic suicide.
Seong-Jin Cho - Chopin: Ballade No.1 In G Minor, Op.23 | Yellow Lounge
Barcarolle
Chopin's Barcarolle is based on the idea of a Venetian gondola song: it features a lilting, rocking accompaniment and an Italianate melody rich in cascades of thirds and sixths – Chopin's passion for Italian bel canto opera is evident. Emotionally, though, there is much more to this piece; the central section is full of mystery, and a fantastical, valedictory atmosphere hangs over the whole. When he wrote it, Chopin was only four years away from his death and had suffered from tuberculosis for many years. Whether or not morbid thoughts (and Chopin had plenty of them) affected the piece, it is a work of strange, ineffable beauty that is more than the sum of its parts.
Chopin: Barcarolle in F sharp, Op. 60
Sonata No.3 in B minor, Op.58
The most substantial of Chopin's works for solo piano is also one of his more conventional efforts in terms of form. The work is in four movements, and its design is symphonic: a dramatic opening movement contrasting quasi-martial and lyrical themes; a scherzo demanding seriously fleet fingers, with a more reflective central section; a song-like largo slow movement; and an intense, driven finale full of extroverted, virtuosic outbreaks. It may seem atypically unadventurous in structure, but for Chopin to use this structure at all meant quite the reverse. The Sonata's content is replete with his unique style, and it provides performers with an irresistible challenge and audiences with a treat.
Chopin: Piano Sonata No. 3 in B Minor, Op. 58 - I. Allegro maestoso
Mazurkas, Op.24
Many of Chopin's Mazurkas are masterpieces in miniature, and choosing one set is a particularly invidious task. The relatively early (1836) Op.24 are four pieces that overflow with charm, melody, and pathos. The last, in B flat minor, is particularly original, with the balance between the rhythm of the Polish folk dance and the composer's reflective, poetic voice forming a magical and elusive combination. The later opus numbers are often more complex, though not necessarily more captivating. Still, when you have tried this set, please listen to the others. Rubinstein captures their spirit to perfection.
Arthur Rubinstein - Chopin Mazurka, Op. 24 No. 4
Fantaisie in F minor
This piece from 1841, when Chopin was at the height of his powers, is a remarkable creation with something of a literary masterpiece's heightened atmospheres and cause-and-effect progression. Chopin's penchant for improvisation may be the clue to how it unfurls from the ghostly opening march theme to the flourishes that usher in the tossing-and-turning declamations of the main subject and its distinctly Italianate continuation. When improvising, Chopin was in his element – imagine if he had written down everything he played! Still, every pianist who tackles this work can offer a different and personal take on its drama.
Chopin: Fantaisie in F minor, Op. 49
Piano Concerto No.1 in E minor, Op.11
Chopin's two piano concertos were early works, composed when he was only about 19. Their freshness, vitality, and melodic flair remain enchanting, making them both perennial concert favorites and among the best Chopin works. Chopin's writing for orchestra has attracted much criticism – and it's not his strongest point, admittedly. But he has a special way of setting the piano tone within the whole texture: the strings often seem to form a luminous halo around the solo melody, while the wind instruments provide delicate duets with the pianist. The E minor Concerto – the first to be published, though written second – contains a slow movement that you'd probably have to be an ogre not to adore.
Chopin: Piano Concerto No. 1 in E Minor, Op. 11 - II. Romance. Larghetto
Recommended Recording
Chopin Complete Edition (17 CD set), released to celebrate Chopin's 200th anniversary in 2010, features the very best recordings from the Deutsche Grammophon and Decca catalogues. The box set includes Zimerman's Ballades, Pollini's Etudes, Pires's Nocturnes, Ashkenazy's Mazurkas and Waltzes, and the Cello Sonata performed by Rostropovich and Argerich. Jessica Duchen, BBC Music Magazine, noted, "This is a set to treasure: when you can have all of these delights in one go, why would you want anything else?"
Chopin: Nocturne No. 2 in E-Flat Major, Op. 9 No. 2
Chopin Complete Edition (17 CD set) can be bought here.
Discover more of our articles collecting the best works of composers through the ages.
---
Format:
UK English