'Oper Auf Deutsch', Historic Opera Recordings Sung In German, Out Now
'Oper Auf Deutsch', a treasure trove of historic opera recordings sung in German featuring fabulous voices of the 1960s, is out now.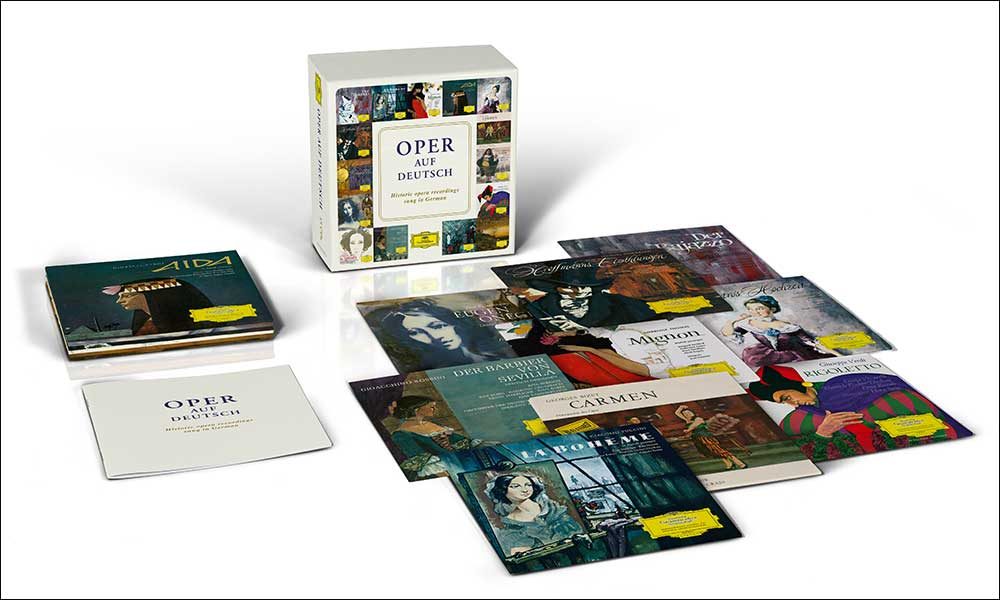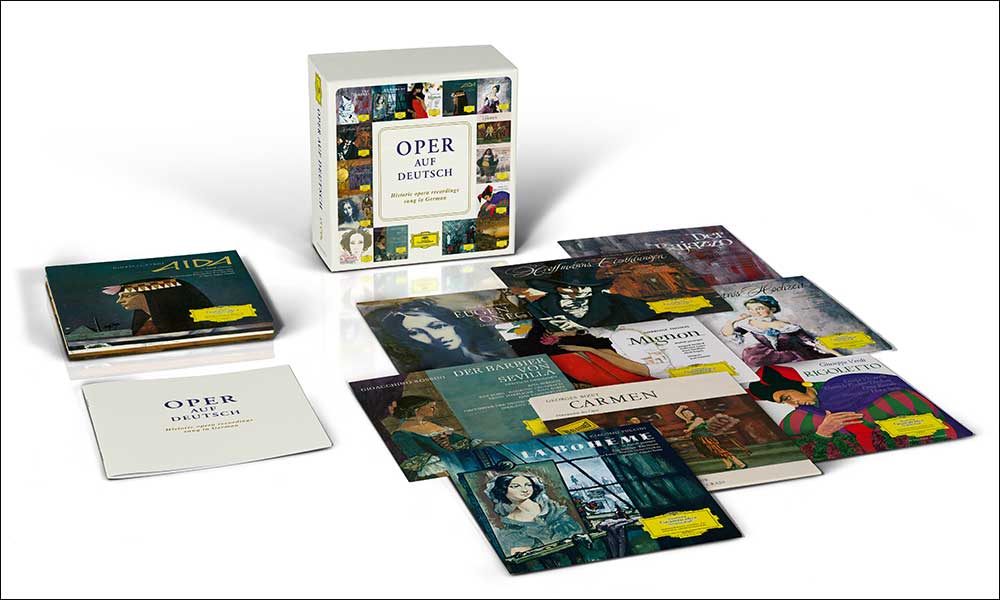 Oper Auf Deutsch, a 15-CD box set released today, is a real treasure trove for opera lovers. All of the repertoire is also available digitally – including 9 of the 15 albums for the first time. These historic opera recordings tell the astonishing story of an era when all the many municipal opera houses in the German-speaking world performed the standard repertoire, from Bizet to Verdi, in the local language only. Since most of the municipal opera houses staged a new production often on a monthly basis, the singers in the largely fixed ensembles would have been incapable of learning Italian, French and Russian works by heart within such a short period of time. Artists including Fritz Wunderlich had to relearn their roles in the original language when they performed internationally.
Oper auf Deutsch - Historic opera recordings sung in german (Trailer)
"It was Herbert von Karajan who insisted that operas should be performed in their original language …"
In his insightful liner notes for the Oper Auf Deutsch 15-CD box set Jürgen Kesting observes, "It was Herbert von Karajan who during his time as 'general music director of Europe' insisted that operas should be performed in their original language in Vienna, Salzburg and Milan. This was not just the result of musical and linguistic considerations: it also allowed every star singer to appear in his or her signature roles in major opera houses all over the world."
Previously German record companies released a number of operas sung in German, often as highlights, as the international market for complete recordings in the original language was too small for the budgets required.
Oper auf Deutsch - Eugen Onegin (Teaser)
Exceptional casts
The fifteen operatic highlights, sung in German, that are included in Oper Auf Deutsch were all created via major studio productions of the 1960s. The casts are exceptional and feature the greatest voices of the period, even in minor roles, including Fritz Wunderlich, Dietrich Fischer-Dieskau, Brigitte Fassbaender, Ernst Haefliger, Irmgard Seefried, Rita Streich, Sándor Kónya, Ingeborg Hallstein, Hans Hotter, Inge Borkh, Franz Crass, Gisela Vivarelli, Martti Talvela and many more.
The collection includes the first CD release of Carmen featuring Gisela Litz, Ernst Kozub, Franz Crass, Badische Staatskapelle and Marcel Couraud.
Oper Auf Deutsch – Repertoire
CD1:    *Bizet: Carmen – Highlights
CD2:    *D'Albert: Tiefland – Highlights
CD3:    *Mascagni: Cavalleria Rusticana / *Leoncavallo: Der Bajazzo – Highlights
CD4:     Lortzing: Zar Und Zimmermann – Highlights
CD5:     Mozart: Die Hochzeit Des Figaro, K. 492 – Highlights
CD6:    *Offenbach: Hoffmanns Erzählungen – Highlights
CD7:     Puccini: La Bohème – Highlights
CD8:   *Rossini: Der Barbier Von Sevilla – Highlights
CD9:     Tchaikovsky: Eugene Onegin, Op.24 – Highlights
CD10: *Thomas: Mignon – Highlights
CD11:  *Verdi: Aida – Highlights
CD12:  *Verdi: Die Macht Des Schicksals – Highlights
CD13:   Verdi: La Traviata – Highlights
CD14:   Verdi: Nabucco – Highlights
CD15:  *Verdi: Rigoletto – Highlights
*first digital release
Oper Auf Deutsch is out now and can be bought here.
Listen to Oper Auf Deutsch on Apple Music and Spotify.
Do you want to be the first to hear the latest news from the classical world? Follow uDiscover Classical on Facebook and Twitter.
Format:
UK English