Opus Klassik Awards 2021: Winners Announced
The winners of the 2021 Opus Klassik awards, Germany's most prestigious classical music prize, have been announced – find out who won here.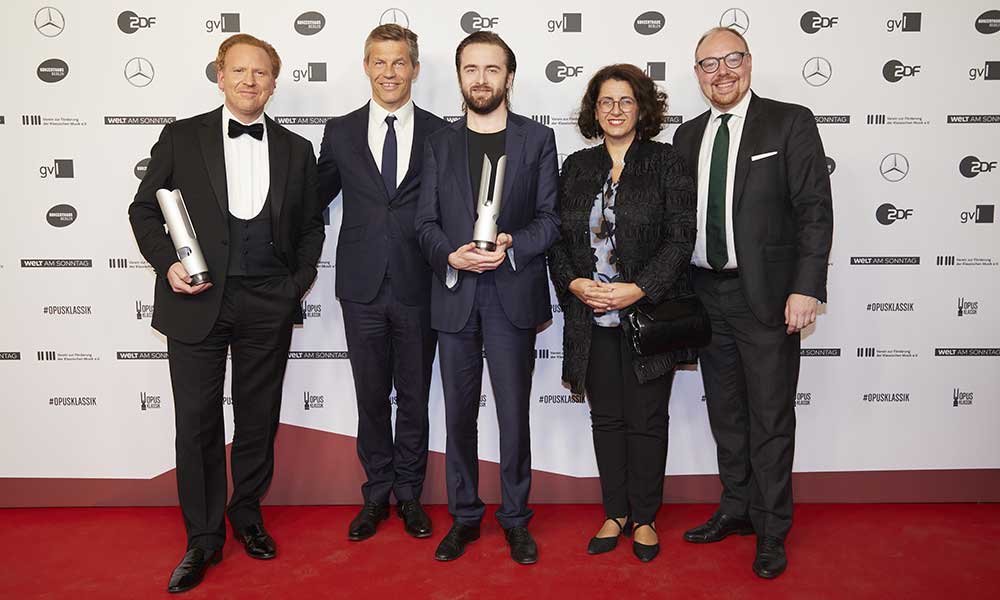 The winners of the Opus Klassik Awards 2021 were announced last night during a ceremony at the Konzerthaus Berlin. The Opus Klassik is Germany's most prestigious classical music prize and honours outstanding artists and recordings. The ceremony, hosted by actress and television presenter Désirée Nosbusch, featured performances from some of today's greatest classical artists, including award-winners Daniil Trifonov and Daniel Hope, and was broadcast by Opus Klassik's media partner ZDF.
Universal Music's classical labels won 7 out of 25 categories
Artists signed to Universal Music's renowned classical labels Deutsche Grammophon and Decca Classics as well as ECM, Universal Music distribution partner, won 7 out of 25 categories at the Opus Klassik Awards 2021, reflecting classical music's breadth and diversity.
Daniil Trifonov received the Instrumentalist of the Year/Piano prize for Silver Age, his album of concertos and solo pieces by Prokofiev, Scriabin and Stravinsky.
Daniil Trifonov - Stravinsky: I. Danse russe (Trois mouvements de Petrouchka)
Global superstar Lang Lang accepted the Bestseller of the Year award via videolink for his recording of Bach's Goldberg Variations. Yuja Wang made it a hat trick for Deutsche Grammophon pianists, winning the Concerto Recording of the Year/Piano award as soloist for the world premiere recording of John Adams's concerto Must the Devil Have All the Good Tunes?
Lang Lang - Bach: Goldberg Variations, BWV 988: Aria
Daniel Hope accepted the jury's Special Achievement Award for his Hope@Home initiative. The violinist was praised for "making classical music tangible and available to a wider audience during the pandemic" through his daily series of concerts livestreamed on ARTE during lockdown.
Deutsche Grammophon also received the Editorial Achievement of the Year award for 450 Years Staatskapelle Berlin – Great Recordings, presented to Dr Detlef Giese, principal dramaturg at the Staatsoper Unter den Linden, and the label's Director Heritage, Johannes Gleim.
Maltese tenor Joseph Calleja received the Classics Without Limits award for The Magic of Mantovani (Decca Classics), and clarinettist Jörg Widmann won the Chamber Music Recording of the Year for his critically acclaimed readings of Brahms's Clarinet Sonatas (ECM).
Joseph Calleja - Strangers In The Night
"Art is created in both good and more challenging times," noted Kleopatra Sofroniou, General Manager Classics at Deutsche Grammophon. "The outstanding achievements recognised at the Opus Klassik 2021 awards appear even more impressive against the backdrop of the last twelve months. We're especially proud of all the Deutsche Grammophon and other Universal Music artists who have won awards tonight."
"Congratulations to all our award-winners!"
Frank Briegmann, Chairman & CEO Universal Music Central Europe and Deutsche Grammophon added, "Congratulations to all our award-winners! They've shown once again the extraordinary way in which artists are able to develop within the family of the three Universal Music classical labels – Deutsche Grammophon, Decca Classics and ECM – where, most importantly, they're always given the opportunity to try out and implement new ideas. Despite their artistic diversity, they're united by a love of music and a refusal to compromise when it comes to the quality of their recordings. We're delighted to work with so many exceptional artists and to be able to make the classical world and the lives of all music lovers richer every day with their fantastic music. Congratulations also to the organisers of Opus Klassik and especially to the host, Désirée Nosbusch, for making this evening a celebration of classical music."
Opus Klassik award winners 2021
Female Singer of the year
Sonya Yoncheva
Rebirth
Male Singer of the year
Piotr Beczała
Vincerò!
Instrumentalist (piano)
Daniil Trifonov
Silver Age
Instrumentalist (violin)
Augustin Hadelich
Bohemian Tales
Instrumentalist (clarinet)
Martin Fröst
Vivaldi
Conductor of the year
Marc Albrecht
Zemlinsky – The Mermaid
Composer of the year
Olga Neuwirth
The city without Jews
Life's work
Reri Grist
Young artist (vocals)
Fatma Said
El Nour
Young artist (cello)
Pablo Ferrández
Reflections
Young artist (piano)
Robert Neumann
SWR 2 New Talent
Young artist (trumpet)
Lucienne Renaudin Vary
Piazzolla Stories
Ensemble / orchestra
Ensemble Modern
A gift – 40 miniatures for the anniversary
Solo recording of vocals (opera)
Regula Mühlemann
Mozart Arias II
Solo recording of vocals (song)
Sabine Devieilhe
Chanson d'amour
Solo recording instrument (organ)
Andreas Sieling
Berlin – Organ works by Berlin composers
Solo recording instrument (cello da spalla)
Sergey Malov
Johann Sebastian Bach – 6 Suites for Cello Solo
Solo recording instrument (viola)
Tabea Carpenter
Tabea Zimmermann – Solo II
Solo recording instrument (piano)
Lars Vogt
Janáček: Piano Works
Concert recording (cello)
Dai Miyata (Instrument)
Thomas Dausgaard (Conductor)
BBC Scottish Symphony Orchestra (Orchestra)
Edward Elgar – Ralph Vaughan Williams
Concert recording (trumpet)
Selina Ott (instrument)
Roberto Paternostro (conductor)
ORF Vienna Radio Symphony Orchestra (orchestra)
Trumpet Concertos
Concert recording (violin)
Patricia Kopatchinskaja (instrument)
Giovanni Antonini (conductor)
Il Giardino Armonico (orchestra)
What's Next Vivaldi?
Concert recording (piano)
Yuja Wang (instrument)
Gustavo Dudamel (conductor)
Los Angeles Philharmonic (orchestra)
John Adams: Must The Devil Have All The Good Tunes?
Chamber music recording
Jörg Widmann
Johannes Brahms: Clarinet Sonatas
Chamber music recording
Duo Tal & Groethuysen
Reinhard Febel / JS Bach: 18 Studies on 'The Art of Fugue'
Chamber music recording
Ensemble Mini
Joolz Gale (Conductor)
Ensemble Mini – Mahler 10 – arr. for ensemble by Michelle Castelletti
Chamber music recording
Dejan Lazić
Benjamin Schmid
Zen Hu
Johannes Erkes
Enrico Bronzi
Mozart: Piano Quartets
Chamber music recording
Quatuor Ébène
Beethoven Around the World – The Complete String Quartets
Chamber music recording
Isang Enders
Sunwook Kim
Sean Shibe
Mischa Meyer
Joachim Enders
Vox Humana
Classic without limits
Ragnhild Hemsing
Mario Häring
Benedict Kloeckner
Rota
Classic without limits
Joseph Calleja
The Magic of Mantovani
Symphonic recording / music 19th century
Leo McFall (Conductor)
NDR Radiophilharmonie (Orchestra)
Emilie Mayer
Symphonic recording / music 20./21. Century
Andrea Battistoni (Conductor)
Tokyo Philharmonic Orchestra (Orchestra)
Andrea Battistoni # 1
Choral work recording
Pygmalion (Choir)
Raphaël Pichon (Conductor)
Johann Sebastian Bach: Motets
Opera recording / music up to and including the 18th century
Katharina Thalbach (vocals)
Marcus Bosch (conductor)
Cappella Aquileia (orchestra)
Georg Anton Benda: Medea – A melodrama mixed with music (version from 1784)
Opera recording / music up to the 19th century
Jonas Kaufmann
Frederica Lombardi
Carlos Álvarez
Verginie Verrez ua (vocals)
Orchestra e Choro dell 'Accademia Nazionale di Santa Cecilia (orchestra)
Antonio Pappano (conductor)
Giuseppe Verdi: Otello
Opera recording / music until 20./21. Century
Alma Sadé
Vera-Lotte Boecker
Tansel Akzeybek (vocals)
Jordan De Souza (conductor)
Orchestra of the Komische Oper Berlin (orchestra)
Stefan Kurt (actor)
Spring Storms
World premiere recording of the year
João Fernandes
Bruno De Sá
Roberta Invernizzi
Helena Rasker
Roberta Mameli
Liliya Gaysina
Maria Ladurner (vocals)
Dorothee Oberlinger (conductors)
Ensemble 1700 (ensemble)
Giovanni Battista Bononcini: Polifemo
Innovative concert of the year
John Neumeier
David Fray (instrument)
Ghost Light – By John Neumeier
Video clip of the year
Niklas Liepe (instrument)
Jamie Phillips (conductor)
NDR Radiophilharmonie (orchestra)
GoldBergHain (Quodlibet on 'Herbs and turnips drove me away')
Editorial achievement of the year
Detlef Giese
Johannes Gleim
450 Years Staatskapelle Berlin
Innovative audio production of the year
Helen Dabringhaus
Trio Parnassus
Christian Heinrich Rinck Vol. 2
Prize for promoting young talent
Berlin girls choir
Voice Survival
Best seller of the year
Lang Lang
Bach: Goldberg Variations
Special prize for public and participation projects
Mozart Festival in Würzburg
'100 for 100' – 100 ideas for 100 years of the Mozart Festival
Special prize for public and participation projects
The Deutsche Kammerphilharmonie Bremen
Music Lab – join the sound, a participatory online music experience for everyone
Special prize of the jury for special achievements
Daniel Hope
Special prize of the jury for special media formats and distribution
BR click clack
Do you want to be the first to hear the latest news from the classical world? Follow uDiscover Classical on Facebook and Twitter.
---
Format:
UK English