Eagles Of Death Metal 'Live At The Olympia In Paris' Famed Concert Now On DVD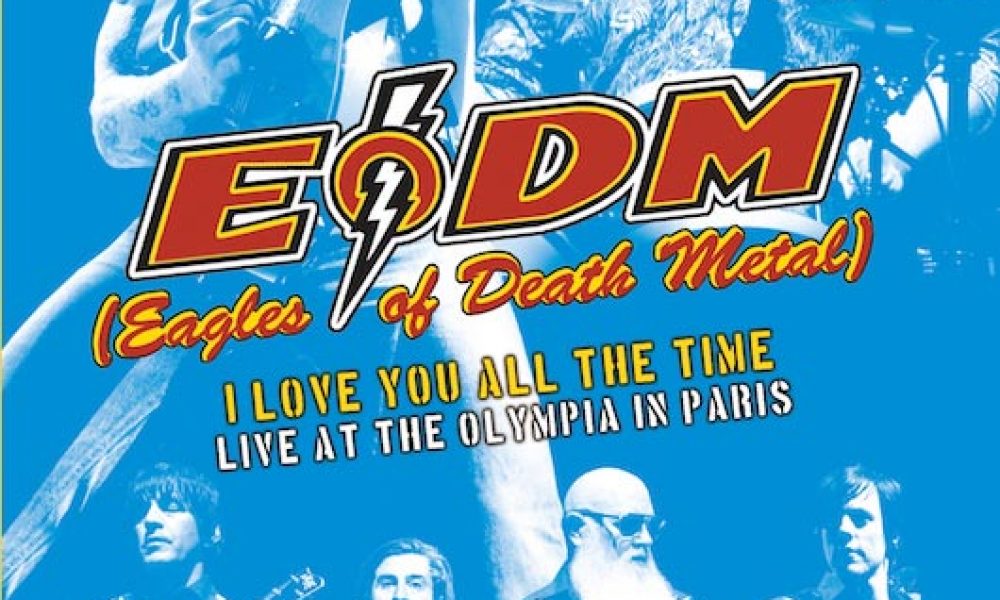 After surviving the horrific terrorist attacks on Paris while playing the Bataclan Theatre on 13 November 2015, The Eagles of Death Metal returned to the city for an emotionally charged concert a year later and dedicated the show to all those who lost their lives at the Bataclan.
The band returned to Paris to complete their show as part of The Nos Amis Tour, playing at the Olympia Hall on 16 February 2016 and their remarkable performance will now be available on DVD, Blu-ray, 2CD and digital editions titled, I Love You All the Time – Live at The Olympia in Paris by Eagles of Death Metal, available for pre-order now and officially out on 4 August 2017, via Eagle Rock Entertainment.
Eagles Of Death Metal - I Love You All The Time (Live At The Olympia In Paris)
Before the show, Eagles of Death Metal co-founder and lead singer Jesse Hughes said: "The people of Paris have always been incredible to us, and our feeling of love towards this beautiful city and its people has been reinforced a million times over this past month. Hearing the stories of the survivors, the injured and those who have lost loved ones has been overwhelming. Not returning to finish our set was never an option".
In February of this year, HBO also aired a documentary about the attack and its aftermath, created by Colin Hanks titled, Eagles Of Death Metal: Nos Amis (My Friends). Best known for their campy garage-glam image, the band delivered a raw performance, including their hits 'Complexity', 'Don't Speak (I Came To Make A Bang)', 'Cherry Cola', Duran Duran cover 'Save A Prayer', 'I Want You So Hard (Boy's Bad News)' and more.
Three live video tracks from the band's October 2015 performance at LA's Teragram Ballroom 'Anything 'Cept The Truth', 'Bad Dream Mama' and 'Shasta Beast' are also included as bonus material (although not on the 2CD format) and features Josh Homme on drums, who co-founded the band with frontman Jesse Hughes but rarely performs with them.
I Love You All The Time – Live At The Olympia In Paris is available to pre-order here and will be out on 4 August 2017. Scroll down to view the full tracklisting and explore our Eagles of Death Metal Artist Page.
Tracklist
1. 'Intro: Il Est Cinq Heures, Paris S'Éveille'
2. 'I Only Want You'
3. 'Don't Speak (I Came To Make A Bang!)'
4. 'So Easy'
5. 'Complexity'
6. 'Whorehoppin' (Shit, Goddamn)'
7. 'I Love You All The Time'
8. 'Cherry Cola'
9. 'The Reverend'
10. 'Got A Woman'
11. 'I Got A Feelin' (Just Nineteen)'
12. 'Stuck In The Metal'
13. 'Miss Alissa'
14. 'I Like To Move In The Night'
15. 'Secret Plans'
16. 'Wannabe In LA'
17. 'Bag O' Miracles'
18. 'I Want You So Hard (Boy's Bad News)'
19. 'Speaking In Tongues'
Format:
UK English