Final Who Singles Box Announced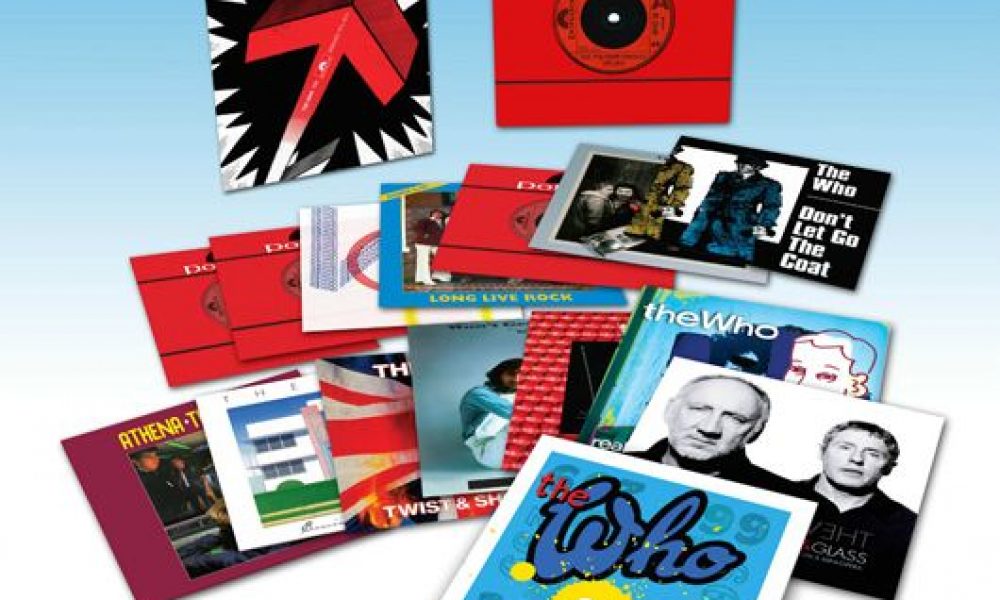 The long-awaited fourth instalment in The Who's singles box set series has been announced for release on 6 May. Tracing the final part in The Who's singles story to date, from the years 1975 to 2015, it contains 15 7"s pressed on heavyweight vinyl, replete with picture sleeves and replica artwork, collecting the group's A- and B-side releases on the Polydor label.
If The Who's creative output up to 1975 hadn't already made the case (they had, after all, released two groundbreaking rock operas, Tommy and Quadrophenia, along with a slew of classic albums, among them The Who Sell Out, Live At Leeds and Who's Next), the four-decade period covered in Volume 4: The Polydor Singles 1975-2015 is a clear reminder of the group's ability to evolve and adapt to any situation they found themselves in. As punk attempted to lay waste to the rock bands that emerged in the 60s, The Who more than held their own with the likes of 'Who Are You', issued in 1978. After the tragic death of drummer Keith Moon later that same year, Pete Townshend, Roger Daltrey and John Entwistle recalibrated themselves for the 80s, releasing Face Dances and It's Hard at the beginning of the decade, flexing their hit-making prowess with the likes of 'You Better You Bet'.
The group remained sporadically active as a live band across the next two decades, but when John Entwistle passed away in 2002, Townshend and Daltrey found themselves having to yet again roll with the punches and reboot their beloved band. The Wire & Glass EP emerged in 2006, a taster of what would become Endless Wire, The Who's first studio outing in 24 years. Taking as its inspiration the Townshend novella The Boy Who Heard Music, Wire & Glass formed the core of the mini-opera that was itself at the heart of Endless Wire. Though new music wasn't coming as fast as it had in previous decades, the Wire & Glass EP was followed, in 2014, by 'Be Lucky', a new song recorded for the group's anniversary collection The Who Hits 50!.
A fitting celebration of one of the longest-serving bands to have emerged from the 60s, Volume 4: The Polydor Singles 1975-2015 brings the group's story fully up to date. Though, as ever with The Who, you'd be unwise to count it as a full-stop on their remarkable career.
Scroll down to see the full tracklist, and purchase Volume 4: The Polydor Singles 1975-2015 here:
Disc 1:
'Listening To You'/'Se Me, Feel Me'/'Overture'
Disc 2:
'Squeeze Box'/'Success Story'
Disc 3:
'Who Are You'/'Had Enough'
Disc 4:
'Long Live Rock'/'I'm The Face'/'My Wife (Live)'
Disc 5:
'5.15'/'I'm One'
Disc 6:
'You Better You Bet'/'The Quiet One'
Disc 7:
'Don't Let Go The Coat'/'You'
Disc 8:
'Athena'/'A Man Is A Man'
Disc 9:
'Eminence Front'/'It's Your Turn'
Disc 10:
'Twist And Shout (Live)'/'I Can't Explain (Live)'
Disc 11:
'Won't Get Fooled Again'/'Bony Maronie (Live)'
Disc 12:
'Join Together (Live)'/'I Can See For Miles (Live)'/'Behind Blue Eyes (Live)'
Disc 13:
'Real Good-Looking Boy'/'Old Red Wine'
Disc 14:
Wire & Glass EP: 'Sound Round'/'Pick Up The Peace'/'Endless Wire'/'We Got A Hit'/'They Made My Dream Come True'/'Mirror Door'
Disc 15:
'Be Lucky'/'I Can't Explain (Remixed)'
Format:
UK English