Status Quo Release New 7" Box Set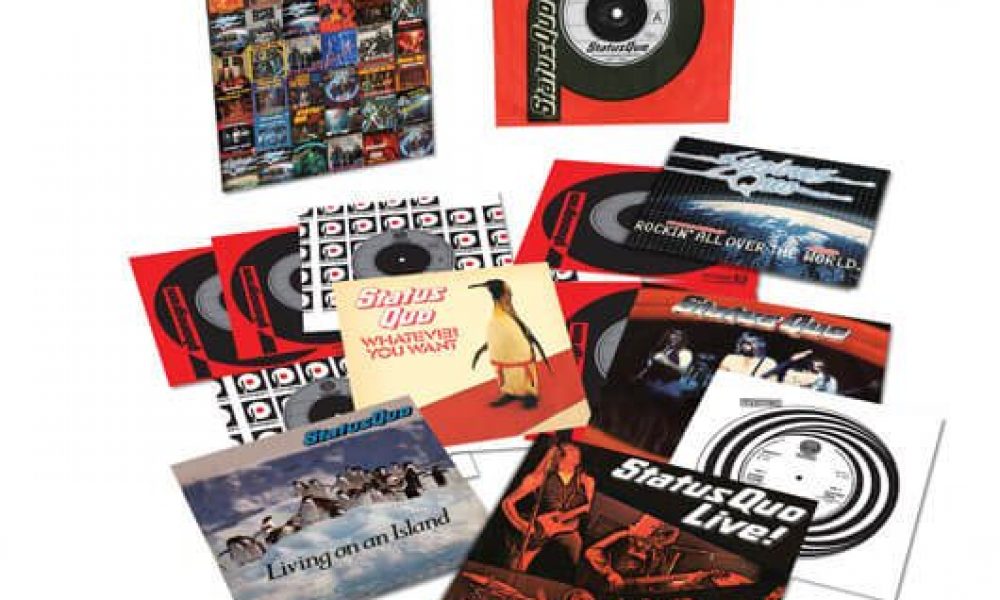 Charting Status Quo's initial, unstoppable rise to the top of the UK charts, The Vinyl Singles Collection 1971-1979, is out now. Containing evergreen cuts such as 1974's No.1 hit 'Down Down' and 1979's Top 5 placing 'Whatever You Want', along with long-term fan favourites such as 'Paper Plane' and the Rick Parfitt-penned 'Living On An Island', its 13 7"s are pressed on heavyweight vinyl and come in facsimile copies of the original artwork.
Following a period during which the Quo flirted with psychedelia, they charged into the 70s with a newfound bite, clocking their first chart-bothering album with Piledriver, which peaked at No.5 in the album charts. The success set them on the road they would follow for the rest of their career as hard rock behemoths beloved by an ever loyal fanbase.
Following the shock death of co-founder Rick Parfitt in December 2016, Status Quo's entire career is being reappraised by fans and critics alike, and this singles collection – the first of five singles box sets due from the band – follows hot on the heels of the LP box set The Vinyl Collection 1981-1996. Taken together, both boxes present two essential periods in the band's career, and this singles collection is a blast from the past: powerful, rocking and, as the band might have put it themselves, a hard ride indeed.
The Vinyl Singles Collection 1972-1979 is out now. Scroll down to read the full tracklist and order the box set here.
The full The Vinyl Singles Collection 1972-1979 tracklist is:
Disc One
'Paper Plane'/'Softer Ride'
Disc Two
'Caroline'/'Joanne'
Disc Three
'Break The Rules'/'Lonely Night'
Disc Four
'Down Down'/'Nightride'
Disc Five
'Roll Over Lay Down'/'Gerdundula'/'Junior's Wailing'
Disc Six
'Rain'/'You Lost The Love'
Disc Seven
'Mystery Song'/'Drifting Away'
Disc Eight
'Wild Side Of Life'/'All Through The Night'
Disc Nine
'Rockin' All Over The World'/'Ring Of A Change'
Disc Ten
'Again And Again'/'Too Far Gone'
Disc Eleven
'Accident Prone'/'Let Me Fly'
Disc Twelve
'Whatever You Want'/'Hard Ride'
Disc Thirteen
'Living On An Island'/'Runaway'
Format:
UK English