Special 3CD Edition Of Little Steven And The Disciples Of Soul's 'Soulfire Live!' Out Now
The new edition includes 24-tracks released digitally in April alongside an exclusive third with guest stars including Bruce Springsteen and Richie Sambora.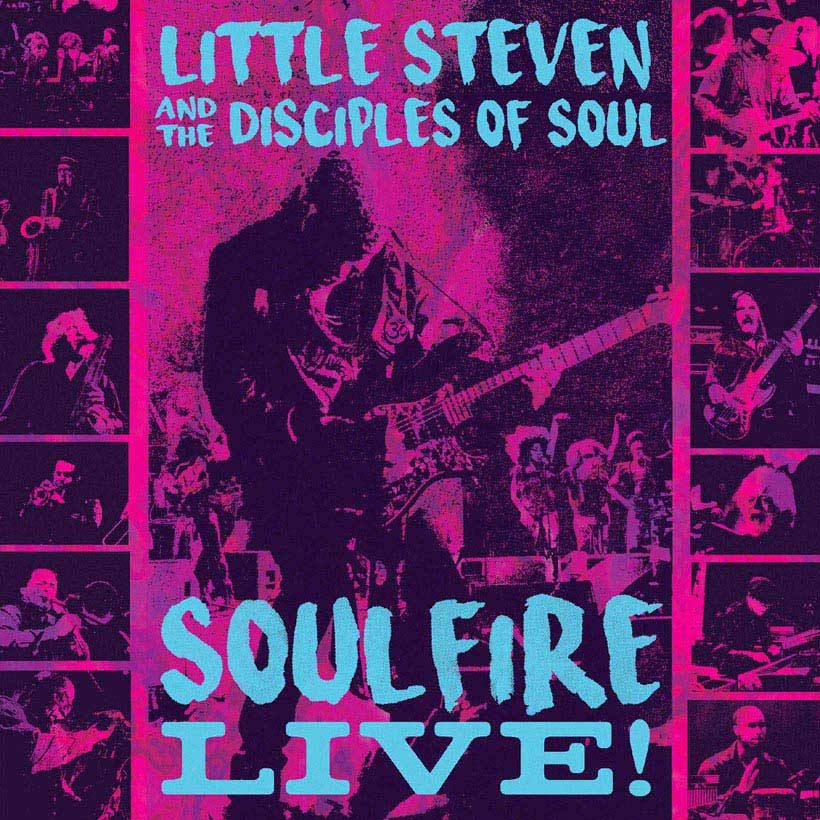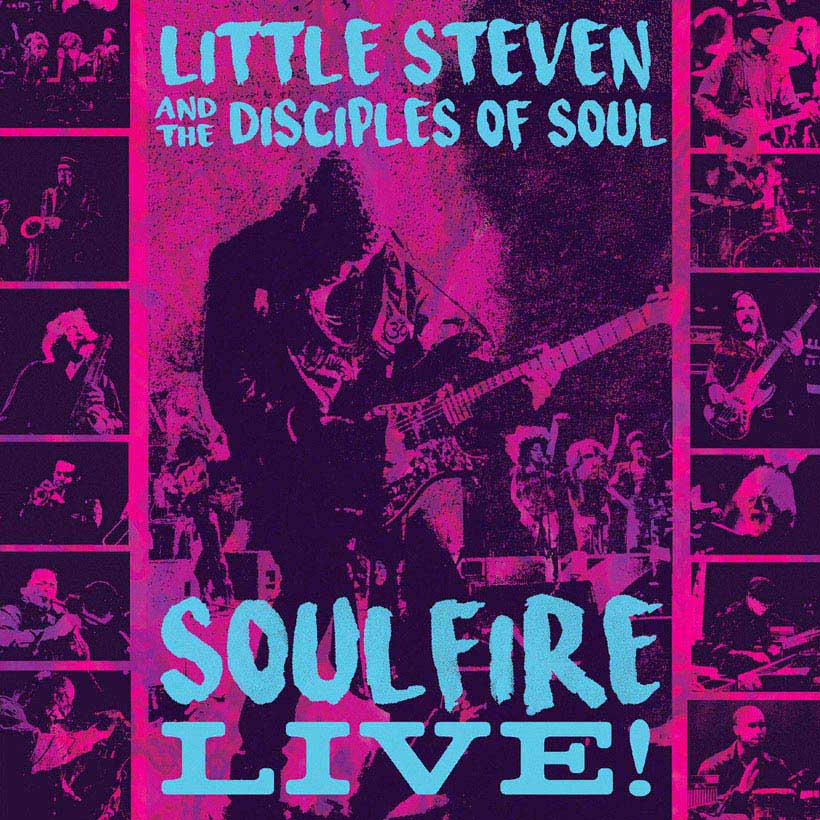 Little Steven and the Disciples of Soul's Soulfire Live! is now available as a special 3CD edition via Little Steven Van Zandt's Wicked Cool Records/UMe. The collection was recorded in 2017 in venues across North America and Europe during the legendary rock' n' roller's first world tour in almost two decades.
The new 3CD collection includes 24-tracks released digitally in April alongside an exclusive third disc highlighted by superstar guest performances recorded throughout the trek, including Bruce Springsteen, Richie Sambora, Peter Wolf, and Jerry Miller (of Moby Grape).
Soulfire Live! is an electrifying journey through rock 'n' roll history led by one of its most passionate practitioners, showcasing Stevie Van Zandt's limitless knowledge and sheer love for the genre in all its many shapes and guises. Among the album's many highlights are original songs from throughout Little Steven's illustrious career – including classics like 'Standing In The Line Of Fire' and 'I Don't Want To Go Home' – alongside a number of favorite cover versions like The Electric Flag's 'Groovin' Is Easy,' Etta James' 'Blues Is My Business,' and James Brown's 'Down And Out In New York City,' the latter two songs also featured on last year's critically acclaimed Soulfire. In addition, Soulfire Live! includes Van Zandt's inimitable introductions, detailing each song's unique history and singular spot in his life and illustrious career.
Can I Get A Witness (Live At The Orpheum Theatre / 2017)
The exclusive Soulfire Live! third disc showcases special guest appearances from some of Little Steven's closest friends, collaborators, and favorite artists. Among the highlights are versions of Moby Grape's 'Can't Be So Bad' performed with the legendary San Francisco band's founding member, Jerry Miller; the Motown classic, 'Can I Get A Witness,' performed with New Jersey's own Richie Sambora; The J. Geils Band's 'Freeze Frame' with vocals from Peter Wolf; and 'Tenth Avenue Freeze-Out' and Little Steven's own 'I Don't Want To Go Home,' both joined by Bruce Springsteen.
Disc 3 also includes the Disciples of Soul's electrifying takes on a number of Van Zandt's all-time favorite rock 'n' roll songs, including Tom Petty and the Heartbreakers' 'Even The Losers,' AC/DC's 'You Shook Me All Night Long,' John Lennon's 'Working Class Hero,' The Allman Brothers Band's 'It's Not My Cross To Bear,' The Animals' 'We Gotta Get Out Of This Place,' and The Ramones' 'Merry Christmas (I Don't Want To Fight Tonight).'
In addition to the new 3CD edition, Soulfire Live! will also be issued as a unique 7LP vinyl box set and on Blu-Ray video exclusively via Little Steven's just-launched new webstore. The vinyl box set will incorporate an exclusive bonus LP capturing Little Steven's extraordinary surprise set at Liverpool's legendary Cavern Club recorded November 2017 during his band's sold out European tour.
The intimate lunchtime gig saw Little Steven and the Disciples of Soul paying tribute to The Beatles with rocking renditions of 'Magical Mystery Tour,' 'Good Morning, Good Morning,' 'Got To Get You Into My Life,' and 'All You Need Is Love,' alongside iconic songs famously performed by the nascent Fab Four, including 'Boys' (originally by The Shirelles), 'Slow Down' (by Larry Williams) and "Soldier Of Love", first recorded by Arthur Alexander.
"Playing in the same venue where The Beatles started their careers was a childhood dream of mine come true," says Little Steven. "This was a band that set me on course for a life of music. For my rock 'n' roll religion, The Cavern is the first sacred site. It was an honor – no, make that an epiphany – to perform there."
The Soulfire Live! Blu-ray video edition will include Little Steven and the Disciples of Soul's complete Cavern Club concert alongside video performances of each song on the 3CD/vinyl set, exclusive interviews, and behind-the-scenes footage. In addition, the Blu-ray edition will feature a special documentary about the Cavern Club performance that sees Little Steven honored with a brick in the club's hallowed Wall of Fame before leading his band through swift rehearsals of Beatles songs mere minutes ahead of their performance.
Little Steven and the Disciples of Soul will rev up again this fall to celebrate Soulfire Live! with the final leg of their Teacher Appreciation Tour, set to get underway this October. The tour will once again benefit TeachRock, Van Zandt's Rock and Roll Forever Foundation's national initiative to bring music curriculum into middle and high schools across the country. At each stop of the tour, teachers will get in free to the concert and TeachRock will host workshops before the show to educate teachers on how to implement music education into their classrooms.  For complete details and ticket availability, please visit the artist's website. 
The 3CD edition of Soulfire Live! is out now. Scroll down to read the full tracklist and buy it here.
Disc 1:
Mike Stoller Intro
'Soulfire'
'I'm Coming Back'
'Blues Is My Business Intro'
'Blues Is My Business'
'Love On The Wrong Side Of Town'
'Until The Good Is Gone'
'Angel Eyes'
'Some Things Just Don't Change'
'Saint Valentine's Day Intro'
'Saint Valentine's Day'
'Standing In The Line Of Fire Intro'
'Standing In The Line Of Fire'
'I Saw The Light'
'Salvation'
'The City Weeps Tonight Intro'
'The City Weeps Tonight'
Disc 2:
'Down And Out In New York City'
'Princess Of Little Italy Intro'
'Princess Of Little Italy'
'Solidarity'
'Leonard Peltier'
'I Am A Patriot'
'Groovin' Is Easy'
'Ride The Night Away Intro'
'Ride The Night Away'
'Bitter Fruit'
'Forever'
'Checkpoint Charlie Intro'
'Checkpoint Charlie'
'I Don't Want To Go Home'
'Out Of The Darkness Intro'
'Out Of The Darkness'
Disc 3:
'Even The Losers'
'Can't Be So Bad' (Feat. Jerry Miller)
'You Shook Me All Night Long'
'Working Class Hero'
'We Gotta Get Out Of This Place'
'Can I Get A Witness (Feat. Richie Sambora)
'It's Not My Cross To Bear Intro'
'It's Not My Cross To Bear'
'Freeze Frame' (Feat. Peter Wolf)
'The Time Of Your Life'
'Tenth Avenue Freeze-Out' (Feat. Bruce Springsteen)
'I Don't Want To Go Home' (Feat. Bruce Springsteen)
'Merry Christmas (I Don't Want To Fight Tonight)'
Format:
UK English